WORDS: ELLIOTT HUGHES | PHOTOGRAPHY: MORGAN
Forgive me for opening with a cliché, but the Morgan Super 3 is proof that misery goes hand in hand with comedy. After all, there's humour in the fact that a car as silly, superfluous and joyous as a three-wheeled Morgan was born in the context of a world enduring senseless conflict, economic turmoil and a global pandemic. 
The Super 3 and its predecessor, the 3-Wheeler, were never meant to be taken seriously, nor is the person driving them. Perhaps that's why they're so well received even among people who aren't car enthusiasts, especially in present times. Luckily, I will soon find out as I am greeted by a Super 3 press car on an overcast Tuesday morning at Morgan's Malvern headquarters.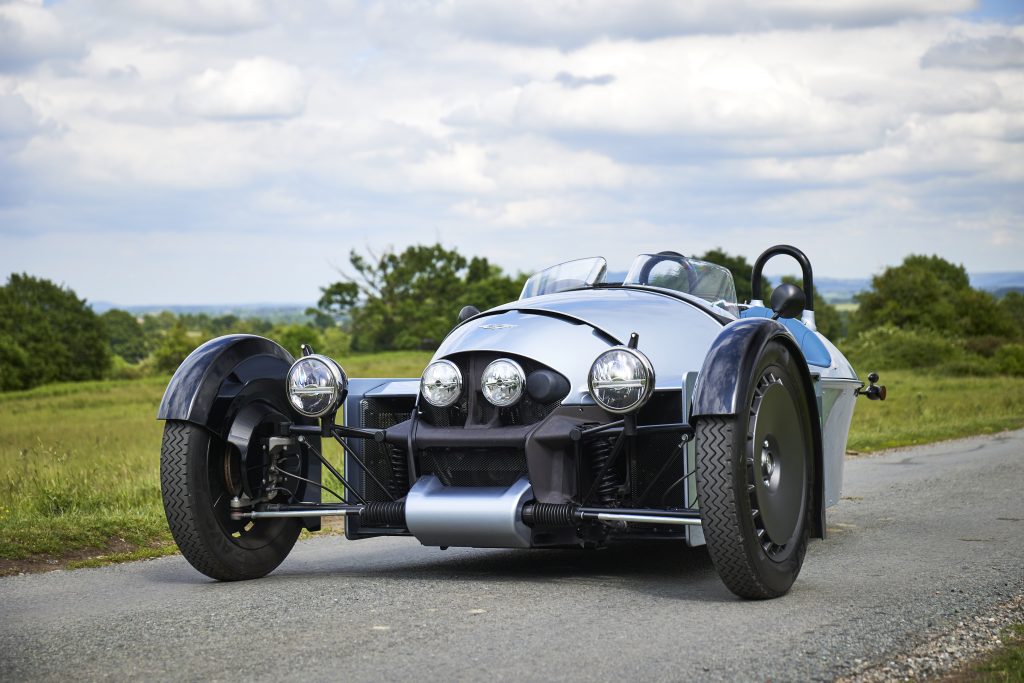 First impressions: finished in glossy silver-blue paintwork over blue leather, it resembles the unlikely offspring of Biggles' biplane and a pond skater. There's an insectoid quality to the car's unusual face, which is dominated by a large aluminium casting that serves as both an engine mount and an airflow device to feed its front grilles. 
The insect aesthetic continues with the way the spindly suspension arms extend outwards to meet narrow dinner-plate wheels, and how its headlights poke into the air like antennae. Its monocoque body – a first for Morgan – resembles an aircraft fuselage as it tapers to an elegant point at the rear, trimmed with a seam that has a touch of Bugatti Atlantic or belly-tank racer about it. There are so many visual details that catch the eye for such a small car.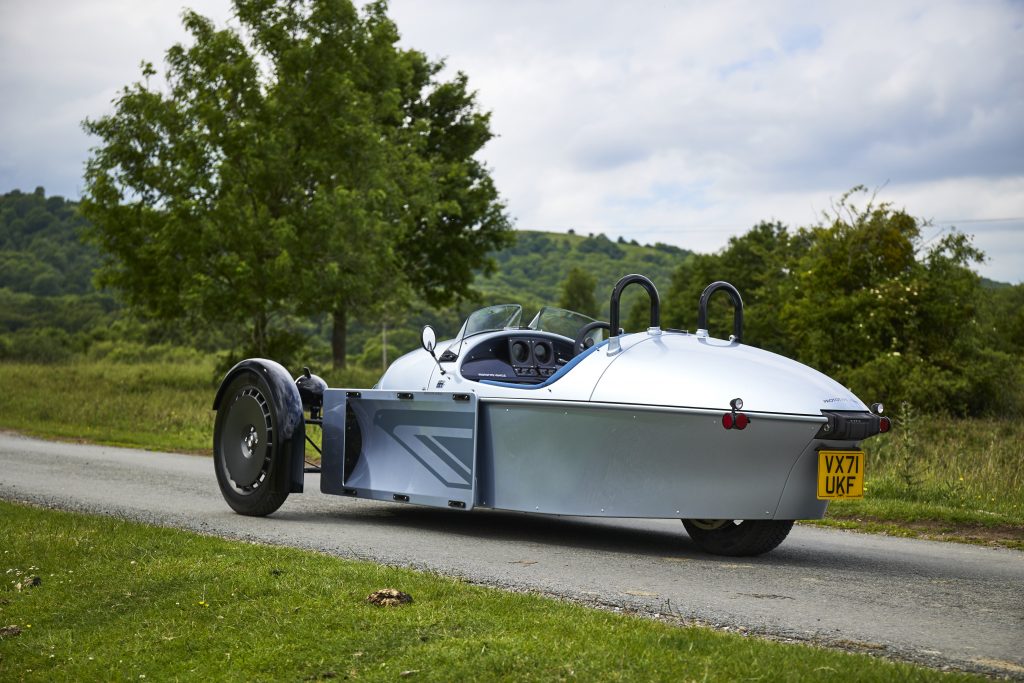 Things don't get any more conventional once you get inside. For a start, there are no doors – you simply climb in and lower yourself into the cockpit like a bizarre steam-punk single-seater racing car. Scissor doors are overrated. 
Once inside, it's time to get comfortable. Unlike the 3-Wheeler, the pedals can be adjusted on the fly while the Moto-Lita steering wheel is rake and reach adjustable, so it's surprisingly easy to find a comfortable driving position despite the Super 3's minuscule cockpit. 
Twist the ignition key, hit the bomb-release-style starter button and the Super 3's 1.5-litre inline-three barks into life. The new, Ford-derived, naturally aspirated engine replaces the previous car's characterful 2.0-litre S&S V-twin motorcycle unit due to tightening emissions regulations.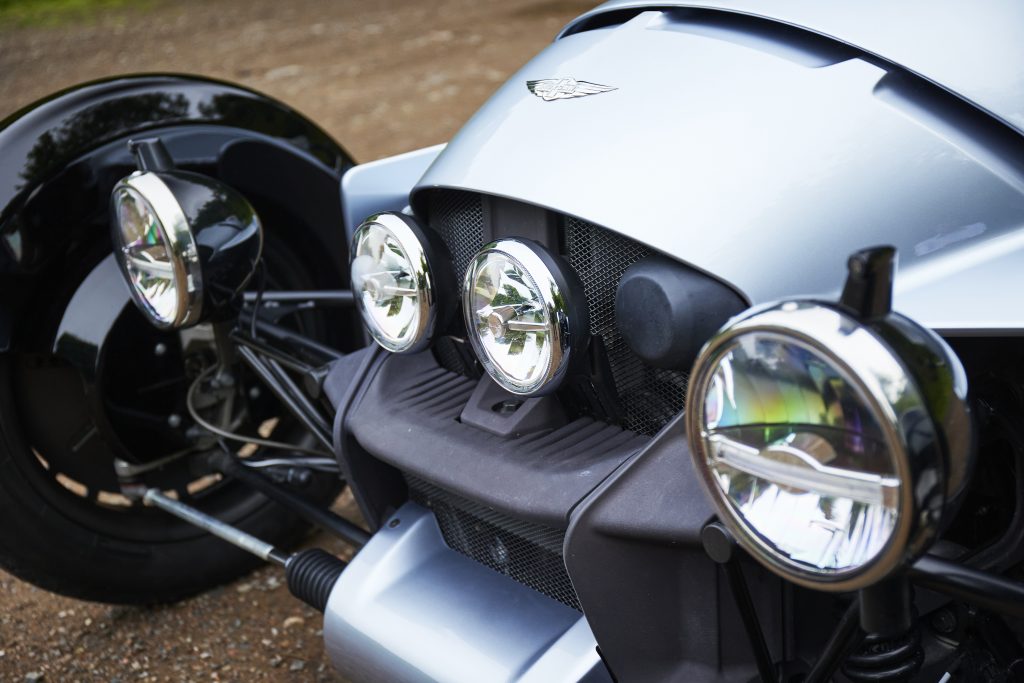 The thrummy old V-twin delivered lumps of power at low revs while providing a fittingly vintage soundtrack as it delivered its 82bhp to the rear wheel. There was a major risk that swapping the V-twin for a conventional car engine would sacrifice the Super 3's character, but it quickly becomes apparent that that isn't the case.
Squeeze the Morgan's accelerator pedal and there's a delightful crescendo of exhaust noise and vibration as the car climbs towards its limiter at 6500rpm. With 118bhp and only 635kg to haul around, the Super 3 feels legitimately fast and achieves 0-62mph in seven seconds. And, if you're feeling very brave, it will apparently reach a top speed of 130mph.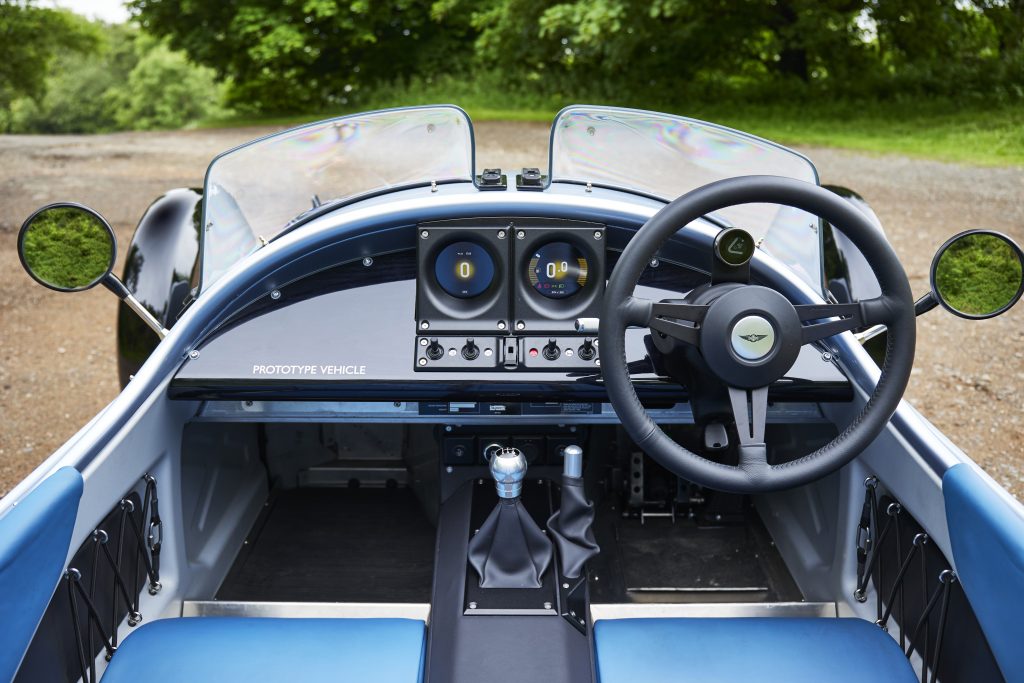 But Top Trumps performance stats are totally missing the point of the Super 3. Instead, it's a car that's all about tactility and the pleasure of driving – a refreshing philosophy in a time when 1000bhp hypercars almost seem common. And as I head down a twisty B-road, it's clear that Morgan has absolutely delivered in creating a car that assaults the senses at any speed. 
Hit the accelerator out of a low-speed corner and the pointy rear end playfully squirms as it tries to put the power down. Next, bury the clutch and push the MX-5-sourced five-speeder into third ratio with a satisfying snick. Back on the accelerator pedal, and the raucous exhaust note increases in volume, the body feeling alive with the vibrations of the powertrain and the road surface.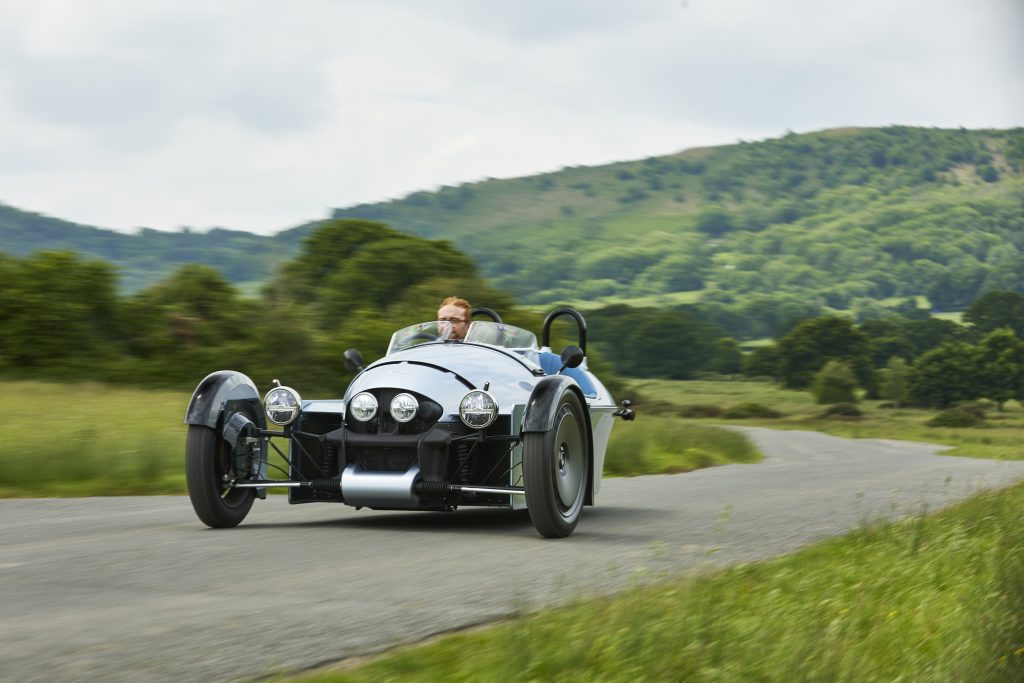 The unassisted steering is light straight-ahead, but pitch it into a corner and it's communicative while encouraging an assertive sweep of the steering wheel – a familiar feeling if you're used to driving a classic sports car. The most challenging thing to get used to with the steering is the fact that your right arm naturally sits outside of the cockpit, so you need to reposition your arm before reaching a right-hander to give yourself room to steer. It's a rare treat to watch the open wheels and suspension work as the car glides over bumps.  
Another part of the Morgan that feels decidedly old school is the brakes, which are unassisted. But that's no bad thing, because it means heel-and-toe downshift is incredibly easy – which is also encouraged by the perfect placement of the race-car-style floor-hinged pedal box. The only downside is that the footwell is too narrow for a dead pedal, so your left foot is constantly hovering over the clutch, which could prove irritating on longer journeys.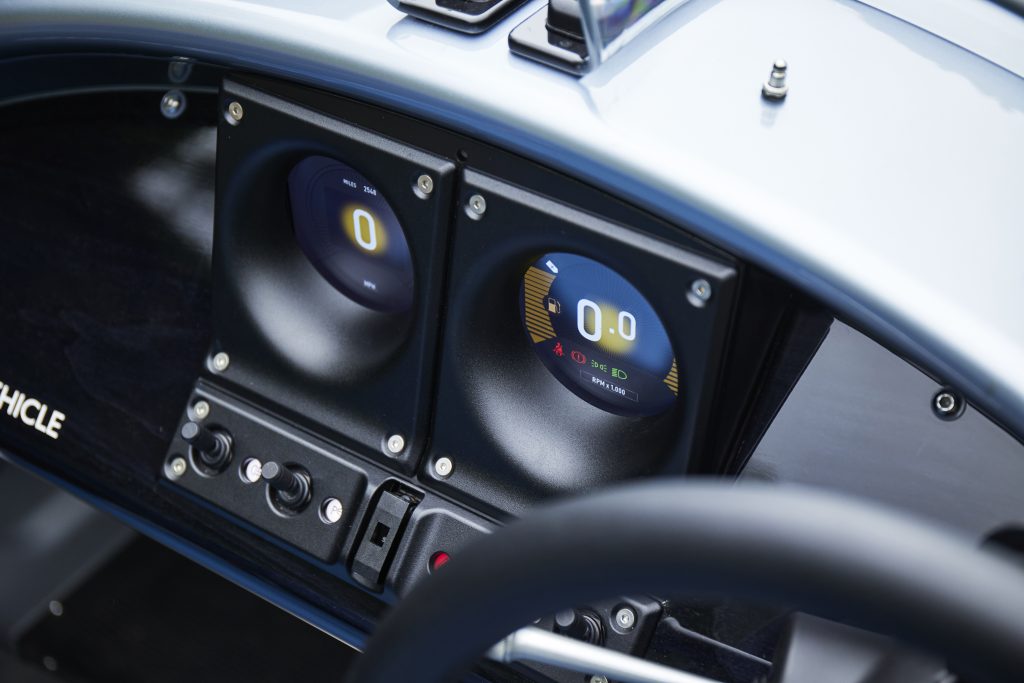 After winding the Super 3 through twisting country roads I meander into the nearby village of Broadway. This is not a car for someone who doesn't like attention; it attracts more smartphone camera lenses and pointed fingers than any supercar in the most garish colour you can think of. But unlike a supercar, the attention is positive, because people laugh, smile and wave at you. Maybe it's because you clearly don't take yourself too seriously if you drive a Super 3.
As my memorable morning with the three-wheeler draws to a close, it is time to head back to Malvern some 30 miles away. About halfway there the heavens open. To make matters worse, I am wearing a white shirt – not good.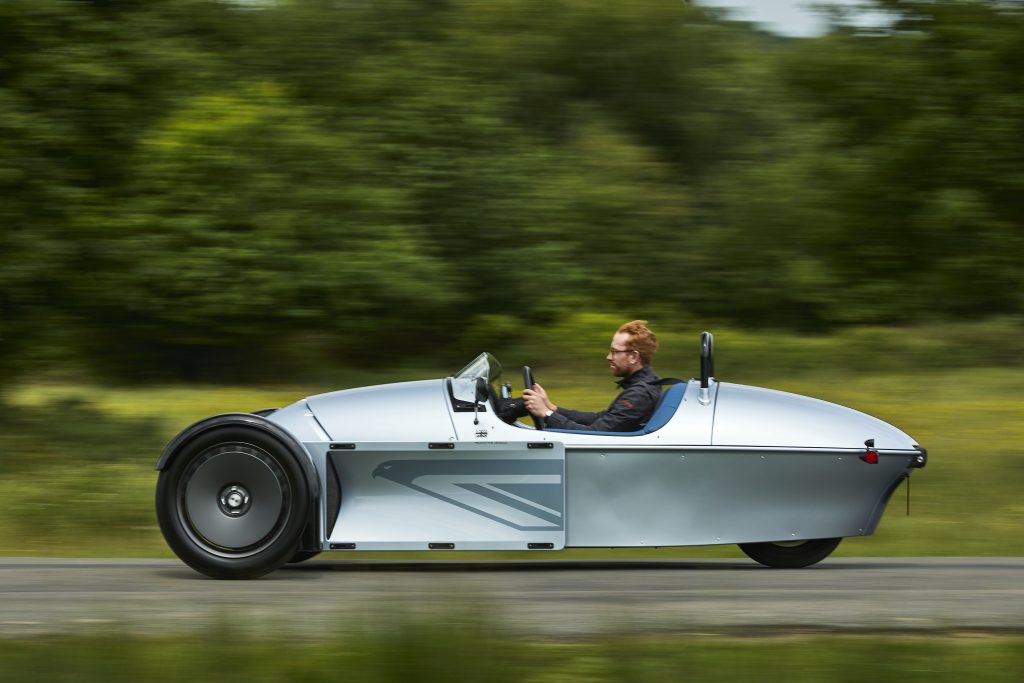 The handling in the wet requires genuine caution, because the Super 3 will go very sideways with a mere suggestion of throttle when pulling out of a junction. At speed you can duck under the perspex deflectors to hide from the rain, although the effectiveness of this is limited at best. To avoid dagger-like drops of rain stabbing you in the face, invest in a helmet. 
After arriving back at Malvern, somewhat damp and with hair styled by the wind, I can't stop grinning. In fact, I would happily drive the Super 3 90 miles home – raining or not. And that is the car's genius; there's absolutely no rational reason for it to exist other than to remind us of the simple joys of driving and being engaged with a machine rather than insulated from it. 
Prices for the Super 3 start at £41,995, and more information can be found here.