Words: David Lillywhite | Photography: David Shepherd
Take two Ferraris: one an icon worth millions, the other a thoroughly competent, modern grand tourer. Re-engineer the second one, using the looks of the first as inspiration. What do you get? In this case, the RML Short Wheelbase. Or, putting it another way, a good-as-new, front-engined, rear-wheel-drive GT with modern-day attributes but 1960s attitude.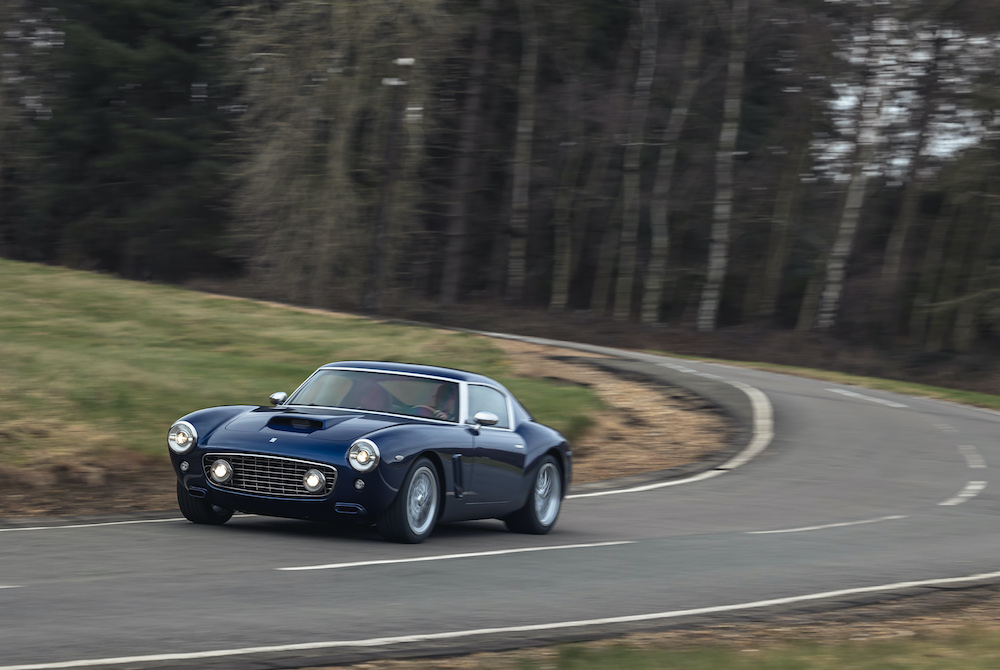 Something to understand first: RML isn't a household name, but it's provided the engineering expertise to brands that go beyond household familiarity. Its roots lie in the racing exploits of Major Arthur Mallock, who first competed in his Austin 7 special in 1936 but really made a name for himself in 1958 when he launched the giant-killing Mallock U2 series of single-seater club racers. There are more big-name racers and engineers whose careers started in a U2 than we could list here.
Arthur's sons Richard and Ray Mallock continued the tradition during the 1970s, with Ray in particular carving out a successful motor sport career culminating in Group C drives with Aston Martin, although both brothers won championships in Mallock cars. Alongside the driving, Ray started a motor sport-engineering business, initially to support Aston Martin but growing into RML, and later running Vauxhall's and then Nissan's BTCC Works teams. Now the company is headed by Ray's son Michael, another accomplished racer and engineer.
Why this long preamble? Because it's crucial to understand the engineering background behind the SWB. Behind the scenes, RML works with major OEMs and race teams, and has also been responsible for engineering recent high-profile manufacturer Continuation models as well as converting them for road use when required. And by the way, RML is also where the new Bizzarrini Continuation cars are currently being built.
All this leads naturally to the thought that afflicts every petrol-head at some point: "We should build our own car." And that was Michael Mallock's thought, but unlike most who head down this route, he had investors, a world-leading engineering company and around 120 employees to take it further.
"Initially we were going to do a supercar or hypercar," says Michael. "All Top Trumps figures, 1000bhp and massive downforce. But I realised that I didn't really want to do that. I wanted something that would feel like you're going fast at 60mph, evocative of a time when things were a bit simpler, a bit nicer. We took design inspiration from one of my favourite cars – except I can't fit in an original 250GT SWB."
The team went through a number of options for the base car – all Ferraris, of course: 456, 550, 599, 612, F12 and more. The 1996-2001 550 Maranello provided the perfect mix of performance and modern engineering without the excessive power and electronics of later models, so Michael spent two years driving one to deep-dive into its pros and cons, from performance and handling to little niggles such as the lack of cupholders. All this contributed to the Short Wheelbase's development.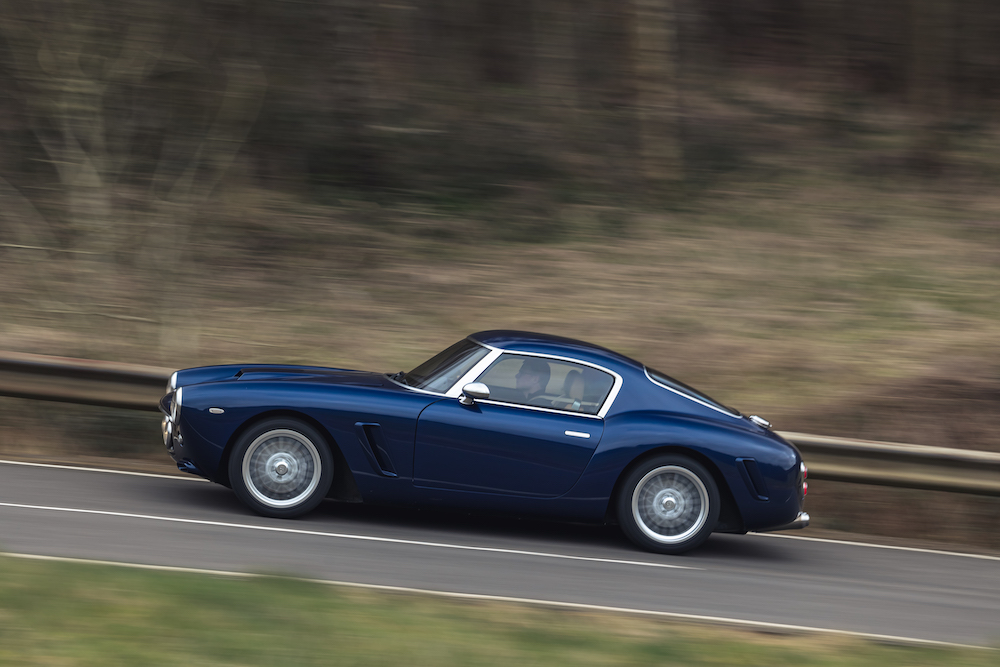 I first saw the prototype and all its associated test rigs and dummies at RML a year ago, and then a few months later sat in the spray booth, minus its trim. The engineering was impressive, but the shape didn't sing under the harsh lighting of the booth. Now I'm with the RML team at the famed Millbrook Proving Ground in Bedfordshire for only the second drive by non-RML personnel and, in the natural light, with exterior trim and the correct wheels in place, the car looks completely different.
Seen like this, the inspiration is clear, from the front grille and deep bonnet scoop to those punchy rear haunches. It's not a scaled-up copy, but it shouts 1960s 250GT SWB. So many of these modern tributes to classic shapes fall down on the detailing, and even here some of the detailing just can't match the beauty of an original – the lights, for example – due to modern regulations. But it's pretty good.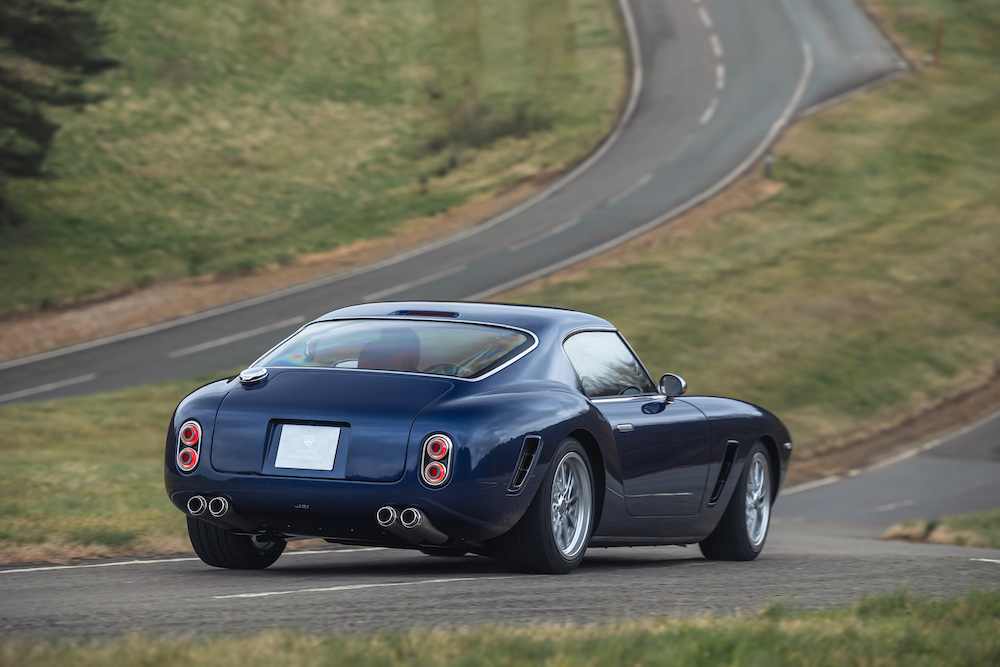 The interior isn't to its final specification, and there are extra sensors and a motor sport instrument pack fitted for the test sessions. RML's Accelerated Customer Verification Test subjects the prototype to the equivalent of 40,000 miles or three years of normal use, at high speed, across the proving ground's juddering pavé cobbles, bump tests and worse.
This is how new-car prototypes are tested, but then the Short Wheelbase is virtually a new car. All the mechanicals are stripped down and rebuilt, with the engine dyno tested and calibrated to ensure it's providing at least the original 479bhp (a tired one will often be down to 420bhp, says the RML team). The body is all-new carbonfibre, the interior and fittings are custom built (no plastic allowed), the electronic systems are updated and all systems have been recalibrated to suit the lighter weight and new purpose. With all this, weight is 1725kg – around 30kg lighter than the 550 – while top speed is an estimated 180mph and 0-60mph takes 4.1 seconds.
There's still work to be done, but the SWB fires up immediately on a starter button and I'm beckoned out of the garage and onto the test track. First stop, the legendary Hill Route, which twists and turns, climbs and drops, a test driver's heaven of challenges complete with realistically UK-style uneven Tarmac. Creaks from the steering-column shroud, an over-heavy indicator-stalk action and just a tad too much of a metallic clack through the trademark open gate of the six-speed transmission show the SWB's prototype status, but it's immediately easy to drive, coping well with the banded concrete access roads.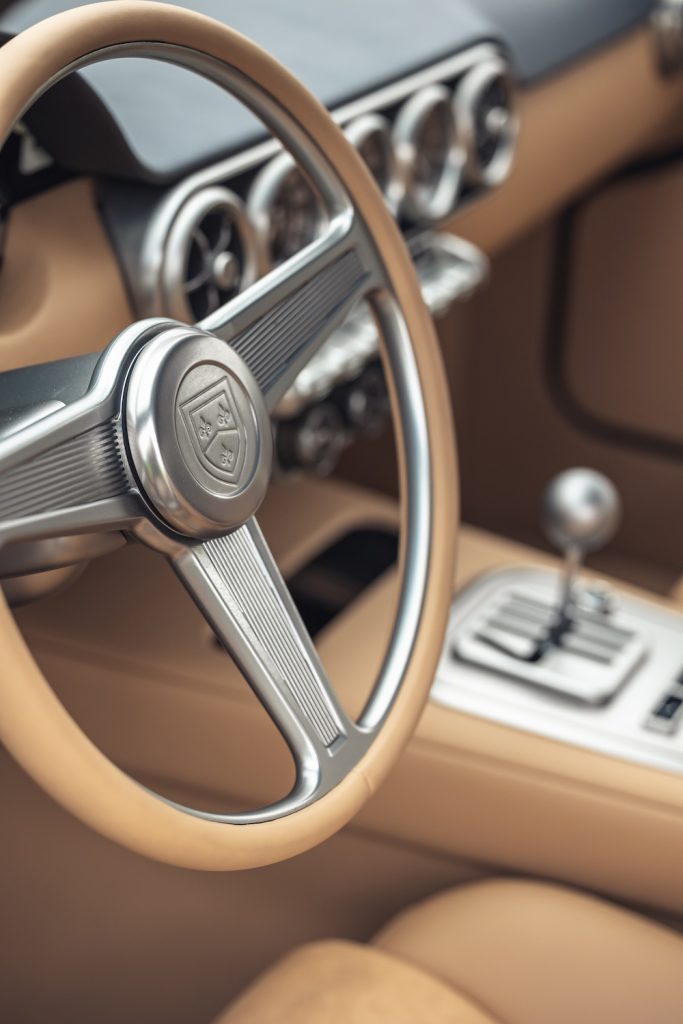 The air-con isn't fully gassed yet, so I start with the windows down and get the full effect of the retuned exhaust. RML has created an all-new system, more suited to the intended character of the Short Wheelbase. It's not as harshly metallic as a modern-day Ferrari's, so under normal acceleration it sounds fruity but not unpleasantly aggressive. But then as I approach the Hill Route I get the chance to gun the engine, and in comes the unmistakeable higher-pitched scream of a Ferrari V12 under load at high revs. Wow! With electric windows up, the sound is more muted but still enjoyable.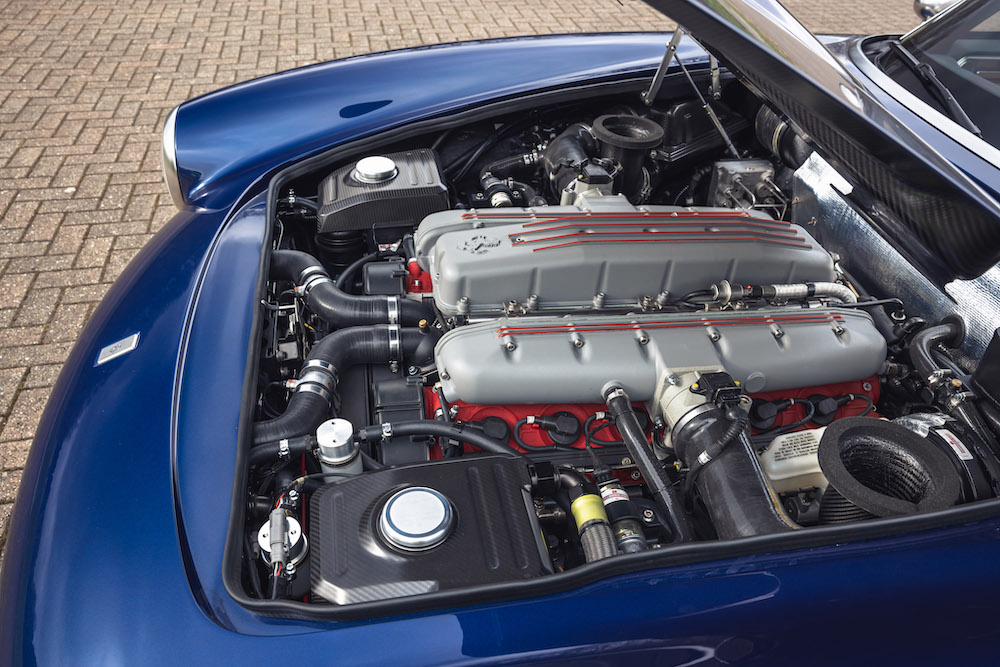 There's a temptation to go up and down through the gears round the twists and turns of the Hill Circuit, blipping the throttle and generally acting over excited. But the better solution turns out to be to leave it in third and concentrate on the lines through the corners – and to remember where the road heads after the blind crests. Later, I mention my 'laziness' with the gearchanges to Michael Mallock, who immediately agrees that it's best to leave the 'box in third and let the wonderful flexibility and torque do the work.
This circuit is quite a challenge, for both driver and machine. If a car is going to misbehave, bottom out, squirm under braking, go light over hill crests, understeer, oversteer, bump steer or exhibit any steering inaccuracies whatsoever, it's here. The Short Wheelbase handles it all except for occasionally catching a bit of the underside as the car bottoms out – the part in question is to be modified as a result.
What's interesting is that it often feels as though you're driving a particularly good 1960s GT rather than a 2000s supercar, with a touch of body movement and a friendliness to the handling that the 550 Maranello doesn't have. This was all part of the plan; when the 500 Maranello donor is stripped of its outer panels, it's replaced by a two-part clamshell body in carbonfibre, the main part of which weighs just 40kg.
This has allowed RML to rework the suspension using top-spec adjustable Öhlins units (the team is on the fourth set so far in an effort to get it absolutely right), plus new damper tops, springs and anti-roll bars, and to recalibrate the steering not just to allow for the lower weight and improved centre of gravity, but also to give a more relaxed, period feel, appropriate to fast road driving rather than the track. The steering as it is at Millbrook wouldn't want to be any lighter, but it's laden with feel; the engineers are planning to weight it slightly at both low- and high-speed ends of the curve, to give it the right feel for a quality GT.
Thank goodness for that! If you want a track weapon, go buy a Caterham or a 911 GT3. You could (engage cliché mode) drive this through Europe or across the States without any worry, and without feeling tired by the end of it.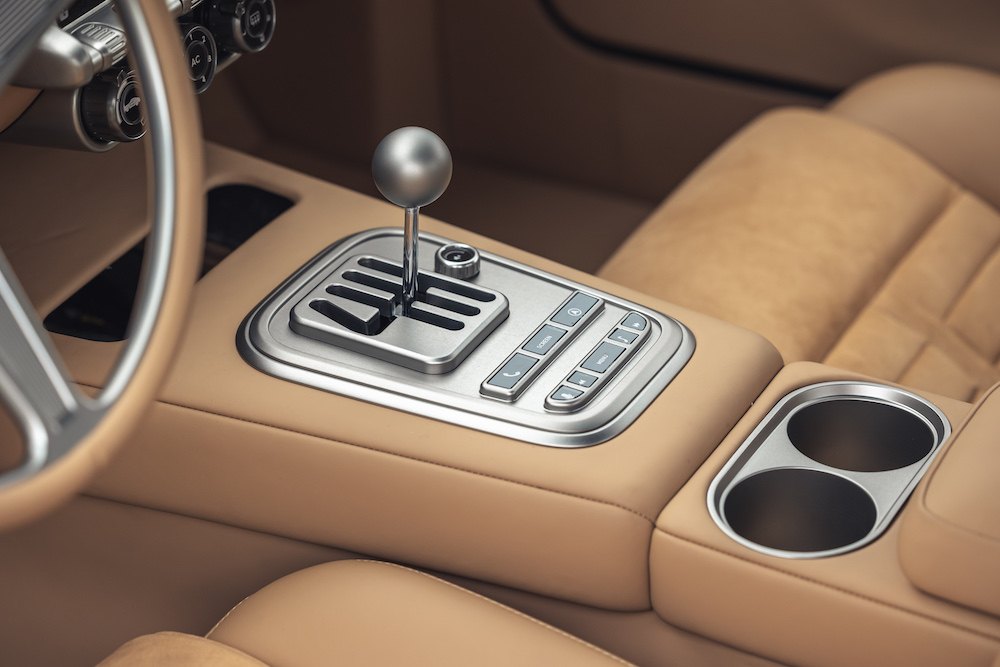 To get a feel for its high-speed capabilities, I move from the Hill Route to the Mile Straight and then to the banked High-Speed Circuit, where the Short Wheelbase has already lapped for hour after hour at over 120mph to test the cooling system (which, incidentally, was modelled virtually using CFD techniques and has proven to be more than up to the job). Working up from 80mph to over 100mph on the bowl, it's clear that the Short Wheelbase is stable and comfortable at high speed, with minimal wind noise coming from the frameless door windows – something the team plans to further reduce.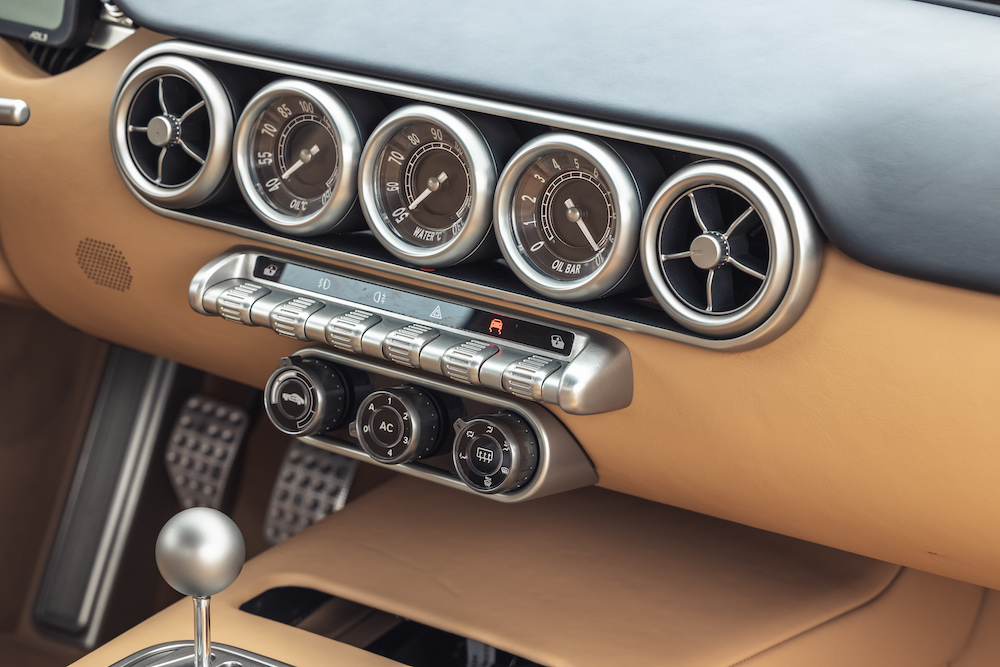 There are rough edges yet, work to be done, more testing to undergo. The plan is to build 30 of them, at £1.35m each with a predicted 70 percent heading to North America, although current orders and registered interest is showing a 50/50 split between Europe and the US. With its 550 underpinnings, it's a car that can be maintained and serviced at any Ferrari specialist around the world. It's a big ask, but it's feasible – and the order book is filling up.
One last, strangely satisfying point; when the prototype was ready for its first test, Michael was laid up with Covid, so it was none other than Ray Mallock who took it out for its virgin run – and he came back delighted.
For more information, visit the RML website.