WORDS: NATHAN CHADWICK | PHOTOGRAPHY: RM SOTHEBY'S
Three Ferraris from the Oscar Davis Collection are due to be put up for sale at RM Sotheby's Monterey sale in August.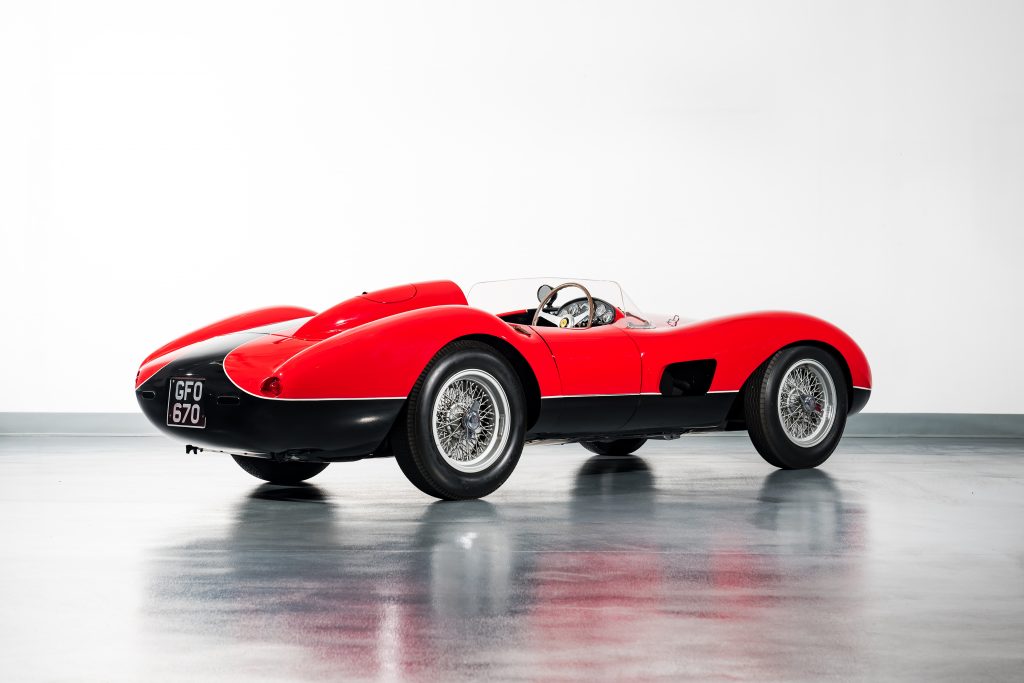 The first of the three is a 1957 500 Testa Rossa, the 18th out of 19th built. Chassis 0706 MDTR was loaned by the factory to François Picard, who repainted the car French Blue and raced it under the banner of his Ecurie Los Amigos outfit. To warm up for Le Mans, he and the car notched up three class wins, including fifth place at the Portuguese Grand Prix. For the Le Mans 24 Hours Picard teamed up with Richie Ginther, and despite being competitive in the early stages, the car retired with a water-pump failure.
Luigi Chinetti sold the car to Mike Garber of Hamden, Connecticut, who sponsored racing driver Gaston 'Gus' Andrey. According to RM Sotheby's: "Andrey first drove the beautiful 500TRC at the Nassau Bahamas Speed Week in December 1957. Andrey failed to finish the Tourist Trophy event but came back strong with a second in class in the Governor's Trophy prelim race and a respectable fifth in class in the hotly contested Nassau Trophy race. Following Nassau, the car remained in the Southeast and was entered by Mike Garber in the 1958 Sebring 12 Hours. Driven by Andrey, Bill Lloyd, and for a short stint the great Dan Gurney, the car ran well until the 125th lap when it suffered a rear axle-bearing failure."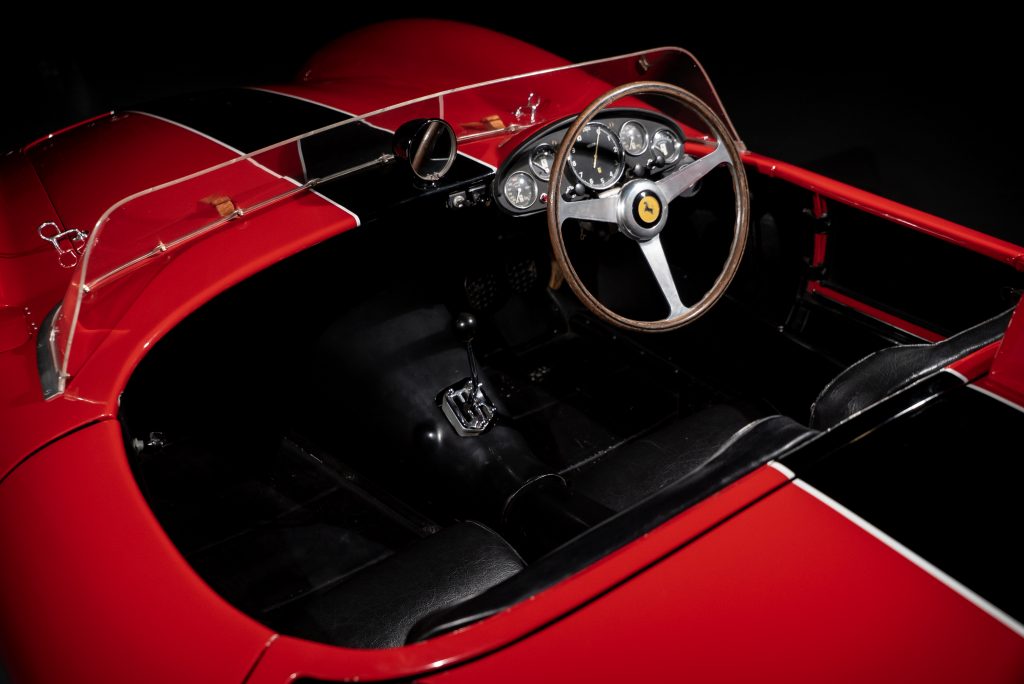 After Sebring the car was repainted in white and red, and entered into a great deal of races. Andrey would take the SCCA E-Modified championships in 1958 and 1959. The car also took overall victory at Lime Rock in April 1958, and a class win at the 1958 President's Cup at Marlboro, Maryland. It won its class at Bridgehampton in June 1958, Virginia International Raceway in October 1958, Thompson in May 1959, and Lime Rock in July 1959 as well.
As befits a car with such success, it was covered in the national press, with appearances in the October 1959 issue of Road & Track and on the cover of January 1960's Sports Car Graphic.
In the '60s it was put up for sale and had several owners, including a racing school. During this time the engine dropped a valve and it was replaced with a 289 Ford V8. A replacement Ferrari engine was subsequently installed, but the car was reunited with the correct motor in 2014.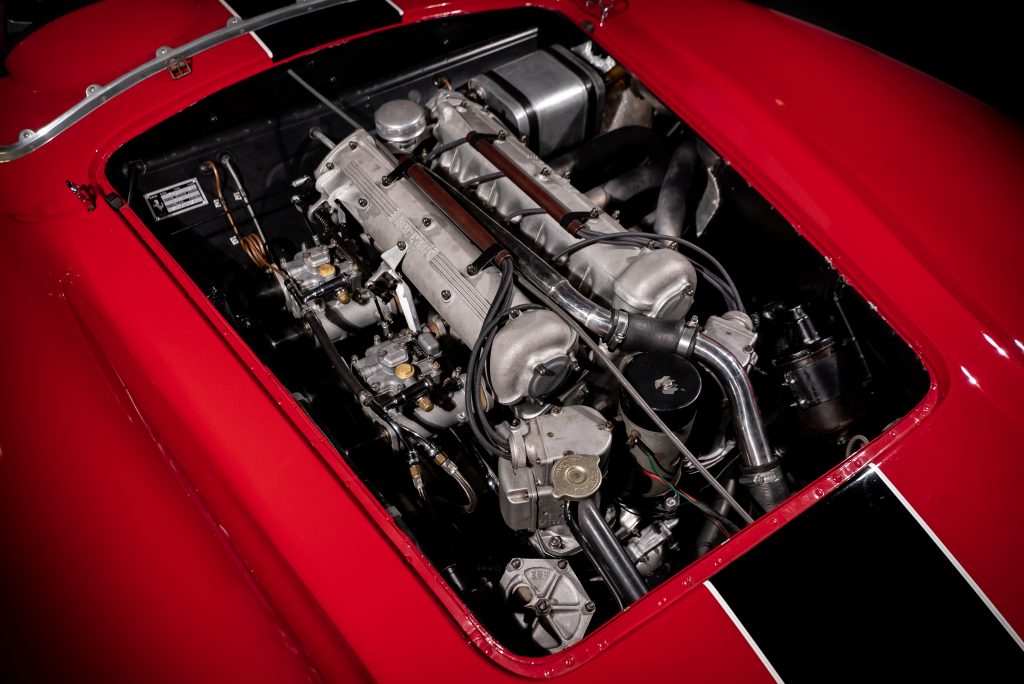 In the meantime the car had called Germany home before returning to the States in 1995. Since then it had a few more owners, and has never strayed far from the concours lawn, including appearances at Amelia Island and Pebble Beach.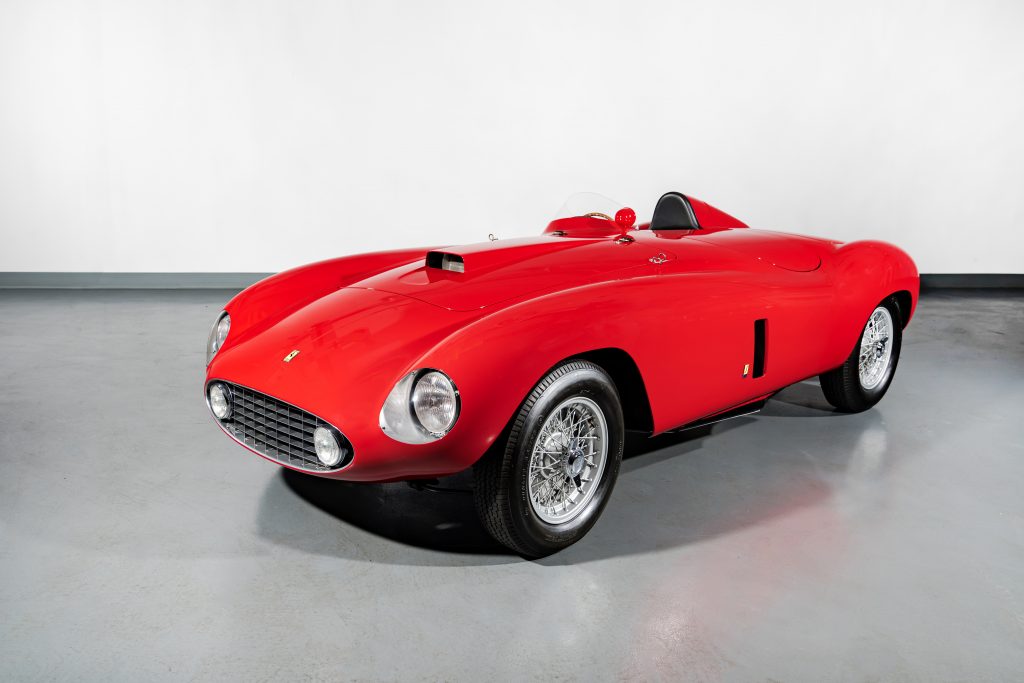 The second Ferrari is a 1953 375MM Spider, one of 26 ever made. Chassis 0366 AM originally began life with a Pininfarina body, and was campaigned by Casimiro de Oliveira throughout 1953 and 1954, including one meeting with Alberto Ascari at the Casablanca 12 Hours. That race was over before it started with an accident in practice, although de Oliveira did better at the Hedemora Nine Hours, with outright victory. That would be the highlight of de Oliveira's ownership, because the car was sent back to the factory following an accident at Skarpnäck airfield in September 1954.
When it emerged in early 1955 it wore a Scaglietti body and was sold to Swede Tore Bjurström. Yet 1955 continued as 1954 ended, with driver Valdemar Stener hitting a tree at the Helsinki GP.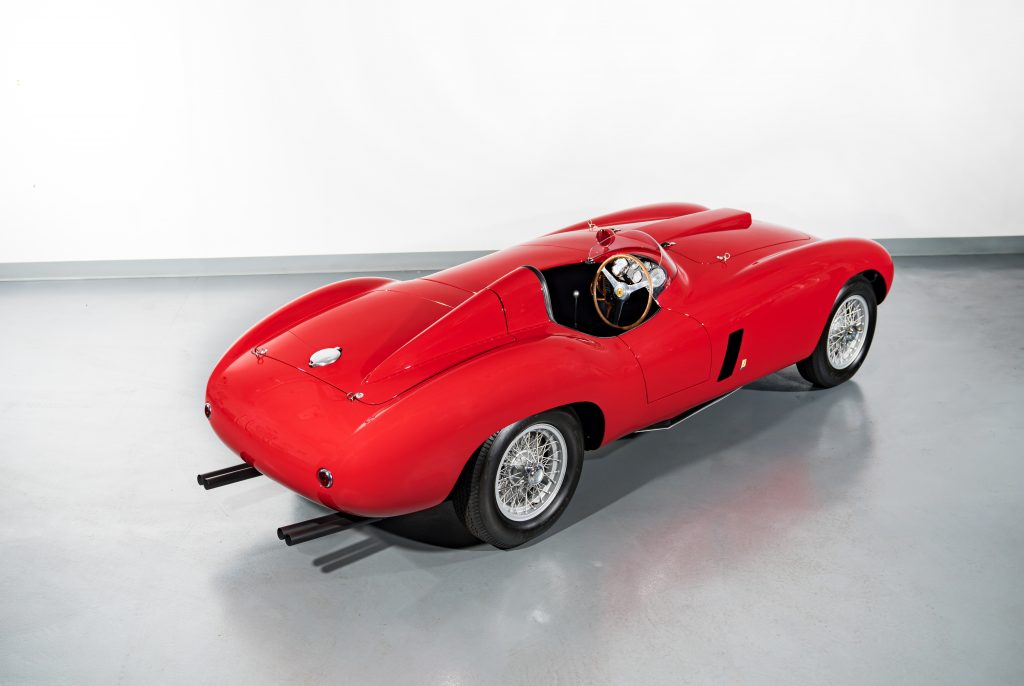 Stener's next race in the car was Helsinki a year later, where he finished second overall.
Driving duties passed to Carl-Gunnar Hammarlund and Allan Borgefors for the rest of 1956, with a class podium at Kristiansand for the Sweish Grand Prix being a highlight.
At some point the car was damaged in a fire and restored in Italy, and ownership stayed in Sweden. One owner, Gunnar Fristedt, chose to modify the front so that it looked like a smiling fish, with a 'nostril nose' with a small oval hole below the Ferrari badge. If that wasn't… individual… enough, there was imitation leopard print on the seats, velour in the engine bay and flake paint.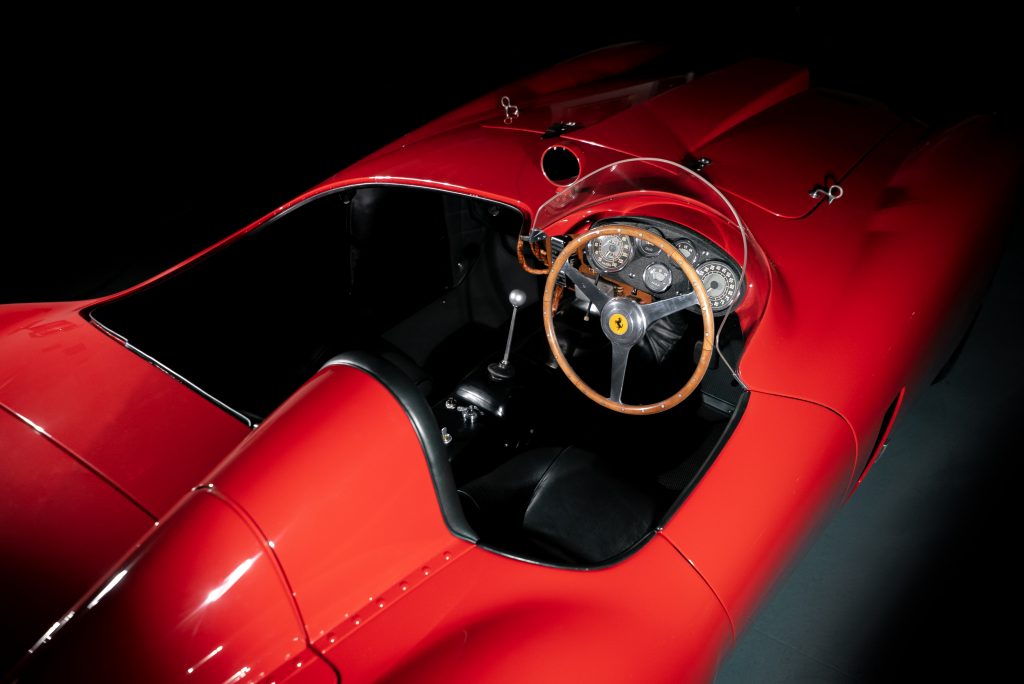 By the 1970s ownership had passed to another Swede, Richard Cederlund. After tweaking the looks a little, the car was restored by Greypaul Motors in the UK in 1983.
It then had another Swedish owner, then a British Lord, before it went to the US in 1993. There then followed several owners until 1999, when Oscar Davis took stewardship for the first time. He'd sell it ten years later, but bought it back a decade years after that.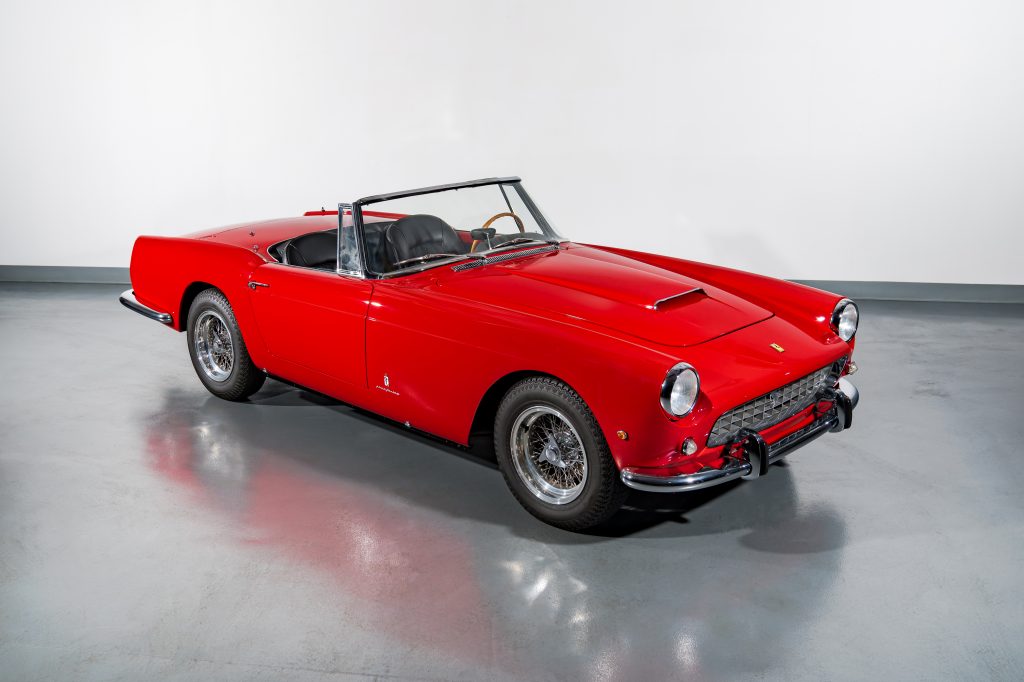 The final Ferrari from the Oscar Davis Collection is one of 200 250GT Cabriolet Series IIs. The 136th car built, chassis 2683 was originally finished in white over black leather, and first delivered to Georges Bord, chief chemist of the French perfume maker Parfums Carven via Franco-Britannic Autos.
It would call Paris its home until the early 1980s, having passed through three owners, covering 152,000 miles in 21 years.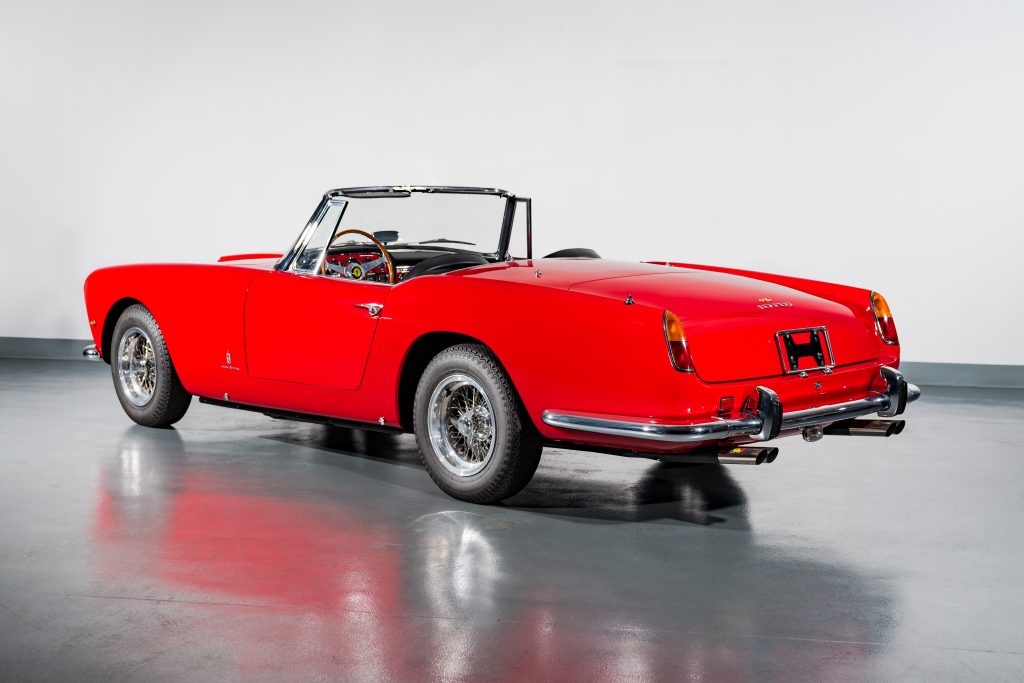 Ownership then moved to Northern Italy, where it was restored by Bacchelli & Villa, and was repainted in Blu Scuro. A Swiss-based owner took stewardship between 1994 and 2000, and the car then moved to London, UK, until 2004.
It then went to California, where Kevin Kay Restorations of Redding further revitalised the car with new Rosso Corsa paint, fresh chrome and a Cognac leather interior. After another ownership switch, it came to the Oscar Davis Collection in 2013.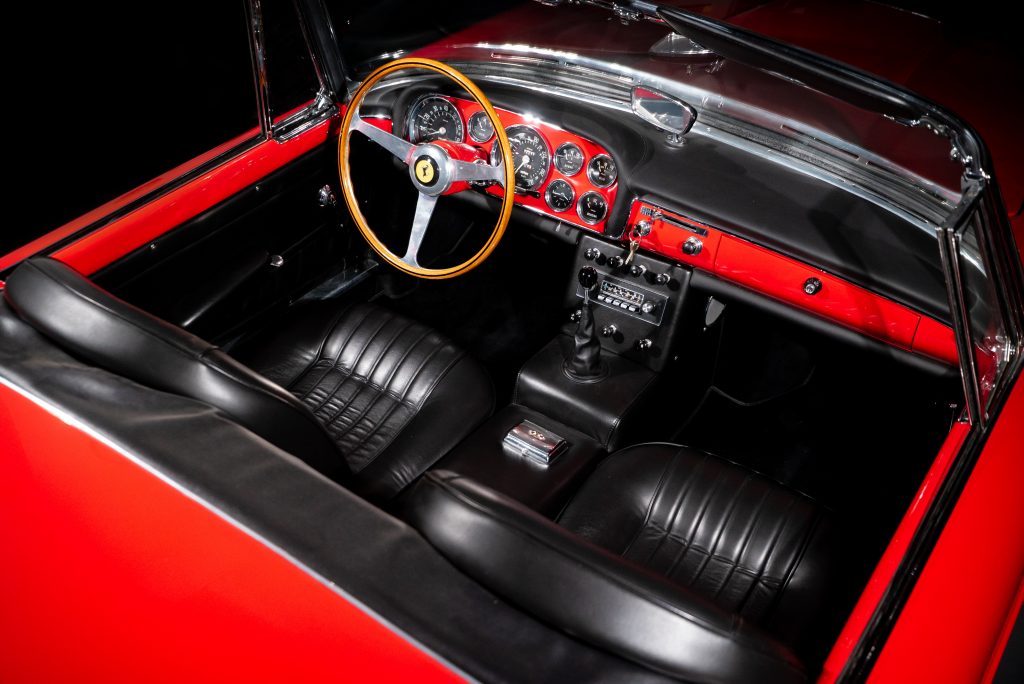 RM Sotheby's hasn't released an estimate for these cars, which are due to be auctioned at the auction house's Monterey sale between August 19 and 20. More details at rmsothebys.com