Words: Nathan Chadwick | Photos: RM Sotheby's
Monterey Car Week is not far away, and the lots are coming in thick and fast across the various auction houses. In a year that's largely been dominated by Porsche sales elsewhere, RM Sotheby's is following up its largely Ferrari-focused Villa Erba sale with a vast selection of Maranello machines at its Monterey sale, which takes place between August 17-19, 2023. We've picked the top five Ferraris up for grabs – which one do you fancy most?
1967 Ferrari 275GTB/4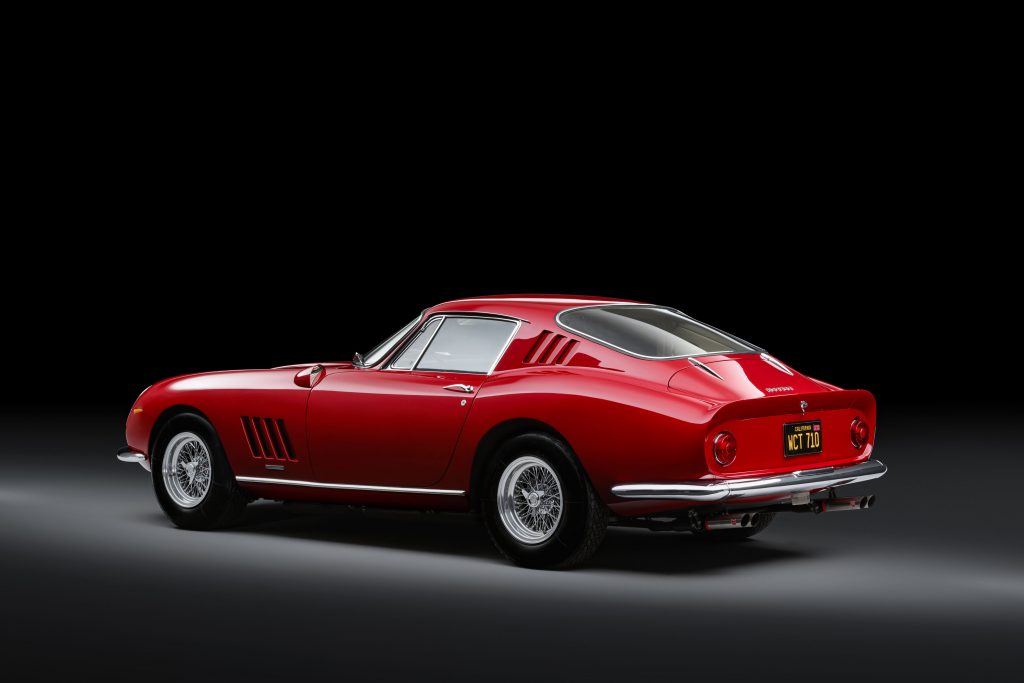 While any 275GTB/4 is special, this particular example – chassis 10621 – was originally owned by screen legend Steve McQueen. He bought the car rather than wait for his NART Spyder to be repaired after someone ran into the back of him at a stoplight in Malibu. This particular 275GTB/4 was originally finished in Nocciola (hazelnut) paint over a Nero leather interior, but McQueen soon despatched it to Lee Brown for a repaint in Chianti along with the fitment of the Borrani wire wheels and mirror on the driver's side wing that were rescued from his wrecked NART Spyder.
In 1971 the car went to another actor, Guy Williams, then in 1976 ownership passed to JP Hyan, a Los Angeles police officer who was the son of the founder of Genuine Foods. During this time it was involved in an accident, after which, in 1980, it was sold in damaged form to Robert Panella, the principal of a trucking company based in Stockton, California.
Panella originally wanted a NART Spyder, but he chose to have this car converted to drop-top form by Robert Straman of Costa Mesa. It remained in Panella's possession until 1997, and would pass through a few owners and continents before it ended up in the hands of 1983 Le Mans 24 Hours winner Vern Schuppan in 2009. He chose to return the car to its original form, tracking down the authentic parts removed during the Spyder conversion, and sent the car to Ferrari Classiche for a complete restoration back to McQueen specification. Schuppan sold the car to David Moores in 2014. No estimate has been revealed at the time of writing.
1972 Ferrari 365GTS/4 Daytona Spyder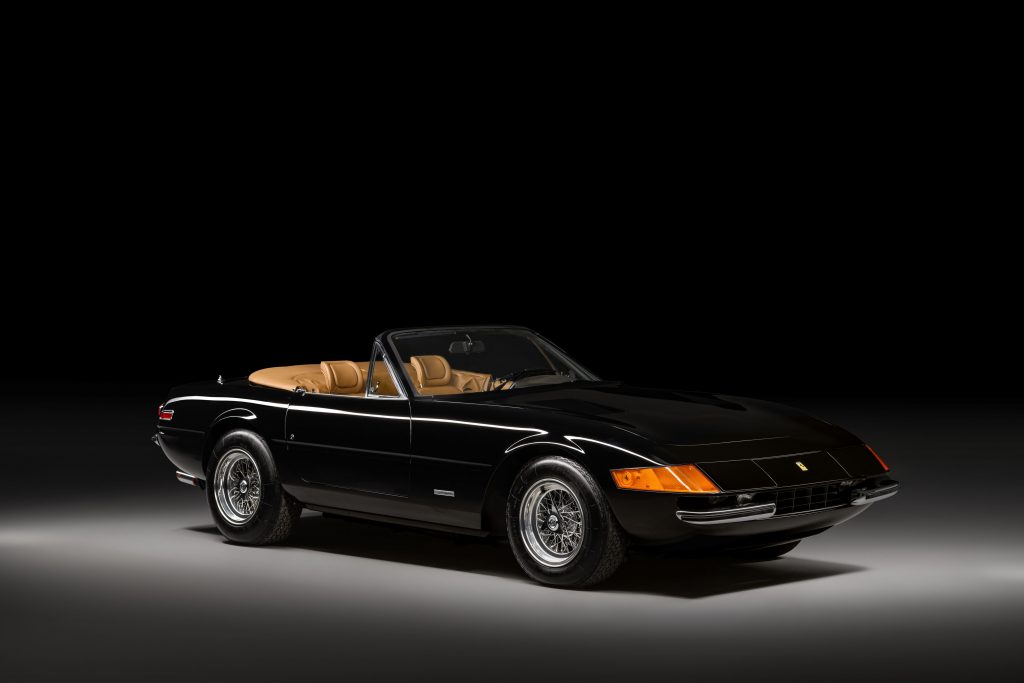 This 365GTS/4 Daytona Spyder, chassis 15417, is the 49th out of 121 examples built, and is one of two built with Nero paint over Beige Scuro leather. It was specified to United States standards, and features factory-equipped air conditioning, Voxson Sonar radio and tonneau cover. Originally ordered for the founder of chemical company Ash Stevens, the car was actually first owned by William Whitelaw Jr of Dublin, Ohio. He kept it a year before selling it to Robert Smith of Hinsdale, Illinois.
The Spyder was eventually impounded by the US Drug Enforcement Agency in December 1991. By 1995 the car was in the possession of Jeffrey Schwartz of Tenafly, New Jersey, who embarked on a two-year restoration. Once complete it was sold to a Florida-based collector, who kept the car for 12 years but covered only 150 miles. It gained Ferrari Classiche certification in 2011, before passing through several US owners. It came to the UK via David Moores, who displayed the car at Salon Privé Concours d'Elegance at Blenheim Palace in September 2018. No estimate has been released at the time of writing.
1965 Ferrari 275GTB/6C Alloy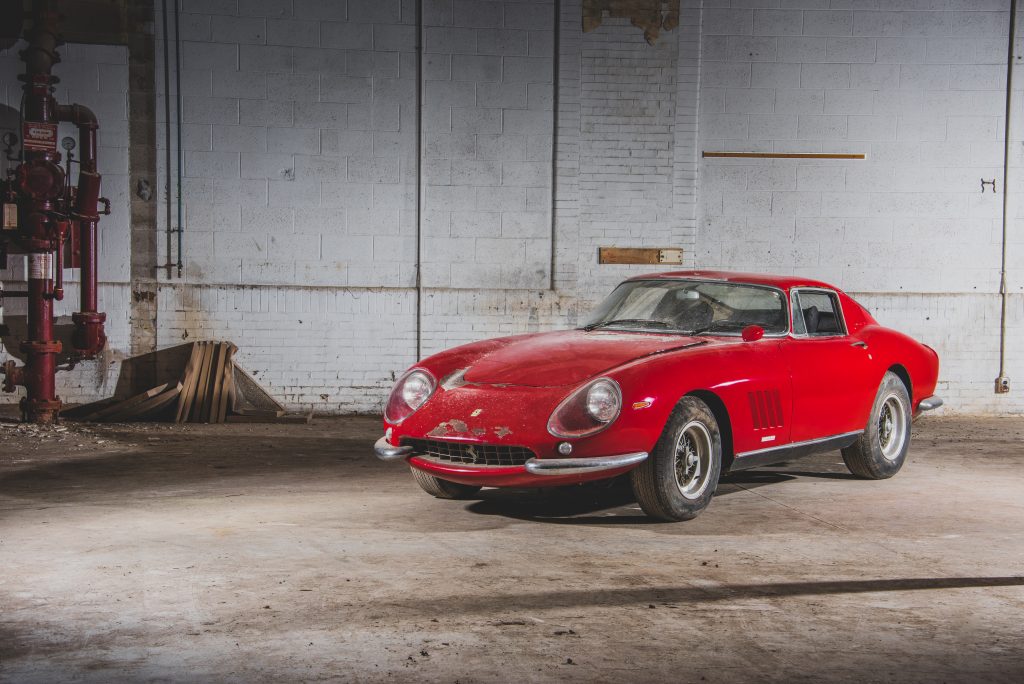 Offered as part of the Lost & Found Collection of Ferraris, this car, chassis 7809, is the first road-going long-nose alloy 275GTB/6C, and is the third road-going example of the long-nose body configuration fitted with CV joints. The car was due to make its debut at the Paris Salon in 1965, but would eventually go on stage at the Turin Motor Show in November that year. Just before Christmas, the car was sold to amateur racing driver-turned-publisher Luciano Conti. He founded weekly motor sport title Autosprint, which received support and occasionally words from Enzo Ferrari himself. Conti kept the car for just seven months, during which time he partnered with Vittorio Venturi for a crack at the Targa Florio in 1966. The race ended in retirement after only two laps.
Conti sold the 275 to Enrico Tronconi of Milan, who had the car finished in yellow with a purple stripe. In 1968 the car was sold to Marcel Leemann of Zurich, and imported to Switzerland in 1970. Over the next few years it passed through several European and American collectors, including James Glickenhaus and Gerald Roush, the latter of whom had the car painted in red. After 1979, the car was kept in a barn in Florida, which then got hit by Hurricane Charley in August 2004. It's described as needing a full restoration; offered at no reserve. No estimate has been released at the time of writing.
1967 Ferrari 330GTS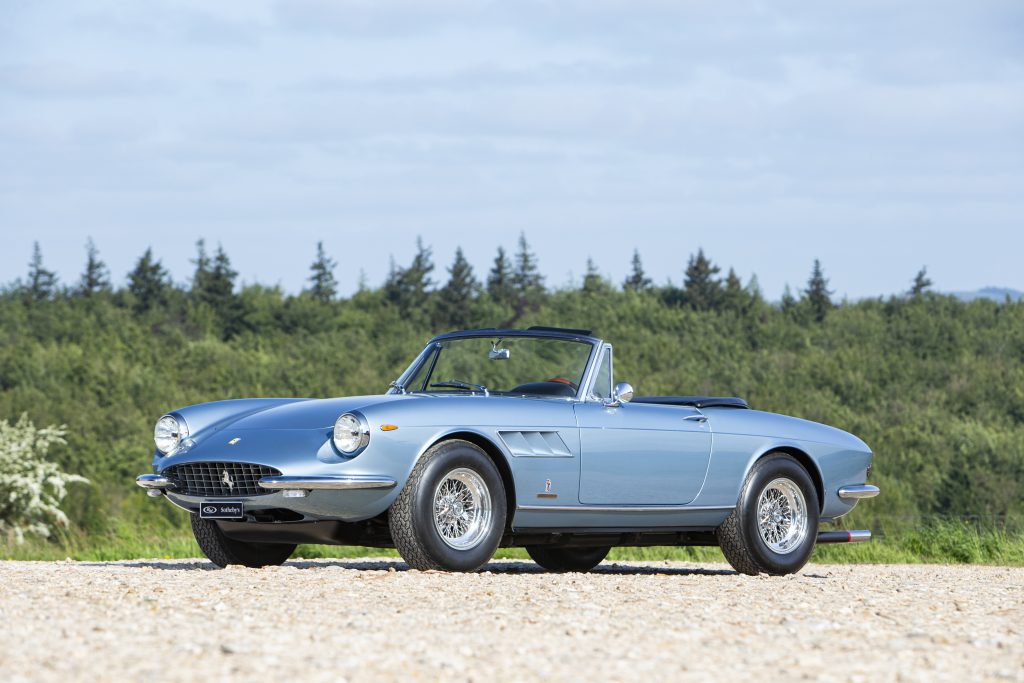 Just 99 examples of the 330GTS were built, and this one, chassis 10359, was displayed at the XLIV Torino Motor Show held at Parco Valentino in Torino thanks to its Azzurro paint. It was also specified with air-conditioning, power windows and Campagnolo alloy wheels. After its stint on stage it was sent to the US via Chinetti Motors, where it would be used as a display car until 1969. Its first owner was American realist painter James Wyeth of Wilmington, Delaware, who traded in his Shelby 427 Cobra against the Ferrari.
The car would end up in the possession of Carl Cantera of Wilmington, Delaware, in 1975; he repainted the car red twice over his three-decade ownership. In 2017 the car was sold to the UK and mechanically overhauled by Barkaways Ferrari and retried by O'Rourke Coachtrimmers; it was also certified by Ferrari Classiche. It was also returned to its originally hue in 2020, and has graced several concours since. No estimate has been released at the time of writing.
1978 Ferrari 512 BB Competizione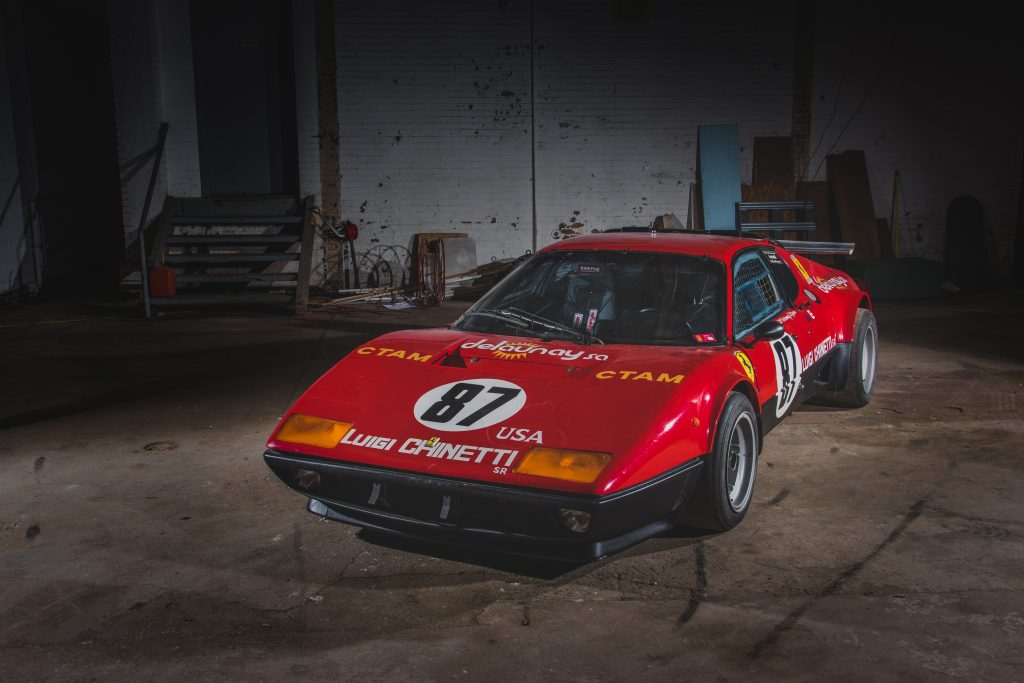 The 512 BB is another part of the Lost & Found Collection, and is one of three factory-specified examples prepared to IMSA specifications for the 1978 Le Mans 24 Hours. Entered by Luigi Chinetti on behalf of the North American Racing Team, chassis 24131 was driven by Jean-Pierre Delaunay, Jacques Guérin, and Gregg Young. The race would end in retirement in the 19th hour while the car was running 11th overall and second overall due to transmission failure. The car was retained by Chinetti until 1980, when it was sold to Glen Kalil of Miami, Florida, a carpet dealer who used it as a road car. A year later the car was sold to Walter Medlin, and kept out of the public view for 42 years. It's described as being in need of full restoration; no estimate has been released at the time of writing.
For more details on the auction, head here.