WORDS: ELLIOTT HUGHES/Richard Heseltine | PHOTOGRAPHY: Ferrari/WIKIMEDIA COMMONS
Ferrari unveiled its first Works prototype race car in 50 years at the Ferrari Finali Mondiali event at Imola on October 30, 2022. Called the 499P, the top-class LMH machine debuted alongside the 296GT3 and both are set to make their competitive debuts in 2023.
The new prototype will compete under the FIA WEC's new LMH regulations, and it marks the first time the marque has competed at the Le Mans 24 Hours in almost 50 years.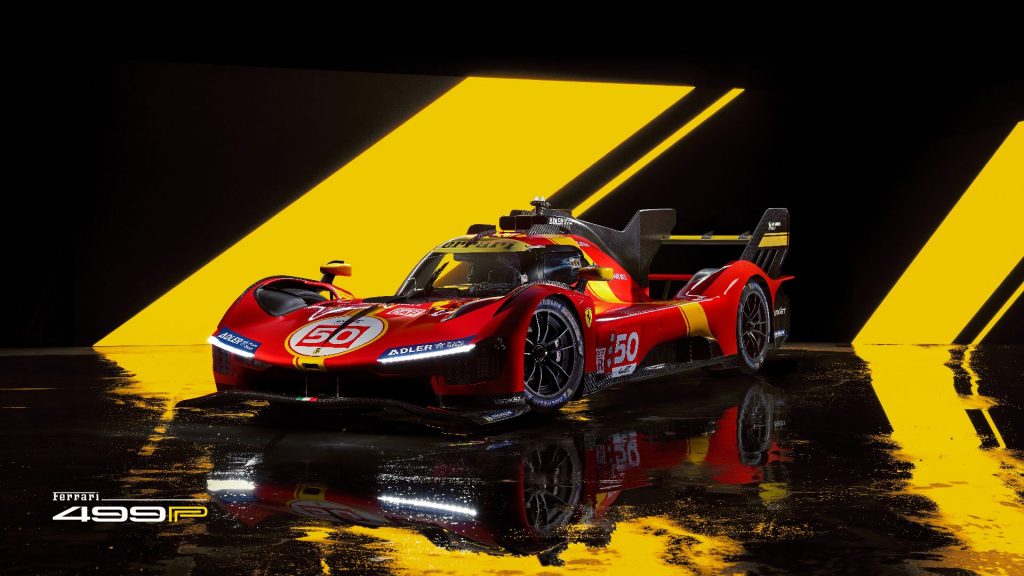 The 499P is powered by a turbocharged 2.9-litre V6 that shares architecture with the unit found in the 296GT3 and 296 road car. The 499P's V6, however, is augmented by a front-mounted electric motor powered by a 900-volt battery for a total output of 680bhp allowed by LMH regulations.
Despite Ferrari's long hiatus from competing at La Sarthe, it is one of the race's most successful manufacturers, bagging nine overall victories including six consecutive wins from 1960 to 1965.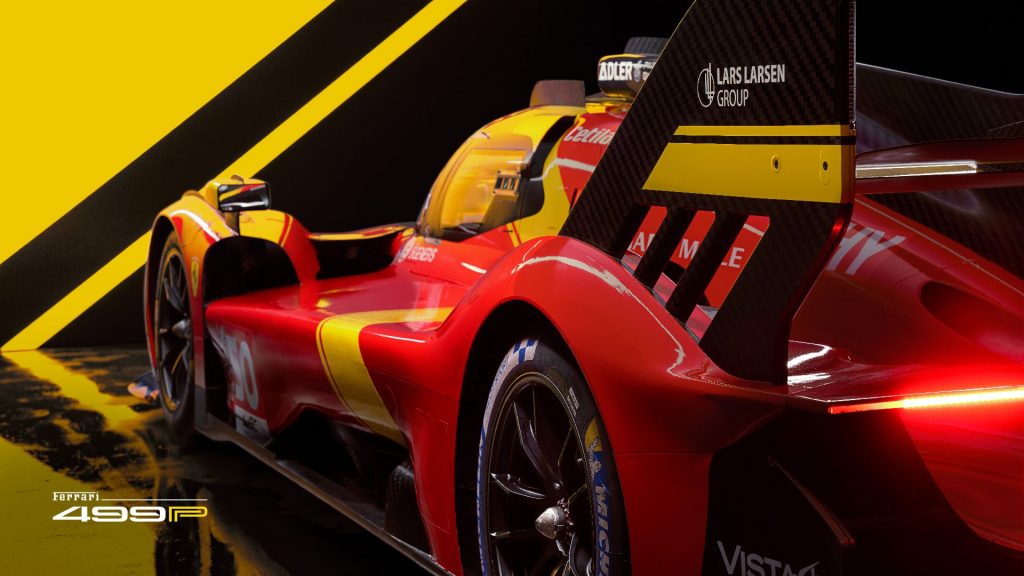 It's fitting that the 499P was accompanied by several of the marque's recent racing machines such as the F60 and SF71-H Formula 1 cars, as it looks to build on a legendary lineage of Prancing Horses that have helped to forge the marque's mythical motor sport status.
To celebrate Ferrari's poignant return to Le Mans – on the 100th anniversary edition of the race, no less – we look back at the La Sarthe moments that wove the brand's storied status, as written about by Richard Heseltine in Magneto issue 11's Top 50 feature.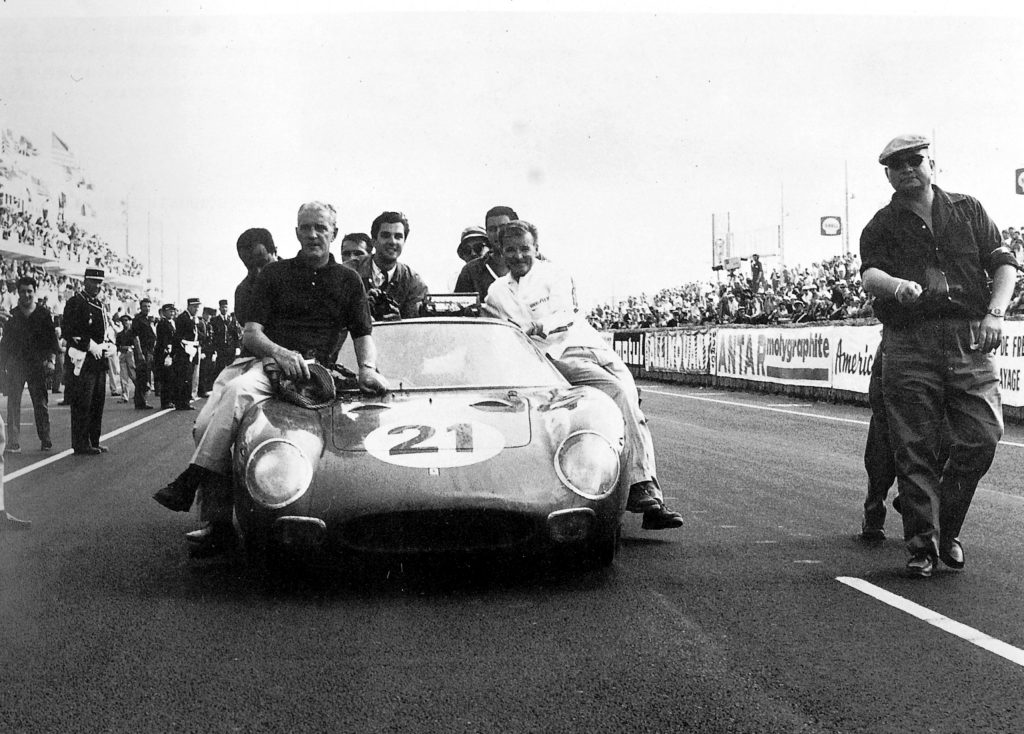 The Third Man, 1965.
Oh, where to start? The 1965 Le Mans 24 Hour race has long since passed into legend. It's a story of how a privateer squad upheld Ferrari's honour while the Works team fell apart, and Ford's mega-money bid floundered. Even then, victory was only secured late in the day. The thing is, this is only the amuse-bouche to the big story; that a third, uncredited, driver got behind the wheel of the winning car for a stint. And then there are the reasons why he was installed in it in the first place.
Predictably, the GT40 army led the charge come 4:00pm on June 19 of that year. It didn't last long. Ferraris blanked the top six positions as darkness fell. By the early hours of Sunday morning, the 250LM entered by Luigi Chinetti's NART squad, and shared by Jochen Rindt and Masten Gregory, was lying in a distant third place. By midday, just 14 of the 51 starters were still lapping, with the Franco-Belgian partnership of Pierre Dumay and Gustave Gosselin seemingly on target to take the win aboard their 250LM.
However, Rindt was lapping faster than Dumay in the NART 250LM that was now in second place. And then the leader's luck took a tumble late in the day; Dumay somehow managed to control his car after it developed a puncture while travelling flat-chat down the Mulsanne Straight. Five laps were lost making repairs. There was no way the deficit could be clawed back, so Rindt and Gregory came home the victors, Chinetti adding a win as an entrant to the three he had accrued as a driver. That would be a great story in itself, but the narrative surrounding how the race was won has since taken on a credibility- stretching life of its own.
These days, reliability tends to be of the bulletproof variety. Way back when, cars tended to be nursed, coaxed and cajoled into completing the distance – and the 250LM's transmission was notoriously fragile. Some state as gospel that Rindt and Gregory fully expected their car to retire early, so deliberately beat on it. Why flog your guts out and prolong the inevitable? Somehow, though, it stayed together. Asked about this, Luigi Chinetti Jr, who was on site that year, said: "If dad thought for a moment that they were trying to break his car, he would have broken their asses."
Additional intrigue surrounds claims made by NART regular Ed Hugus that he had picked up the slack during the night; that Gregory didn't enjoy driving in the dark because he wore glasses, so Hugus took his place. His involvement was purportedly glossed over because it would have led to the car's disqualification. His version of history has, astoundingly, been accepted as gospel truth in certain circles – and in print, too. However, there isn't an iota of a scintilla of a nuisance of evidence to suggest that any of it is true.
A lack of proof doesn't mean something didn't happen. However, without corroboration you have to doubt the veracity of Hugus's claim. But what is really telling isn't so much that the 250LM triumphed at Le Mans in 1965, more that Ferrari hasn't won there since. Given that the brand is set to field a new weapon in the hypercar class in 2023, maybe we won't have to wait too much longer for outright win number ten.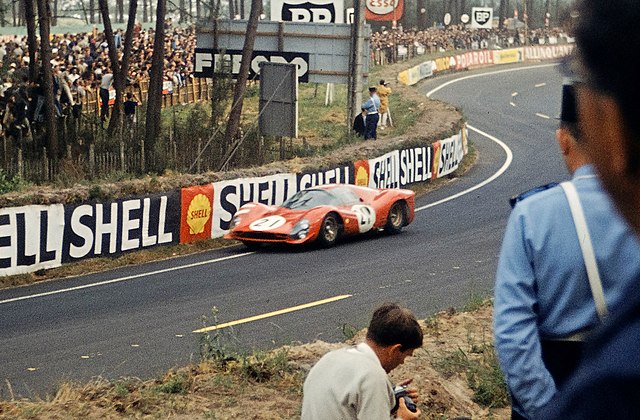 Ford vs Ferrari, 1966
It was a battle for supremacy the likes of which had never been seen before. Henry Ford II, having been jilted at the altar by Enzo Ferrari, vowed revenge. He got it, too. However, the legend behind how the Blue Oval bested the Old Man is precisely that. It has been embellished beyond recognition in print, and reimagined by Hollywood to the point that it's hard to differentiate the actual from the apocryphal. What is undoubtedly true is that victory for the Ford GT40 wasn't the work of a moment.
Ford's budget for its Le Mans bids, let alone the Total Performance programme as a whole, was astronomical. One insider likened it to that of the Moon Landing. Nevertheless, the first attempt at the 24 Hours in 1964 ended with retirement for all three cars. A year later, it was another washout. Then, in 1966, the 7.0-litre Mk2 scorched to victory with a staged close-formation 1-2-3 finish. It marked the end of Ferrari's run at Le Mans, the Italian marque having won year after year since 1960. However, it is worth pointing out that Ferrari did sports cars, Formula 1 and various other disciplines, spending the sort of lira that wouldn't cover Ford's catering budget.
It is also worth recalling that while Ferrari got its bottom kicked on hallowed ground in 1966, it did return the favour at Daytona the following year. It finished 1-2-3 – but we have yet to see a film about that… Joking aside, though, there is no denying the fact that Ford set itself a goal and achieved it. And how. The 1967 Le Mans race saw AJ Foyt and Dan Gurney win in the mighty Mk4, while JW Automotive/Gulf squad famously claimed honours in 1968-69 using the same GT40 (no. 1075). 'The Deuce' got his revenge on Il Commendatore. We should all be grateful that Enzo got his back up in the first place.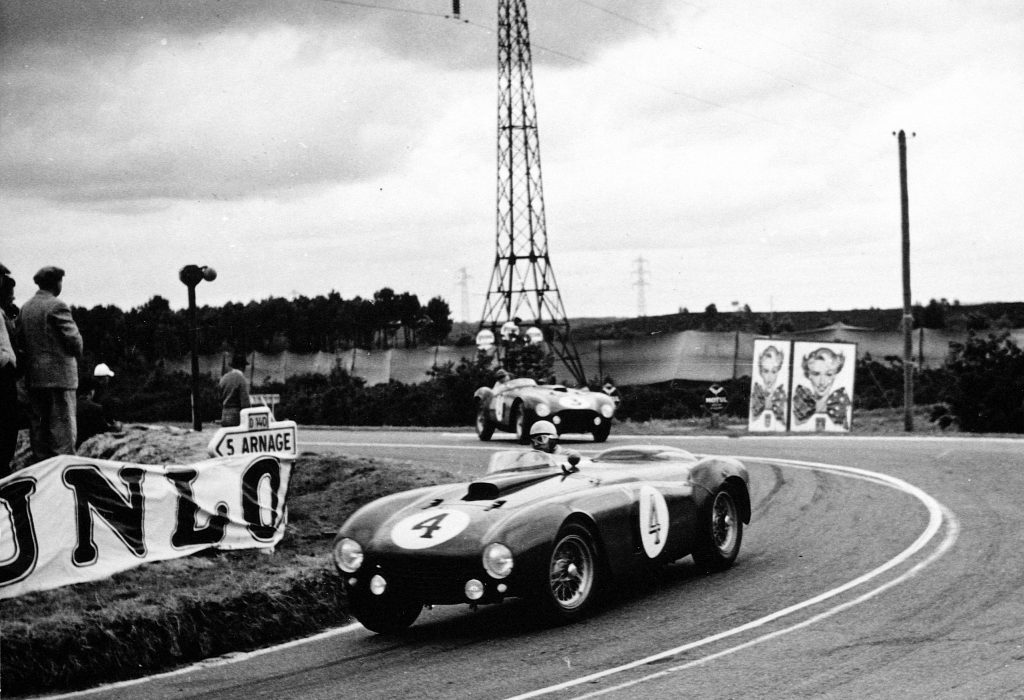 Bull Fights Jaguar, 1954
Jaguar had claimed a resounding win at Le Mans in 1953. The highest-placed Ferrari was down in fifth spot. A year later the Scuderia returned with three 4.5-litre 340 (375 Plus) sports racers. Jaguar, by contrast, had a new weapon in its armoury; the D-type. And that's before you factor in other works and privateer squads. Of the 57 cars that made the start, only nine were classified, but the Ferrari-Jaguar battle raged to the end.
By dawn, just one factory Ferrari and a lone D-type were still running. The Jaguar was helmed by the previous year's winners, Duncan Hamilton and Tony Rolt; the scarlet car by Maurice Trintignant and José Froilán González. The latter pairing appeared comfortable until the heavens opened again, with two hours to go. The Jaguar started making inroads; even more so after the sodden Ferrari pitted for the final time and took an age to fire again. Hamilton charged in a manner he later deemed almost suicidal, but the 'Pampas Bull' responded in kind. Nevertheless, they were just 87 seconds apart as the chequered flag descended.
Ferrari's Maiden Win, 1949
The fledgling Ferrari marque claimed its maiden win in 1949, this being the first year the 24 Hours had been staged in peacetime. And it fell to long-time Ferrari ally Luigi Chinetti to make it happen. Already a double victor, having claimed honours in 1932 and '34 aboard Alfa Romeos, the racer/concessionaire was paired with Peter Mitchell-Thomson (Lord Selsdon) in the latter's 166MM. However, the British blueblood was a team-mate in only the most nominal sense.
Chinetti, who was 47 years old at the time, did the bulk of the driving. And how. According to Motor Sport magazine's race report, Selsdon didn't take the wheel until 4.26am, by which time his 2.0-litre barchetta was comfortably in the lead. He reputedly felt unwell and relinquished it again at 5.38am. There were weird parallels with the 1932 race, where Raymond Sommer did the bulk of the driving en route to victory after Chinetti was stricken with a fever. Here, he battled fatigue, a slipping clutch and a lot more besides to become the first three-time winner.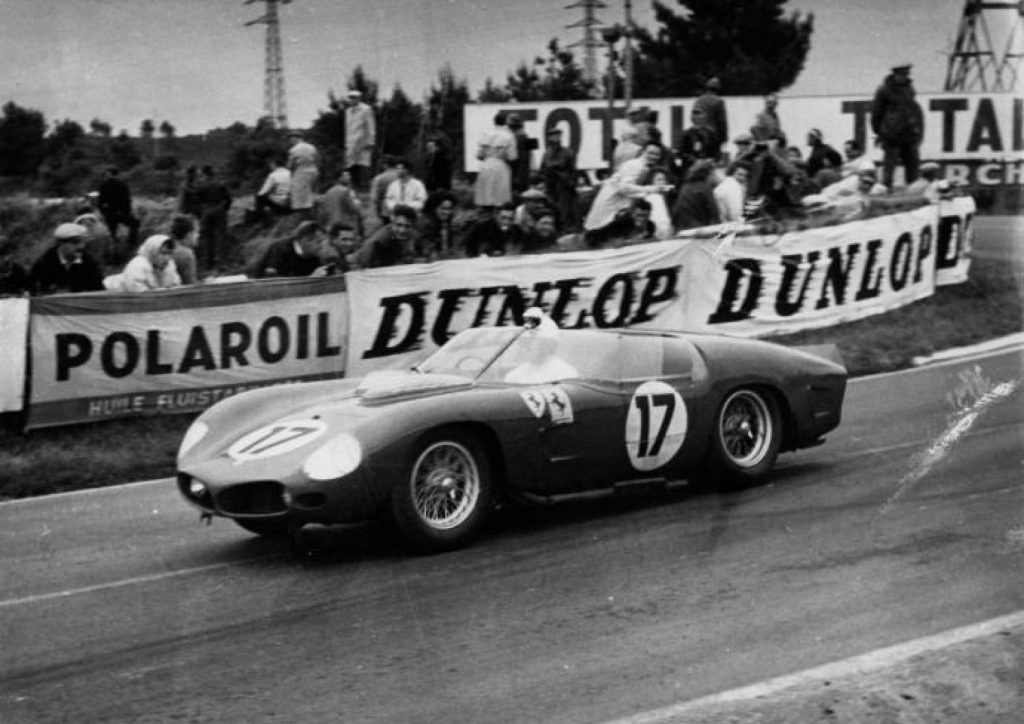 Mexican's Rave, 1961
That Ferrari scorched to victory in 1961's 24 Hours surprised nobody. Eleven cars featured among the 55-strong entry, the works team having set tongues wagging during the April test weekend when Richie Ginther's V6 Dino 246 SP lapped three seconds faster than second-place Phil Hill's 250 Testa Rossa. Pedro and Ricardo Rodríguez in the privateer NART 250 TRI/61 stole the actual race.
By 11:00pm, the supremely fast Mexicans were dicing with the works Ferraris on a drying track. On the Sunday morning, they lost nearly 30 minutes due to a misfire, but soon recovered. However, with two hours to go, their engine let go at Maison Blanche. They'd been running in second place and were in contention for victory. Their retirement gave Olivier Gendebien/Hill breathing room, and they recorded Ferrari's fifth win to equal Bentley and Jaguar's record.