Words: Nathan Chadwick | Photos: All images copyright and courtesy of Gooding & Company. Photos by Mathieu Heurtault.
An example of the racing car that solidified Ferrari's early racing success as an independent auto maker is being put up for sale by Gooding & Co as part of its event at the Concours of Elegance (1-3 September 2023). This 1953 Ferrari 166 MM/53, one of 13 cars built in total, has been in the hands of the vendor for the past 63 years.
The 166 MM was a dominating force in sports car racing in the post-war period, and is the only car since World War Two to win the Le Mans 24 Hours, Targa Florio and Mille Miglia. While 33 examples of the 166 MM were built in total, just 13 166 MM/53 chassis were built. The MM/53's 2.0-litre V12 was upgraded with roller-cam followers and three four-choke Weber carburettors, which helped to bring power up by around 20bhp over the original 166 MM to 160bhp. Vignale would body seven 166 MM/53 chassis, with six getting Giovanni Michelotti-penned Spyder bodies that echoed the Ferrari 250 and 340 Mille Miglia models of the time.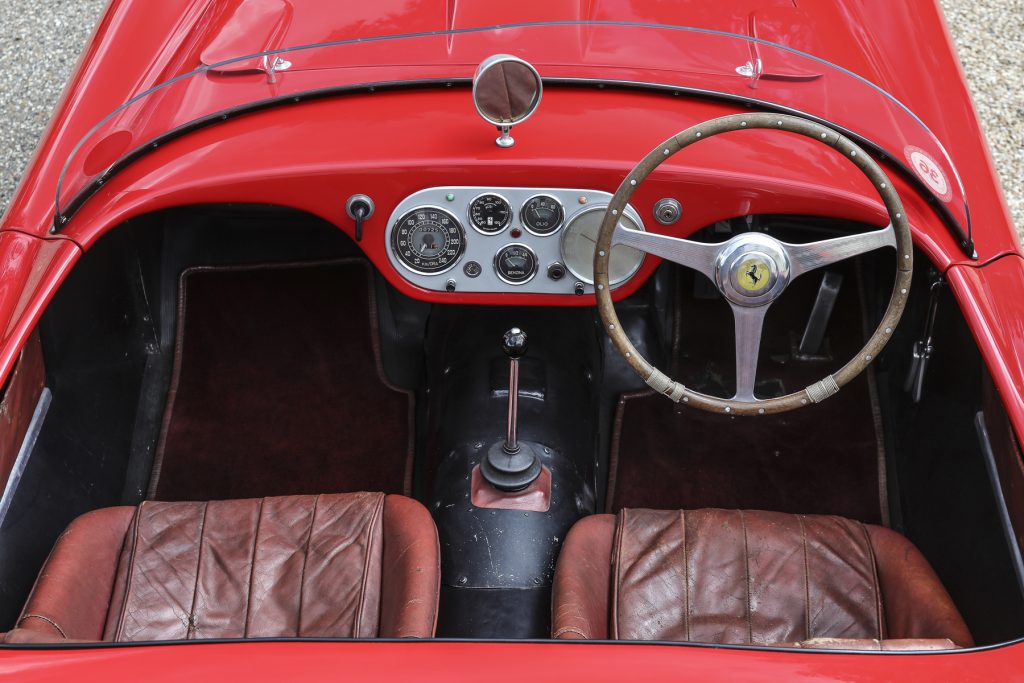 This particular example is chassis 0328 M, the 11th of the 13 166 MM/53s built, and the fifth of six Vignale-bodied Spyders. It was originally finished in two-tone dark blue and white, reflecting the Vignale racing colours at the time. However, the chassis number was soon changed to 0050 M, just in time for its first owner to take the wheel.
His name was Porfirio Rubirosa, a Dominican politician, professional polo player and racing driver, and this 166 MM/53 was his second Ferrari, a Touring-bodied 166 MM Barchetta being his first. That car wore chassis number 0050 M, and it's believed he asked Ferrari to renumber this car to 0050 M as a way to avoid French import taxes while Rubirosa was serving as a diplomat in Paris.
Rubirosa intended to drive the 166 MM/53 at Le Mans, but never turned up. He would compete with this car only once, alongside his 1952 Le Mans team-mate Pierre Leygonie, in the Reims 12 Hours. Although they ran well initially, the car would retire due to mechanical failure. Things got worse for Rubirosa soon afterwards – he was stripped of his political post in Paris, and the car was returned to Ferrari and renumbered 0308. This is where it might get confusing…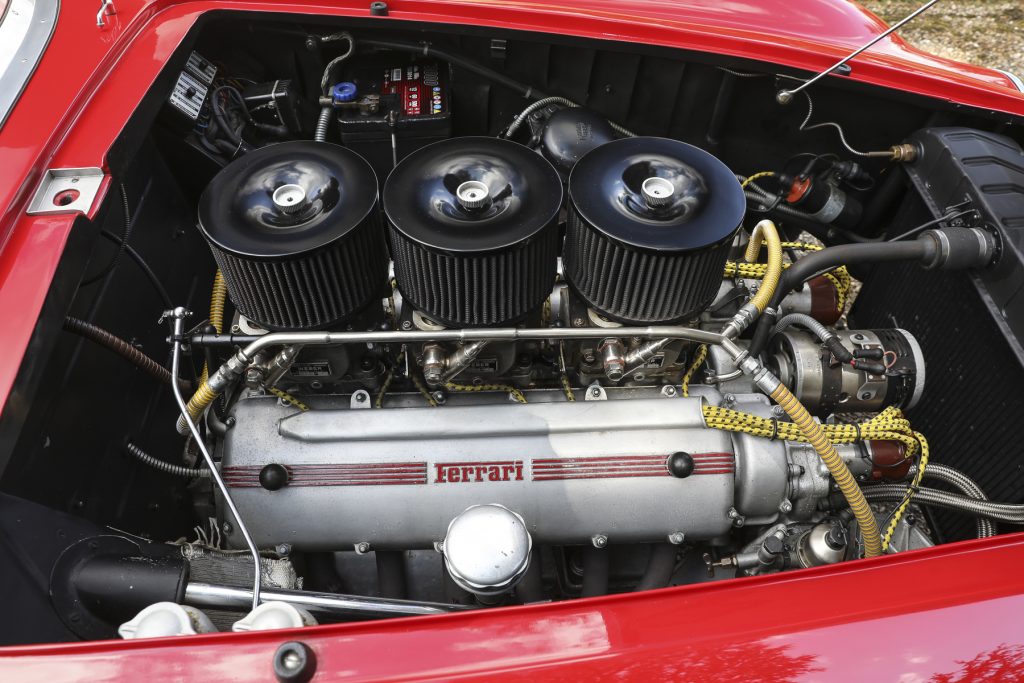 There was already a 0308 M in circulation, a 166 M/53 with Berlinetta bodywork courtesy of Vignale. Sold new to Antoine Causse, a Frenchman living in Morocco, it had found its way back to the Ferrari factory to be rebuilt after a heavy road accident. Rubirosa's car then assumed the title of 0308, while Causse's chassis was renamed as 0050.
Rubirosa's 0308 M, the car before you, is believed to have been sold to Virginia Guglielmini of Vercelli, although Gooding & Co believe the real owner was French racing driver Fernand Tavano. It was the first of many Ferraris Tavano would race in, and he would compete with 0308 M in several events in 1954 and 1955 before Ferrari reacquired the car.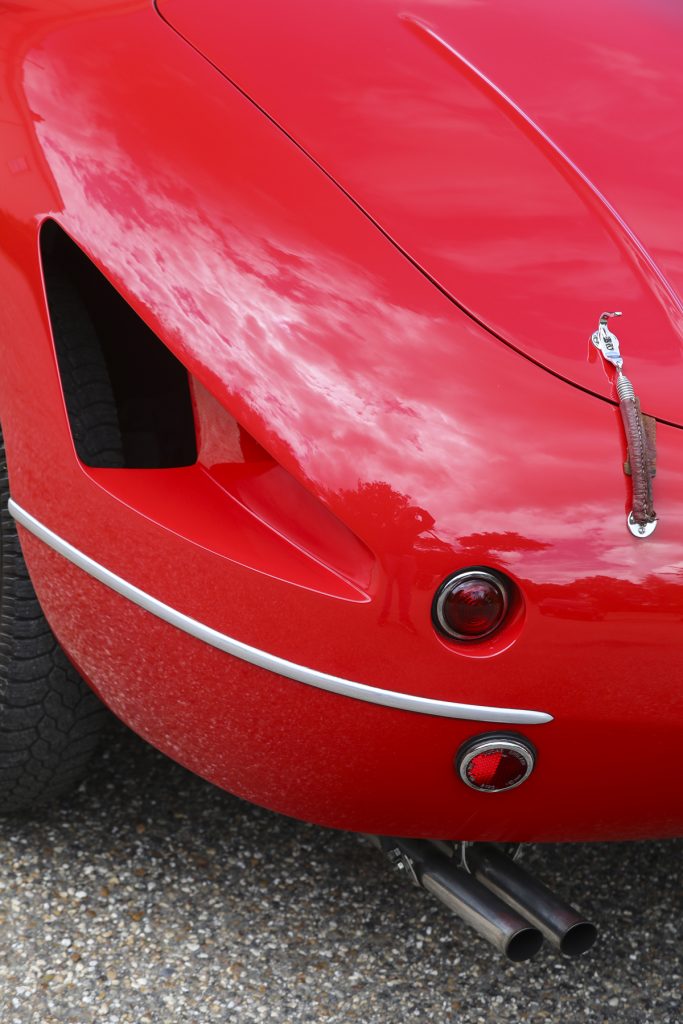 It was despatched to Brussels, Belgium, to be sold by Jacques Swaters' Garage Francorchamps. Its next owner was a local sports car enthusiast called Jacques Coune. He'd eventually form the Équipe Nationale Belge racing team and a coachbuilding firm, and would campaign his new Ferrari in the Grand Prix de Sport at Spa and the Côte d'Andenne hillclimb, finishing second at the latter.
The car would also star in a 1956 feature film called Le Circuit de Minuit (The Midnight Racetrack). Starring Yves Vincent and directed by Ivan Gover, this Aimé Declerc-written film tells the story of a penniless car builder who, after finding his request to his wife for more money falls on deaf ears, contemplates suicide. However, someone comes to his rescue with one last hope – winning the Circuit De Minuit race.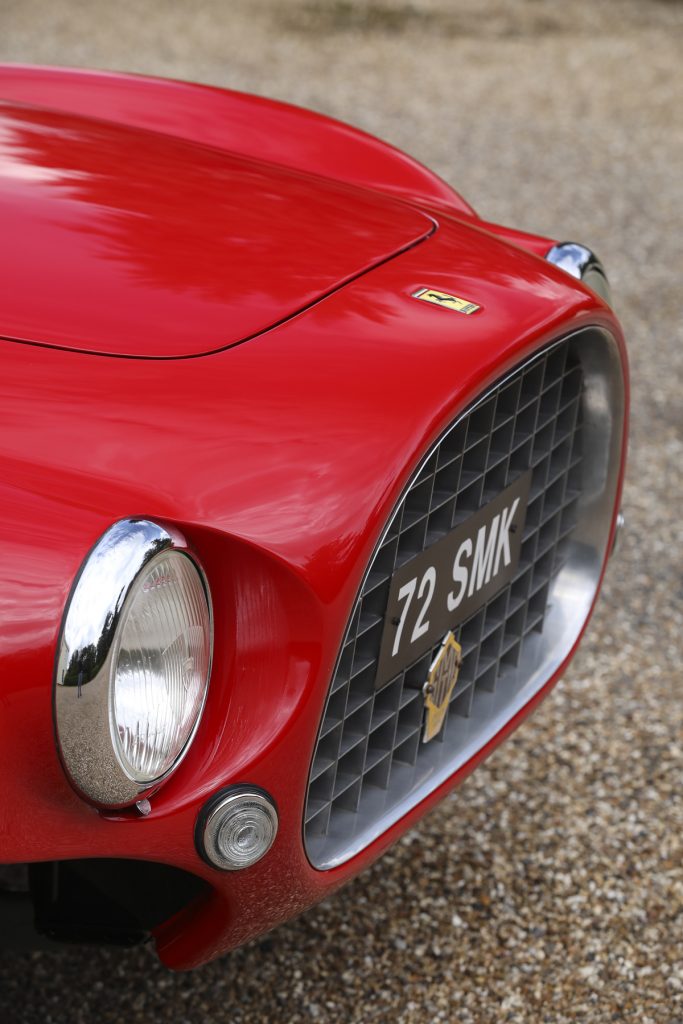 By 1957 the car was in the stewardship of a Parisian called Serge Orban, who used the car to compete in French hillclimbs, along with the Grand Prix de Sport in May, the Grand Prix des Frontières in June, and the Grand Prix of Copenhagen in August. It was then sold to Pierre Berchon, who'd get behind the wheel for only one competitive outing, at the Autodrome de Montlhéry near Paris.
In 1958, the car's British life began. It was acquired by Graham Warner of The Chequered Flag, a London-based dealer, who then sold it to John Vivian Stanbury. He was an aircraft engineer by trade – he was the project engineer and chief project engineer on the Hawker Hunter jet but also had input on the Hurricane and Typhoon. However, by the time he'd acquired the Ferrari, he'd just been appointed the chief designer for Rolls-Royce Motor Cars. He would keep the car until 1960, when it was acquired by the vendor, Bernard Worth.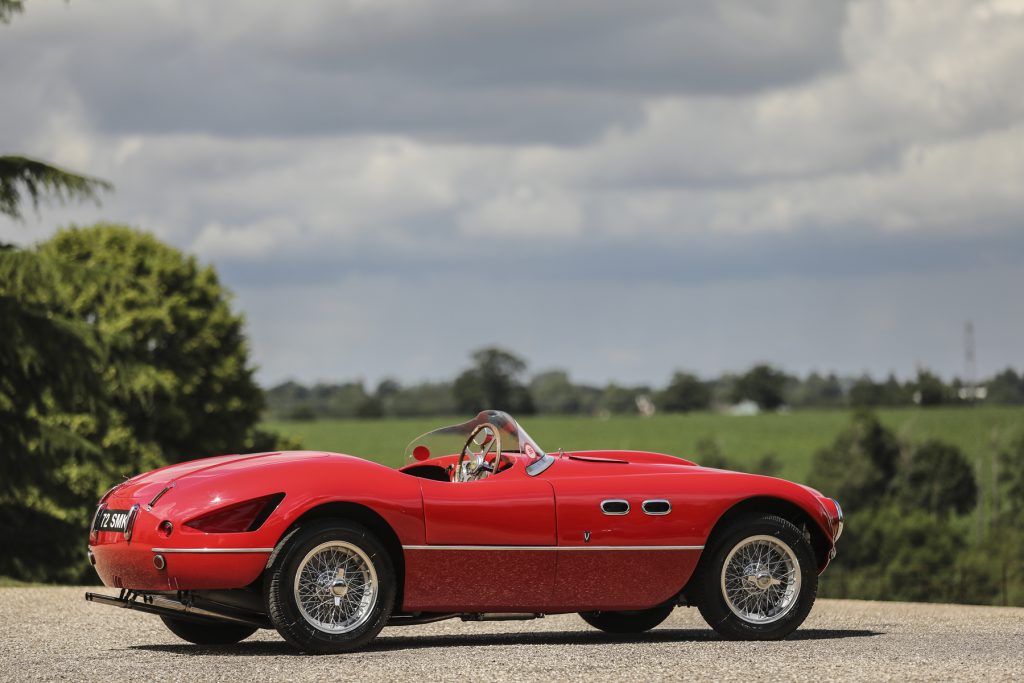 Bernard has owned the car for the past 63 years, and in that time has competed with it in club races during the mid-1960s, the Ferrari Owners' Club of Great Britain Inaugural Meeting in 1967, the Le Mans Cinquantenaire Festival in 1973, two 1000 Miglia Storicas during the 1980s, and the Le Mans Legend race in 2001. However, the car has never been given a comprehensive restoration, and is said to be in much the same condition as when Bernard acquired it in 1960. It comes accompanied by period files and a Marcel Massini history report, and carries an estimate of between £2.5m and £3m.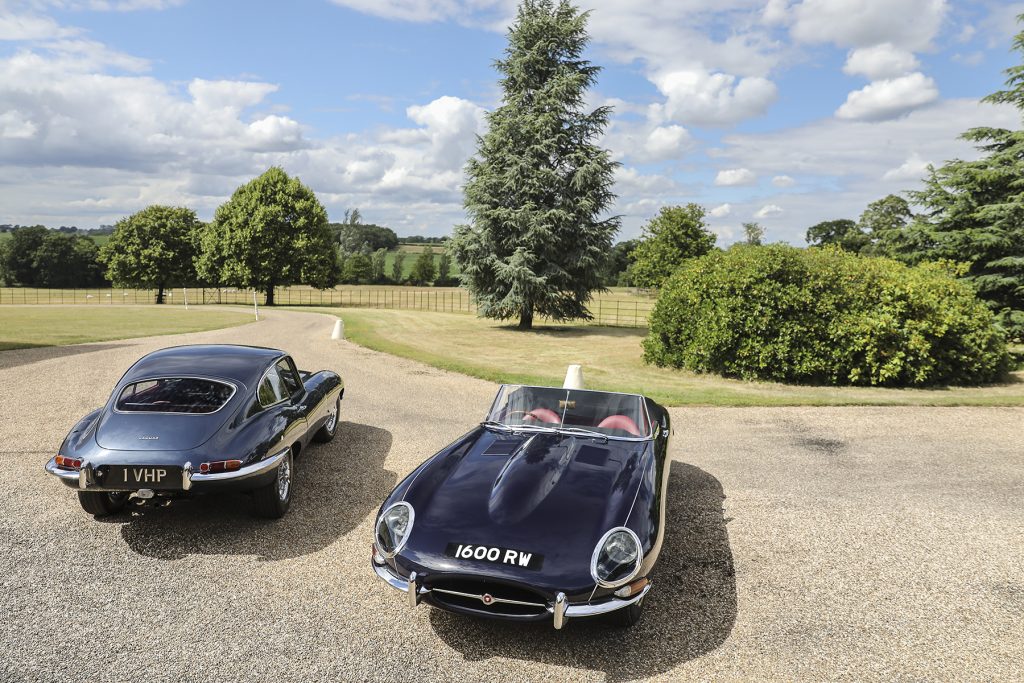 Other highlights in the sale include a 1954 Ferrari 250 Europa delivered new to Hollywood director Clarence Leon Brown, famous for Anna Karenina, Intruder in the Dust and National Velvet, estimated at between £1.25m and £1.5m. For Jaguar enthusiasts, the draw has to be the first right-hand-drive Jaguar E-type Series I 3.8 FHC, chassis 860001, estimated at £1m to £1.4m, and the fourth right-hand-drive E-type Series I 3.8 Roadster, as used by Jaguar motor sport manager Frank 'Lofty' England and later sold to fellow racer Tommy Sopwith; it carries an estimate of between £900k and £1.2m.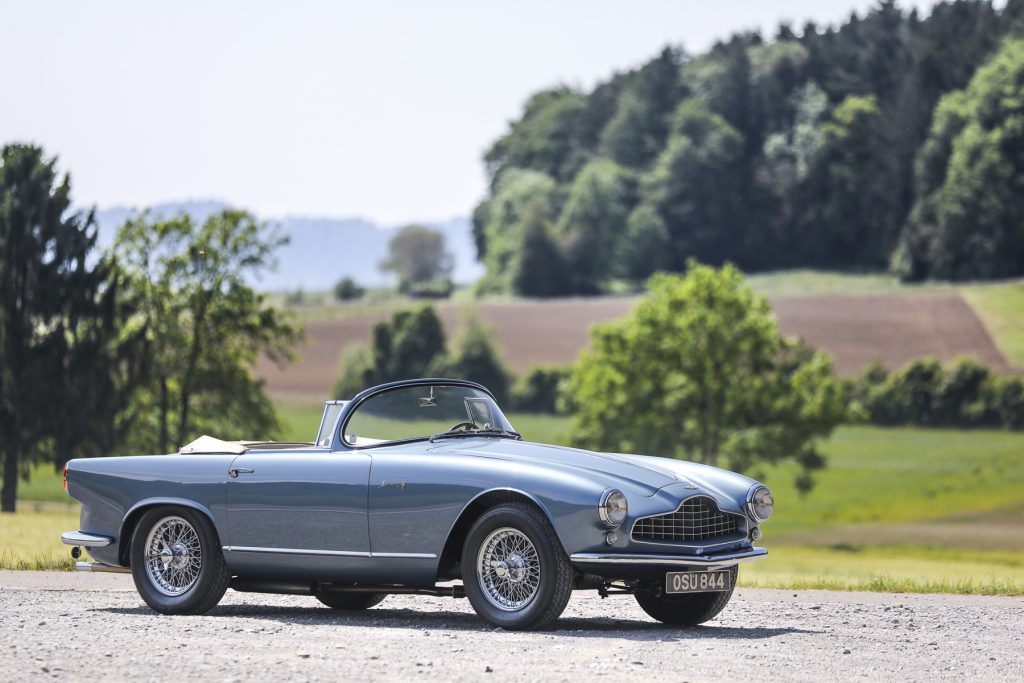 For Aston Martin fans, there are a couple of very special machines to choose from. A one-of-84 RHD Aston Martin DB5 Convertible is on offer with an estimate between £1m and £1.3m, but the 1954 DB2/4 Indiana pictured above is truly unique. This car was part of a deal brokered by Harold 'Wacky' Arnold, the American entrepreneur who acted as an MG, Morris and Riley dealer, who soon commissioned Italian coachbuilder Bertone to build a series of MG-based sports cars to be sold as Arnolt-MGs in the US. This was soon developed into projects as diverse as a Bentley R-type Continental and Bristol 404s – and a limited series of Aston Martin DB2/4s. Arnolt acquired several DB2/4 chassis; three were completed as competition roadsters with bodies by Franco Scaglione, while Giovanni Michelotti designed two drophead coupés. There was also a one-off coupé for a French client, a car thought lost to fire, and this – chassis LML/762.
It was bodied at Bertone to a Scaglione-penned two-seater Spyder design, and used on the motor show circuit before acting as Wacky's personal car. It was sold to a Michigan dentist in 1960, and passed through several American dealers, before joining the Simon Draper collection in 1988. It remained there until the current owner acquired the car in 2006, and set about a no-expense-spared restoration. It carries an estimate of between £1.2m and £1.8m.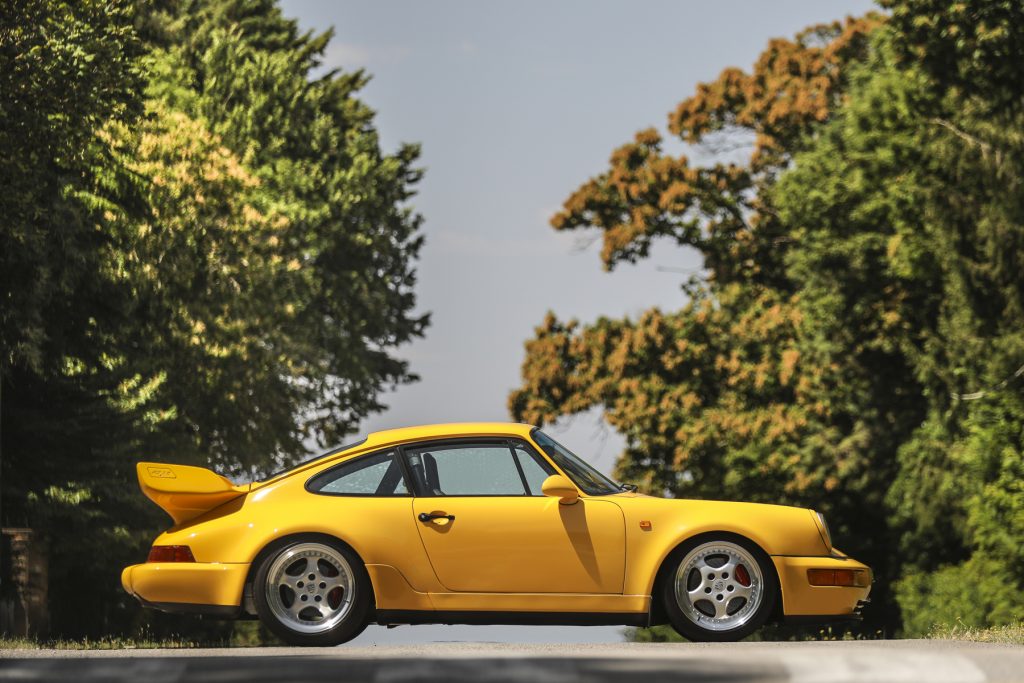 Porsche lovers are in for a treat, too, with a varied selection of cars across the grand history of the marque – one of just 30 356 C Carrera 2 Cabriolets ever built is on offer, estimated at between £900k and £1.1m, but the wild 1993 964 Carrera RS 3.8 (pictured above) is sure to grab attention in its vivid Speed Yellow paint. One of 12 finished in that hue out of just 55 road-going versions of this hardcore, ultra-lightweight homologation special. It featured a 3.8-litre M64/04 racing engine with lightweight pistons and connecting rods, revised cylinder heads, intake and exhaust, and an upgraded Bosch Motronic fuel-injection system to produce 300bhp. It also got beefed-up brakes, gearbox and suspension – and the racing programme soon benefitted, with outright wins in GT racing across the globe. It's estimated at between £850k and £1m.
The Gooding & Co London sale takes place on Friday, September 1 during the Concours of Elegance, which is held at Hampton Court Palace. More details are available here.