WORDS: ELLIOTT HUGHES | PHOTOGRAPHY: LES TENSION
Exhilarating racing, concours, exhibitions and a smorgasbord of fan activities meant that the WeatherTech International Challenge with Brian Redman lived up to its reputation as one of the most significant Historic motor sport events in North America.
Taking place at Road America in Wisconsin over three action-packed days on July 15-17, the 2022 edition of the event honoured Eagle as the featured marque. What resulted was the presence of an outstanding and unprecedented collection of 28 Eagle race cars driven by legendary American driver Dan Gurney. It is believed to be the largest collection of Eagles ever assembled.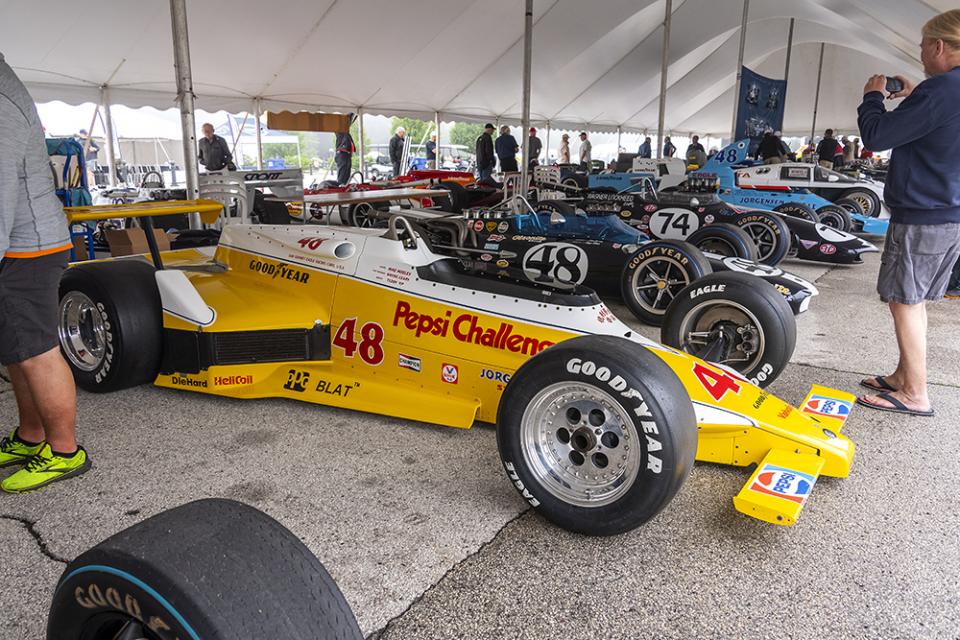 Eagle race cars were created by All American Racers (AAR), a motor sport outfit founded by Dan Gurney and Carroll Shelby back in 1964. Based in Santa Ana, California, AAR entered cars into the world's most prestigious racing series, including IndyCar, IMSA, Champ Car, Trans-AM and Formula 1 – although the F1 team was based in the UK under Anglo American Racers.
"The Big Eagle – the late Dan Gurney – was sure smiling down on the gathering," said Vintage Indy founder and president Michael Lashmett. "[It] included the 1975 Indy 500-winning car, 1967 Spa winner, '72 Indy 500 pole-winning Olsonite Eagle, an IMSA race-winning Toyota GTP car and several IndyCar race winners."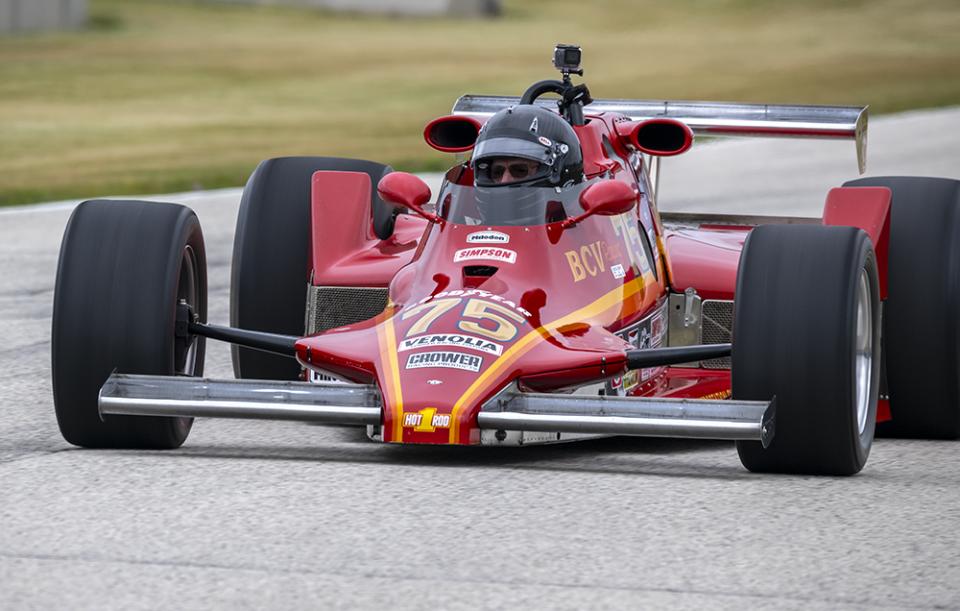 Fittingly, the Eagles were seen (and heard) screaming around Road America's undulating 4.0-mile ribbon of asphalt. The cars were steered by skilled and passionate drivers, who were seen mingling with fellow drivers and spectators between their outings on the circuit.
"This is a fantastic event," enthused former F1 driver and International Challenge grand marshal Brian Redman. "What a thrill to see so many Eagles in one place." Redman has been coming to Road America almost every year since 1972, and praised the circuit for becoming "the finest road-racing facility in North America".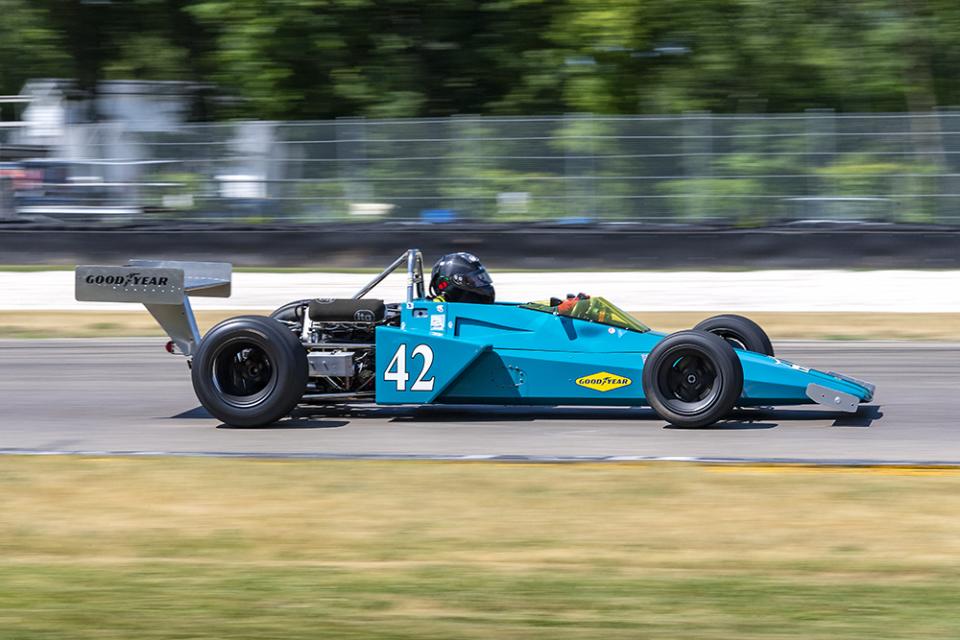 Sunday race results are as follows:
Group 11 – Pre-War and Early Post-War
Rex Barrett, Roselle Ill., '33 Ford Indy Special
Brad Tank, Winetka Ill., '50 MGTD
Marvin Primack, Wilmete Ill., '49 Lester
Group 10 – Modern GT Challenge / Cup / IMSA
Elias De La Torre, Key Largo, Fla., '15 Porsche Cayman
Jimmy McGlynn, Naples, Fla., '05 Porsche
Anthony Stevens, Waukesha, Wis., '06 Porsche
Group 5 – CanAm/GTP/Historic Sports Racer
Nick Griot, Puyallup, Wash., '68 McClaren
Richard Griot, Milton, Wash., '68 McClaren
Joel Weinberger, Hinsdale, Ill., '72 Chevron
Group 7 – Historic/Modern Formula
Douglas Mockett, St. Croix, '76 Penske PC4
Chris Locke, San Anselmo, Calif., '76 Lotus
Kyle Buxton, Trabuco, Calif., '77 March
Group 9 – Modern GT/Prototype
Colin Comer, River Hills, Wis., '95 Ford Mustang
Adam Rupp, Fond du Lac, Wis., '95 Ford Mustang
Lance Wiskirchen, Scandinavia, Wis., '01 Ford Mustang
Group 7 – Historic/Modern Formula
Brian French, Sheboygan, Wis., '97 Bennetton
Tony Ave, Brownsburg, Ind., '06 Swift
Mark Brannon, Paradise Valley, Ariz., '97 Lola
Group 3 – Vintage GT/Sports/Prototype/USRRC
Brian Garcia, St. Charles, Ill., '65 Cheetah
James Cullen, N Miami Beach, Fla., '68 Lola
Craig Bennett, Bloomfield Hills, Mich., '56 Devin
Group 13 – TA2.5L/B-Sedan
Erik Wood, Eureka, Mo., '66 Alfa Romeo
Isaac Keeler, Macatawa, Mich., '69 Datsun
Jeff Werth, Campbellsport, Wis., '72 Datsun
Group 1 – Modern Prototype/Sports Racers
Joel Quadracci, Sussex, Wis., '11 Oreca
James French, Sheboygan, Wis., '01 Swift
Travis Engen, Weston, Conn., '05 Audi
Group 6 – Classic Big-Bore Production
Brian Garcia, St. Charles, Ill., '65 Cheetah
Chris Hines, Lake Havasu, Ariz., '65 Shelby
Todd Treffert, Sarasota, Fla., '74 Porsche
Group 7a – Historic/Modern Formula
Kirt Bennett, Clarkston, Mich., '74 Lola
Kyle Tilley, Commerce Twsp., Mich., '76 Shadow
Rick Parsons, Inverness, Ill., '76 Lola
Group 4 – Classic Monoposto Classic Formula
Joel Quadracci, Sussex, Wis., '67 Brabham
Pearce Raeder, River Forest, Ill., '71 Lotus
Bill Wallschlaeger, Litchfield Park, Ariz., '97 Van Diemen
Group 2 – Vintage Production
Brian Davis, Mequon, Wis., '62 Elva
George Balbach, Lake Bluff, Ill., '60 Porsche
Justin Johnson, Plano, Texas, '70 Porsche
Group 8 – Post-Historic Production
Peter Cunningham, Saukville, Wis., '04 Acura
George Balbach, Lake Bluff, Ill., '66 Porsche
Steve Grundahl, Blue Mounds, Wis., '72 Porsche