WORDS: Simon de Burton
They say that no publicity is bad publicity, and it was certainly the case for Ford back in 1994 when a remarkable 95 million viewers tuned in to watch one of its vehicles being pursued by up to 20 police cars at a stately 35mph along the I-5 freeway in Los Angeles – with football star OJ Simpson in the back seat holding a gun to his own head.
The Ford in question was a white Bronco SUV, and it came to be the star of the slow-speed chase, causing renewed interest in a 30-year-old model then caught in a downward sales spiral. But even the notoriety of the OJ case couldn't revive long-term interest in the utilitarian Bronco, and two years later it was axed from the range to be replaced by something less capable, but more luxurious.
Fast forward a quarter of a century, and the world of cars is very different. Now, retro looks, a rugged image and a go-anywhere promise are all the rage among a new generation of wilderness-seeking adventurers (including armchair ones), so it was almost inevitable that a Bronco for the 21st century must have been somewhere around the corner.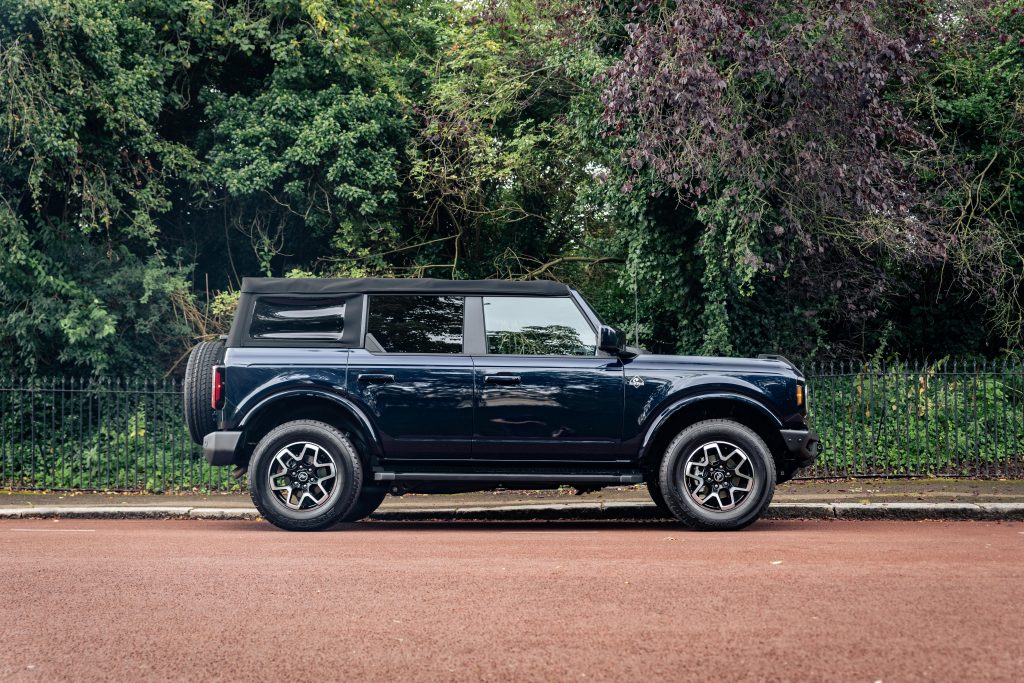 And in 2020, almost five years after it was first mooted and a tidy 25 since the final old-school example rolled off the line, an all-new Bronco was unveiled – prompting an avalanche of 165,000 pre-orders within three weeks,
Sales have continued at such a pace that Ford is struggling to keep up with demand, and the big cheeses at the Blue Oval haven't even had a chance to decide whether or not to unleash the Bronco in the UK and Europe.
But whoaaaa, Bronco fans! Legendary London-based US car importer Clive Sutton is about to start herding a few in.
In fairness, it will be no stampede, because countless US customers are still waiting patiently for cars to be delivered that were ordered months ago – but, says Luke Sutton, 'the pipeline' has been opened.
Which is how Magneto yesterday became the very first publication to drive the very first Bronco to hit UK roads – the dark blue rag-top pictured here.
On the basis that I counted 11 Ferraris, nine Aston Martins, 14 Benteys and six Rolls-Royces during my 15-minute motorcycle ride to Clive Sutton HQ in St John's Wood, a car has to be pretty special to turn heads in the capital these days.
But the Bronco certainly did the trick, attracting many a backward glance as we drove (ie crawled at glacial speed) through the city traffic.
The car's standout feature is undoubtedly the front end that harks right back to Broncos of old and gives the new-generation model a look that sets it apart from any of the myriad other SUVs on the market.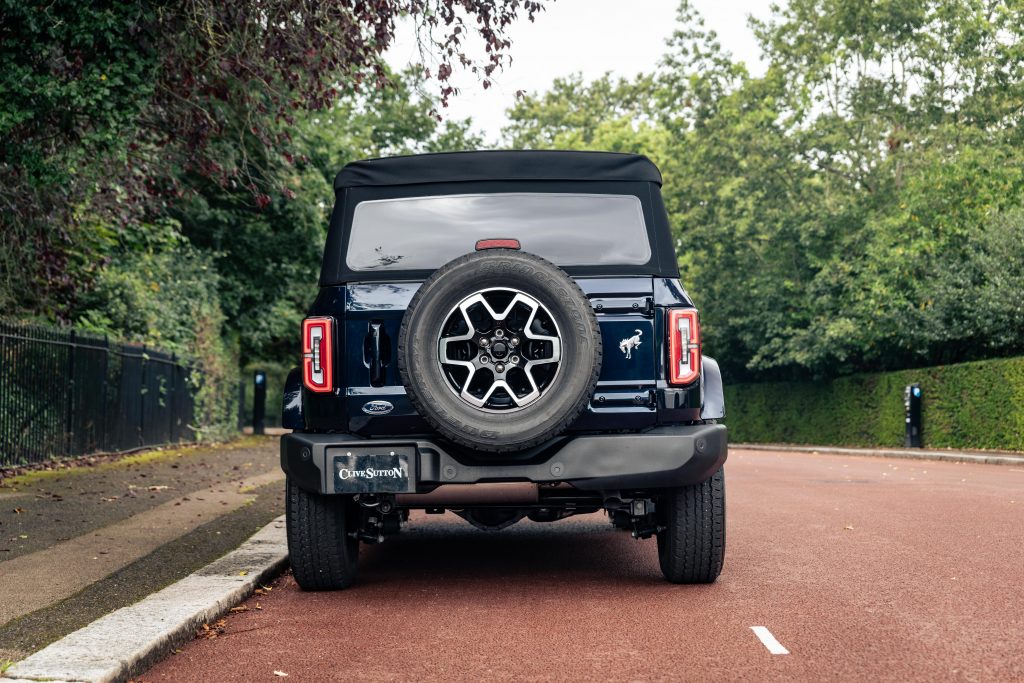 Our was fitted with the smaller, 2.3-litre turbocharged four-cylinder petrol engine rated at 300bhp, although there is a 330bhp 2.7-litre twin-turbo V6, too. The four seemed punchy enough and drove through a ten-speed auto transmission, but a seven-speed manual can also be had.
As Bronco followers will know, the cars are available in six standard packages depending on intended use. The Base model is what you'd expect, the Big Bend is more off-road orientated and gets GOAT mode (Goes Over Any Type of terrain…) while the Wildtrack, Black Diamond and Badlands are aimed at serious boondock bashers.
Transmission-wise, the cars are equipped with Ford's version of the state-of-the-art electronics available on most of today's 4WD SUVs. In this case, off-road drive modes range from  from Trail Control – a sort of cruise control for off-roading – to Trail Turn (greater manoeuvrability) and One-Pedal driving for tackling tricky terrain at slow speed. High and low range, plus locking differentials front and rear, also help to keep things moving.
Then there's the digital trail mapping that makes it possible to upload off-road routes direct from a smartphone to the car's infotainment system (and later share the out-of-the-way places you've been to on social media), while optional hose-out rubberised floors, marine-grade vinyl seats and a built-in steel roll cage further demonstrate the Bronco's serious approach to recreational motoring.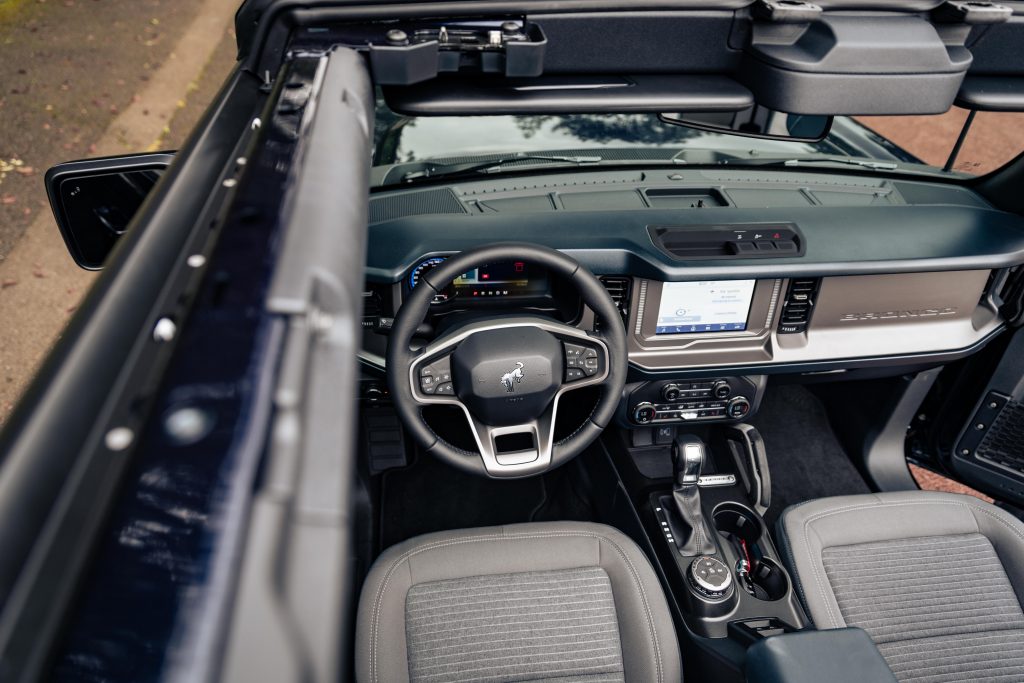 Driving in the heart of London required none of the above to be taken advantage of – and, anyway, UK 'Bronco number one' is the more luxurious Outer Banks model that's aimed largely at 'urban explorers'.
All the same, it still has all the features that highlight the Bronco as a car to have fun in: the soft top, for example, can be configured in numerous ways and, as with the competitor Jeep Rubicon, the door tops and, indeed, the complete doors can be removed for the full stripped-down, fresh-air driving experience.
There's also a solid-roof option but, according to Sutton, those are subject to a huge back-order list and won't be available in the UK for some time.
Having seen how popular old Broncos have become among small-scale 'resto-mod' builders, Ford has clearly been careful to evoke the look and spirit of the early models of the 1960s and '70s, even offering  modern versions of the classic funky paint schemes.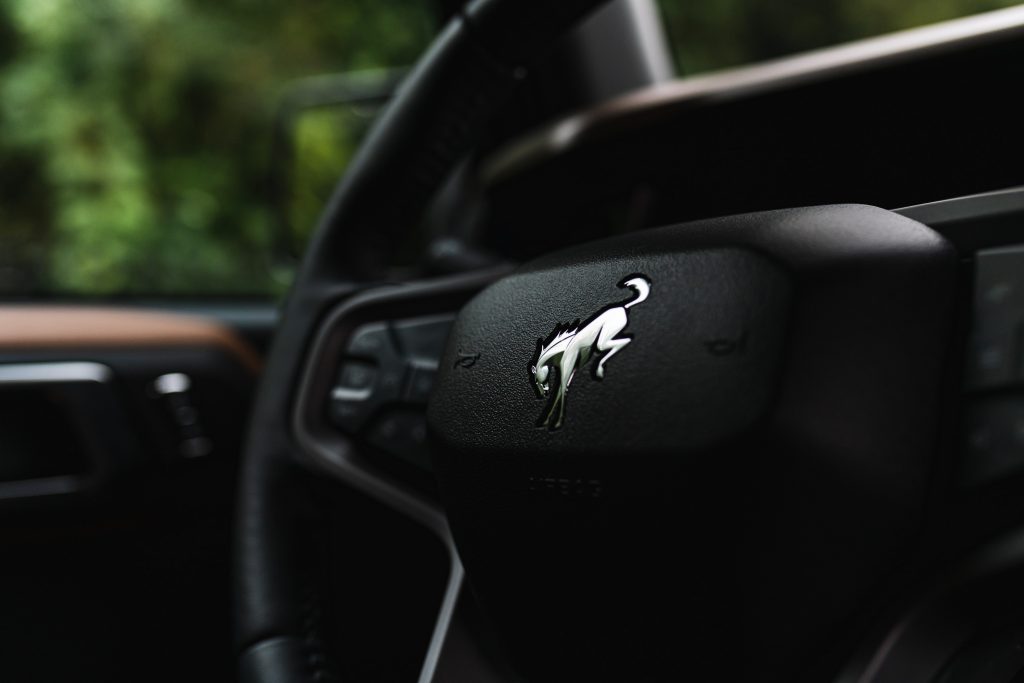 And if none of the six standard 'packages'  hits the mark , there's a catalogue of more than 200 extras with which to personalise your Bronco to make it as close as possible to unique.
Although a Base Bronco is listed at just $28,300 in the US, Sutton's UK versions are inevitably more expensive due to the additional costs of importation, homologation and registration. The full manufacturer's warranty still applies, however, and you could be on the road for £45,000, with a top-spec Bronco topping out at around £85,000.
But with 500 'expressions of interest' having been registered when Sutton announced the import plan, the key to being an early adopter of a UK Bronco is going to be to get your order in fast.
So giddy-up…..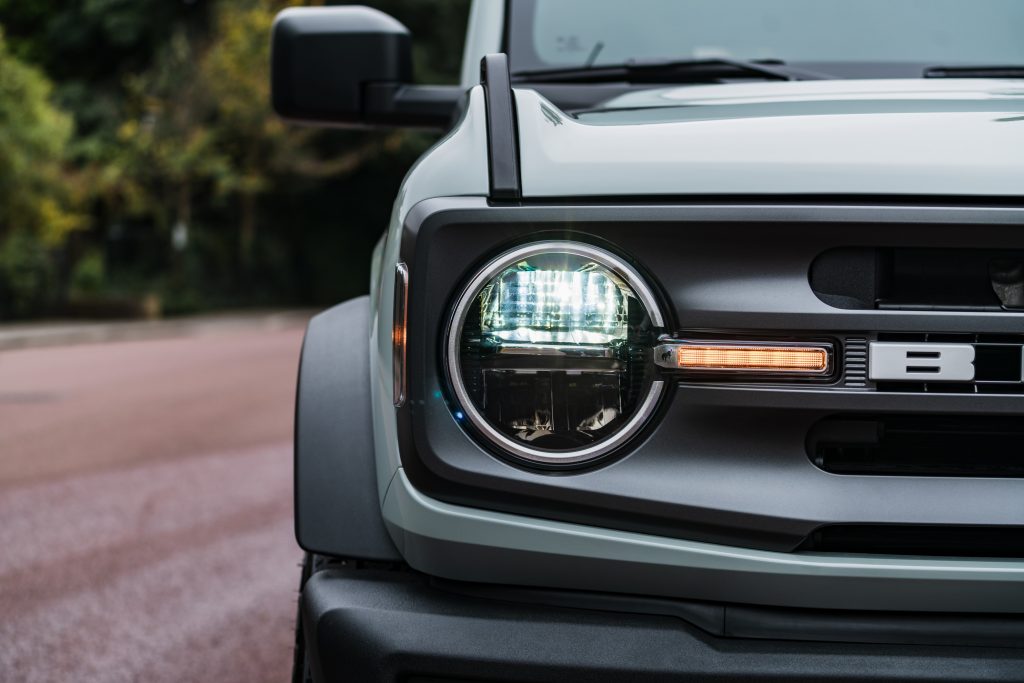 See what's available at Clive Sutton and Ford.
If you liked this, then why not subscribe to Magneto magazine today?