WORDS: ALEX GOY | PHOTOGRAPHY: ALEX GOY, LOTUS
When it was revealed in 2021, the Lotus Emira signalled that the firm was turning itself around, building a car to appeal to a wider audience, one that came with tech and comfort plus looked a little bit like a £1,000,000 hypercar. Lotus' final internal-combustion-engined model came first with a sonorous 400bhp supercharged V6, and it provides a very good time. Now there's an AMG-powered 2.0-litre turbocharged model to go alongside it. 
Boasting 360bhp and 317lb ft, it's down on power compared with the V6 car, but has a touch more torque to play with. The 0-62mph sprint takes, according to Lotus, 4.3 seconds, and its top speed is 171mph – suitably less punchy than the V6. An eight-speed dual-clutch gearbox fires power to the rear wheels only. Aesthetically there's little to tell six- and four-pot cars apart bar the engine cover – the V6's motor is on display, while the AMG car's unit is hidden under a plastic cover.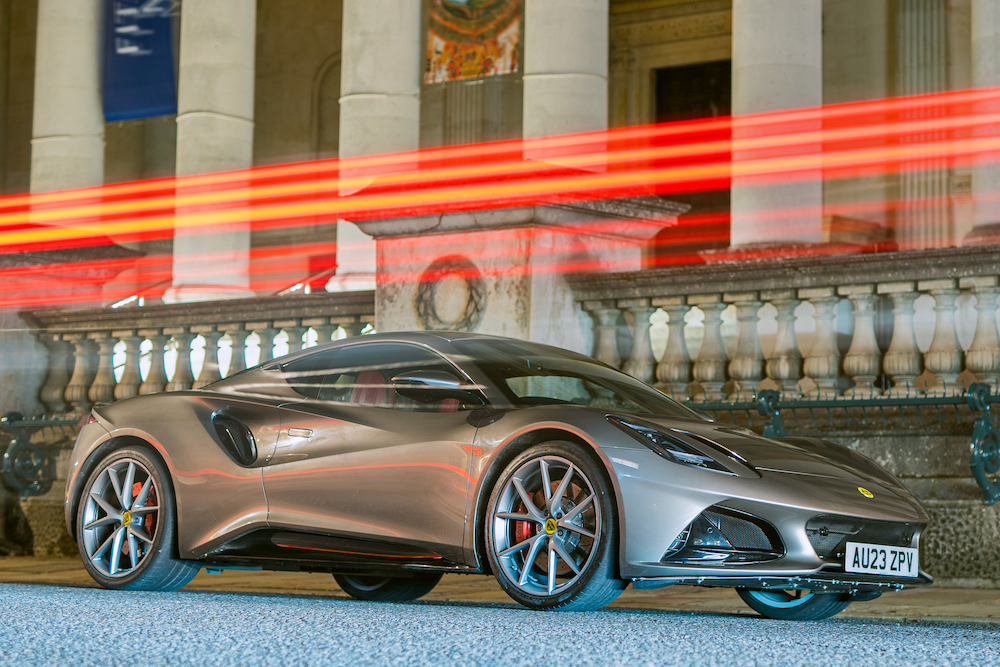 Inside, everything in the latter is the same as in the more powerful car, which means supportive (if a little hard) seats, a responsive touchscreen taking care of infotainment duties, and a digital instrument binnacle that tells you how fast you're going. All very modern, and most enjoyable to use. 
Lotus is proud of what it's done with AMG's engine, and it should be. At low speeds it responds keenly, the turbo torque smoothly takes you to the speed you want to go to without any issue at all. Should you want to be more spirited, you're fired along the road without any hesitation, your behind makes good friends with the seat and numbers get very large, very quickly. Where the V6 feels light under pressure, the turbocharger dumps huge chunks of torque at you whenever you ask it to make progress – it's quite the departure from the supercharged motors we're used to. Beautifully progressive brakes help remove some of the numbers the torque creates with ease.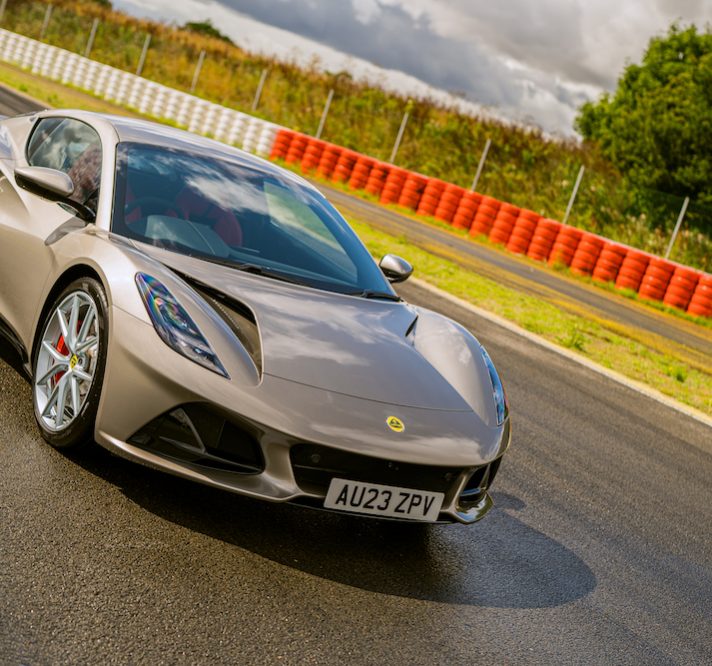 As a daily driver, this seems to be the way to go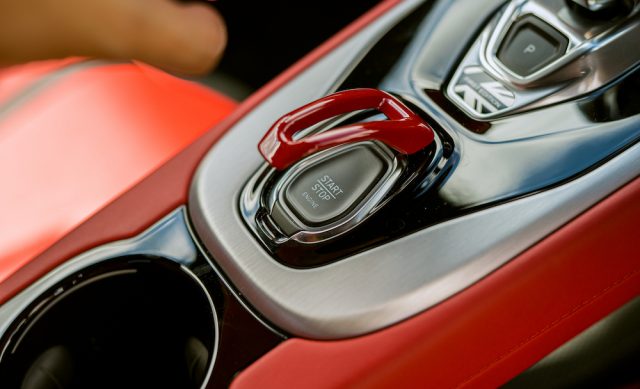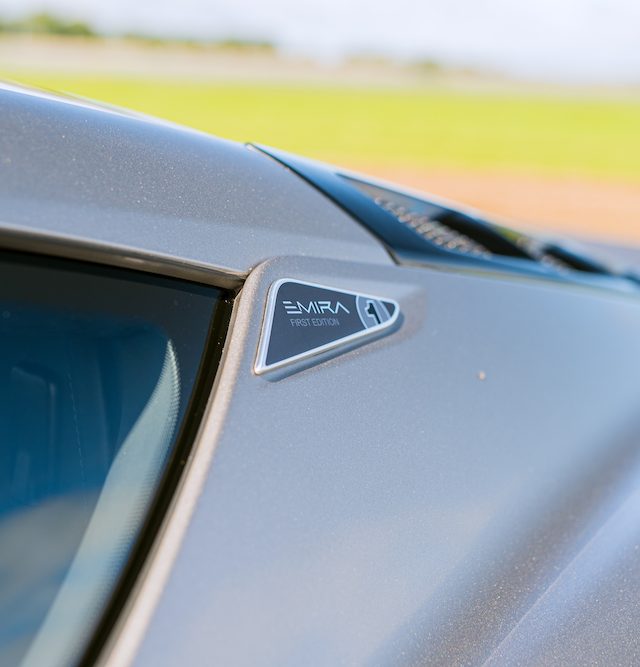 There are three drive modes to choose from – Tour, Sport, and Track. Tour is the day-to-day mode, Sport boosts engine noise and powertrain ferocity, and Track further ups the aggression while loosening the traction control a touch for greater control (and more fun). It sounds fantastic under load, too. Every throttle input washes rally-car-esque turbo noises into the cabin, and will make you grin. It's not quite as exciting to listen to as the V6, though.
There are two chassis set-ups to choose from: Sport comes with firmer suspension and Michelin Pilot Sport Cup 2 tyres, while Touring has a softer ride and Goodyear Eagle F1 Supersport tyres on each rim. The Sport car corners brilliantly on track, and its tyres provide phenomenal grip – it's ideal for people looking for a car both to commute in and for track work on the weekends, although its firmer ride may not go down well on the UK's rutted roads. The Touring car might not corner as keenly, and its tyres aren't quite as grippy, but that means more movement when you've giving it some welly. No bad thing. No matter which you go for, the steering, a Lotus party piece, feels direct, if a touch light.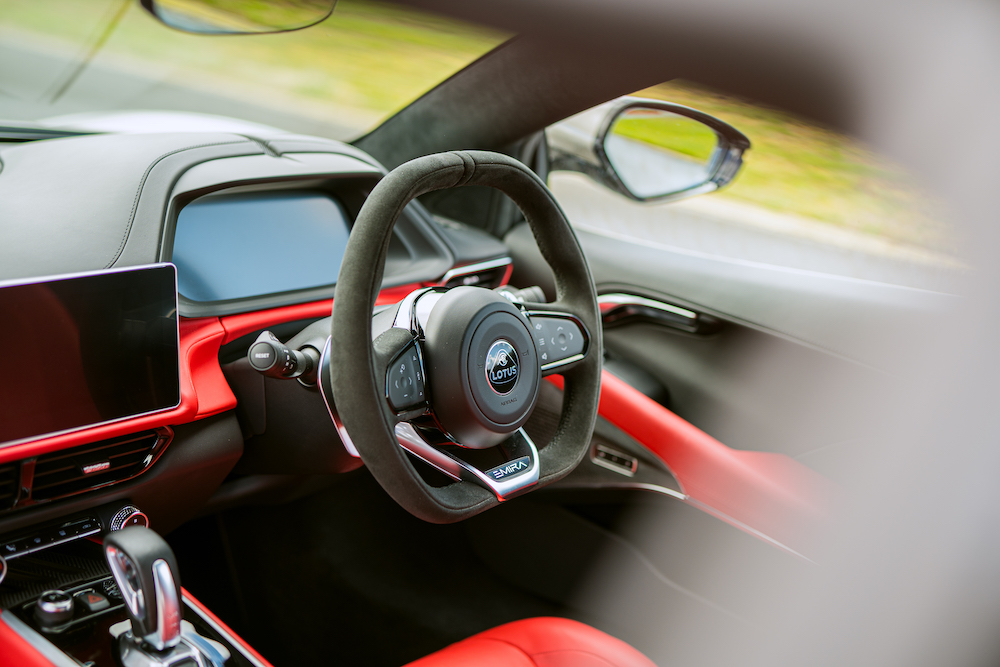 In a closed-off environment designed for hooliganism, it's good fun. On the road? The Touring car copes with rutted roads admirably, even if the ride can get a little jarring depending on how committed local councils are to their asphalt. Power delivery in Tour is keen enough for most driving, but if you find yourself on a B-road Sport will keep you entertained more than adequately. On the motorway the cabin is a comfortable place to be, but the engine, tuned for noisy fun, can be intrusive. Nudge the throttle, no matter how gently, and there's a barrage of turbo noise. It can be a bit much after a long day. 
The eight-speed DCT 'box is something of a mixed bag. Using the wheel-mounted paddles, it responds almost instantly, but leave it to its own devices and even in the most inert Tour mode it clings to lower gears for an uncomfortable amount of time, taking a while to decide what to do before choosing a different ratio. Swapping from forward to reverse seems to be an ordeal for it, as well.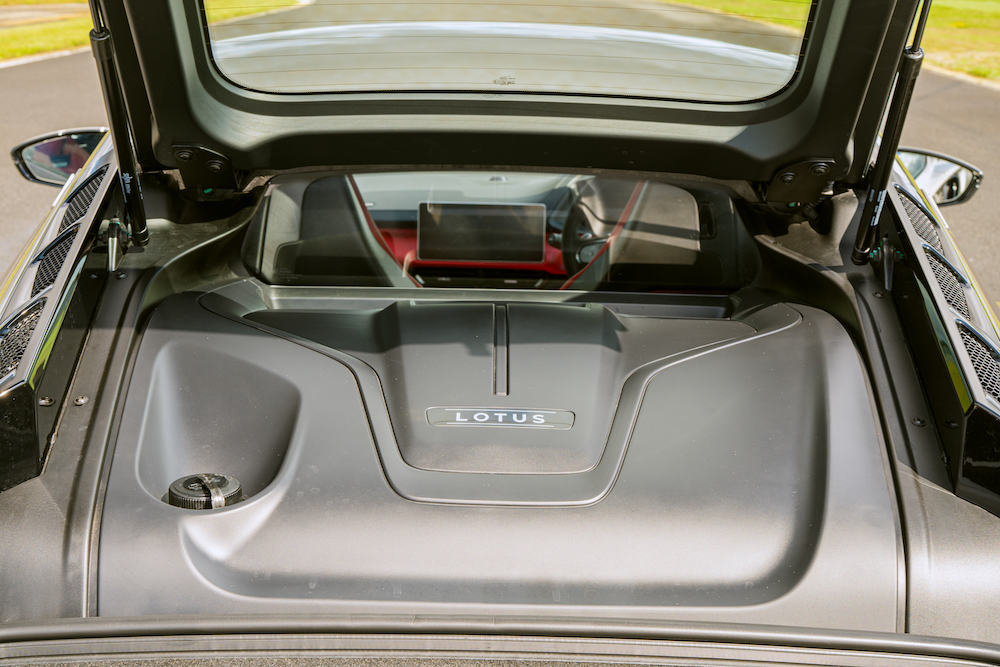 There's another rather significant problem to overcome: price. A four-cylinder First Edition Emira will set you back £81,495. That's quite a lot of money when you consider the more powerful Porsche Cayman GTS 4.0 starts at £73,300.
An AMG-powered Emira will very much be a heart-over-head choice. It's damn good fun when you want it to be, and it's a touch lighter than its more powerful stablemate, but there are a few things that might irk over time. The V6 may sound better, but as a daily driver this seems to be the way to go… as long as you can stomach the price tag.