WORDS: ROBERT DEAN | PHOTOGRAPHY: GOODWOOD
(Feature taken from Magneto issue 8)
Back in 1999, Mr Ecclestone asked me to have the Alfa Romeo-powered Brabham F1 cars assessed for restoration. The natural choice at that time was Adams McCall Engineering (now Kendal Adams Motorsport), because Kerry Adams had been at Brabham during Alfa's ownership, and so knew the cars inside out.
The cars were pretty ropey, having spent years in storage and then on display at Tom Wheatcroft's collection at Donington. Tom did his best to look after them and make them presentable, but as display cars they had, of course, been built up with an assortment of parts both new – to use up any bits left in the parts department – and used after the last race. The engines were mostly empty, too, as were the gearboxes. Crucially, however, pedals, linkages, suspension and dashboards were intact, which made a huge difference.
The BT46B (fan car) and BT46 shared main parts and structures, so we decided to do both together. The 46B chassis needed a new floor and the oil tank leaked. The latter is part of the chassis structure, so instead of unriveting the whole chassis the tank was repaired successfully. A big question mark hung over the fan mechanism. It was complete, but Kerry had to have new blades recast in magnesium; a mistake, as you'll see.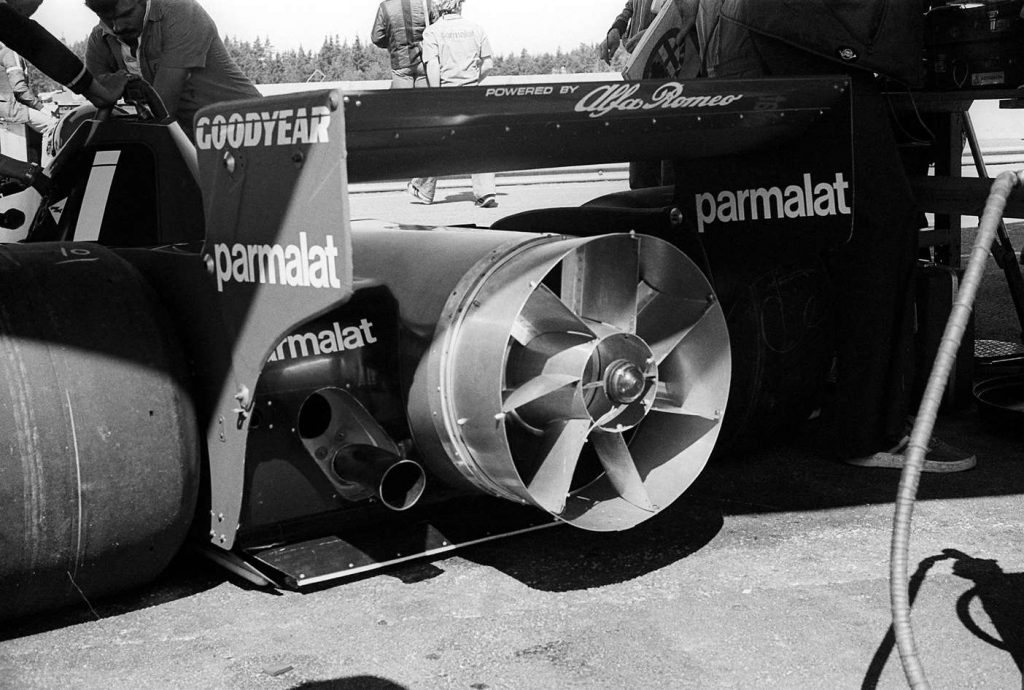 Autodelta rebuilt the two engines to full F1 spec. We did consider a sports car spec, as it was slightly less tuned and would probably last longer, but because Autodelta had all the F1 parts we stuck with originality. When Kerry finished the BT46, I tested it at Brands. We had a good relationship with Jonathan Palmer, and he let us use the lunchbreak of a booked track day. This worked well; we could test with full facilities, and the people who'd booked the track day had a treat while they ate their sandwiches. This also applied to the marshals, several of whom thanked me for the lunchtime entertainment.
Once the fan car was finished, it was fired up at Adams McCall – but we had to shut it down almost at once, as we had forgotten about the fan and it blew everything into a corner of the workshop. Ooops! With the fan now pointing out of the garage, we ran the car up, checked everything and looked for leaks. Once it was on the ground, we started it again– just to see whether it did in fact bob up and down when revved. It did, I'm pleased to say.
Incidentally, when the fan car went for its first circuit scrutineering, Mr E didn't want anyone seeing it 'bobbing'. Brabham team mechanics Herbie Blash and Charlie Whiting were told to stand chatting either side of the car with their feet tucked underneath, holding the skirts up and thus neutralising the fan's effect.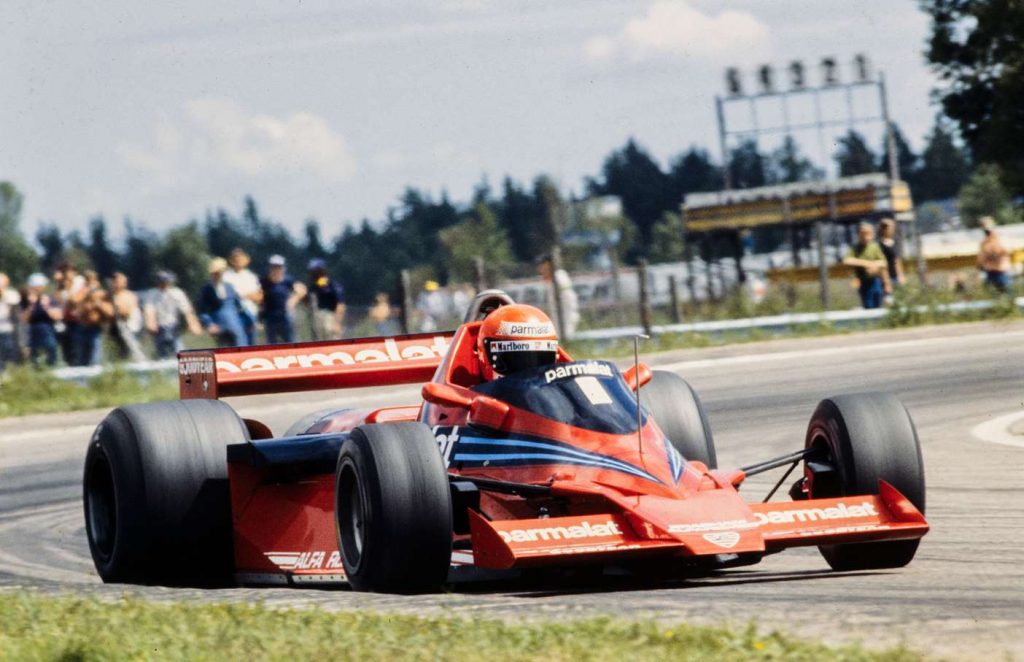 Word got out as the restoration neared completion, and Lord March asked us to bring the car to the 2001 Goodwood Festival of Speed. This was its first public run since 1978, when Nelson Piquet drove it at Donington's Petersen Memorial. This made the occasion very special, and we were surprised to be asked to open the course on the Friday. When interviewed, I described the car as being like the unicorn of the racing world; everyone knew about it, but almost no one had seen it running.
It was a huge honour to be trusted to drive this car; even more so because Mr Ecclestone wouldn't let anyone but me drive it, despite being asked by some big names. On the first FoS day I was standing in the breakfast queue, and who should be in front of me but Niki Lauda. I said: "Good morning, I'm driving one of your old cars." He gave me a 'can't I even have breakfast in peace?' look, but being a professional and charming man, he said: "Oh yes, which one?"
When I told him, a big smile spread across his face: "Oh, how fantastic! Come and tell me all about it." And so I had breakfast with Niki Lauda, and talked about restoring, driving and racing the fan car.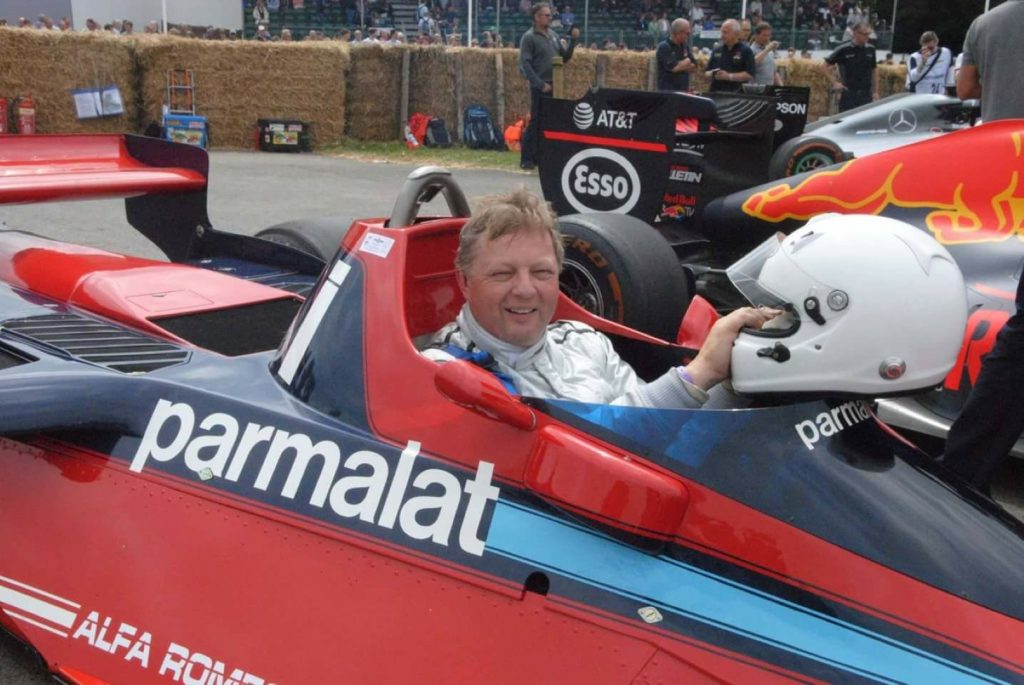 His tips? "Drive it with your foot flat, and it'll stick to the road. Drive it like a front-wheel-drive car, change down before the corner, and nail it. It sits down, loading up the suspension. You'll turn in, whatever the speed."
Another time, in the paddock, a charming man and his wife were looking at the car. I started talking to them. He'd never been out of his US state, but he had a lifelong interest in the fan car. When he heard that it was running, he and his wife applied for passports and booked to come to the FoS – just to see his beloved Brabham. I made him very welcome, and was even able to introduce him to his Lordship, who made a great fuss of him after hearing his story.
Going to a big event brings its own issues, especially with a newly restored car. Firstly the clutch slave- cylinder seal failed – the whole rear end had to come off to replace it. Then idiot drivers forget things…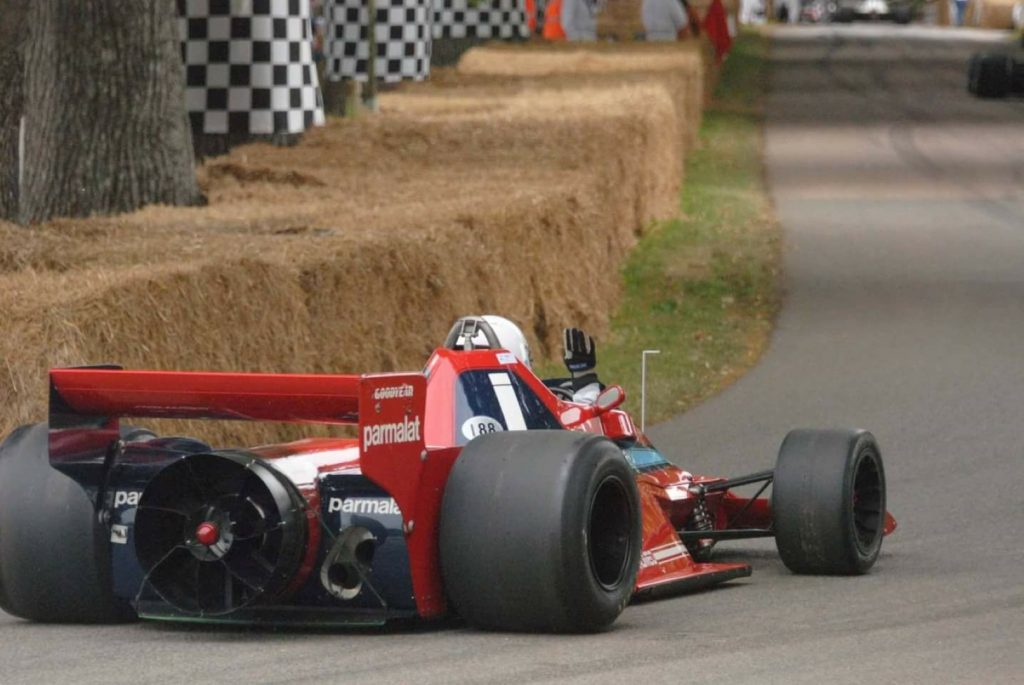 Sitting at the startline, set to open the course, the engine just wouldn't fire up. The air bottle used to start it was getting low. All I could see was Kerry's legs walking up and down, accompanied by a stream of robust language. Then his head appeared in the cockpit; making a few stiff remarks about my parentage, he flicked on the steering-wheel ignition switch.
The engine burst into life, but was not running on all cylinders due to the amount of fuel that had been fed into it. Fortunately, I was able to clear the plugs so all 12 were firing, and the marshal waved me forward. Off I went up the hill, giving it the 'bifters' to see if it really did stick to the road like I'd heard at breakfast. Yes, it did.
On these Alfa Brabhams the motor sits between two pontoons. The front four plugs of each bank are obscured, so to change them is an engine-out job. Not something to be done at the startline, hence Kerry's concern.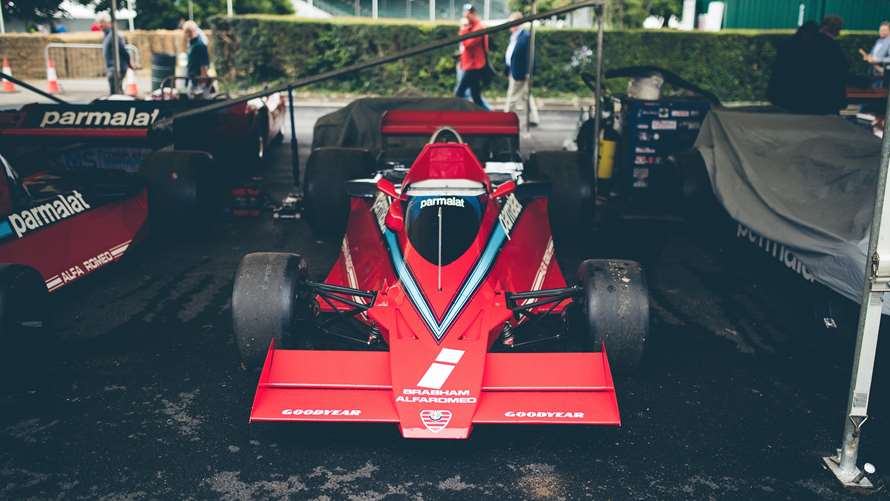 One morning while walking into the course, I fell into step with two marshals who, when they asked me what I was driving, said: "Oh yes, we hear it coming off the startline, but we have to duck down otherwise we get sprayed with stones as you go past." They loved it, nevertheless.
This brings me onto our problem with magnesium fan blades. By the time Goodwood was over, these were less than half their original size due to sucking through track debris. The aluminium replacements have lasted intact for the past few outings. I've run out of space to tell you all that happened over that amazing weekend – but I hope you get the idea. Keep on being part of the machinery.
Ex-Ecclestone Collection manager Robert now runs Curated Vehicle Management. See www.c-v-m.co.uk.