WORDS: STEVEN HARPER | PHOTOGRAPHY: bRITISH mOTOR hERITAGE INDUSTRY TRUST
(Feature taken from Magneto issue 7)
In 1954 an Austin A90 Westminster departed London on a journey of 17,000 miles from latitude 71 degrees north, 600 miles inside the Arctic Circle, to the southern cape of Africa. The driver was a mercurial former airman called Richard Pape. Many thought the journey in a family saloon was impossible, but Pape would prove them wrong – leaving a trail of smashed cars, exhausted co-drivers and enraged officials in his wake.
Pape embarked on the expedition with the same uncompromising mentality evident in his best-selling wartime memoir Boldness Be My Friend. When Gunnar Melle, his first co-driver, rashly offered to have a cigarette stubbed out on his hand, Pape obliged – puffing on his cigarette "till it burned bright and red". The partnership went up in smoke after reaching Oslo, when Melle announced that he intended to race against Pape in a rival car.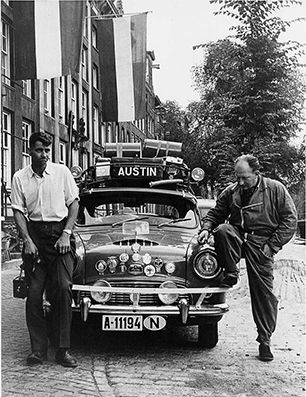 Rattled, Pape sought refuge in his hotel room while the press waited for his next move. He eventually took to the bar, where Willy Kroesinger, a sponsor's messenger, visited him and was promptly promoted to co-driver. Hustling for the North Cape and driving in shifts, the pair covered 620 miles in 24 hours. North of Narvik a tyre blew out, and Pape lost control, somersaulting the Austin into a ravine. He had the wreck towed to the nearest town where, shaken, he was given a bottle of brandy. Stirred into action, he ordered two more.
Pape flew back to Oslo. There, launching a fusillade of telegrams, he commandeered the personal A90 of the local Austin sales manager, as well as a selection of firearms to supplement his swordstick. With Kroesinger proving unfit to continue, a new co-driver was found in Johan Brun, a Norwegian photo- journalist. Nursing bruised ribs Pape gingerly drove north, and the pair conquered the Nordkapp on July 28.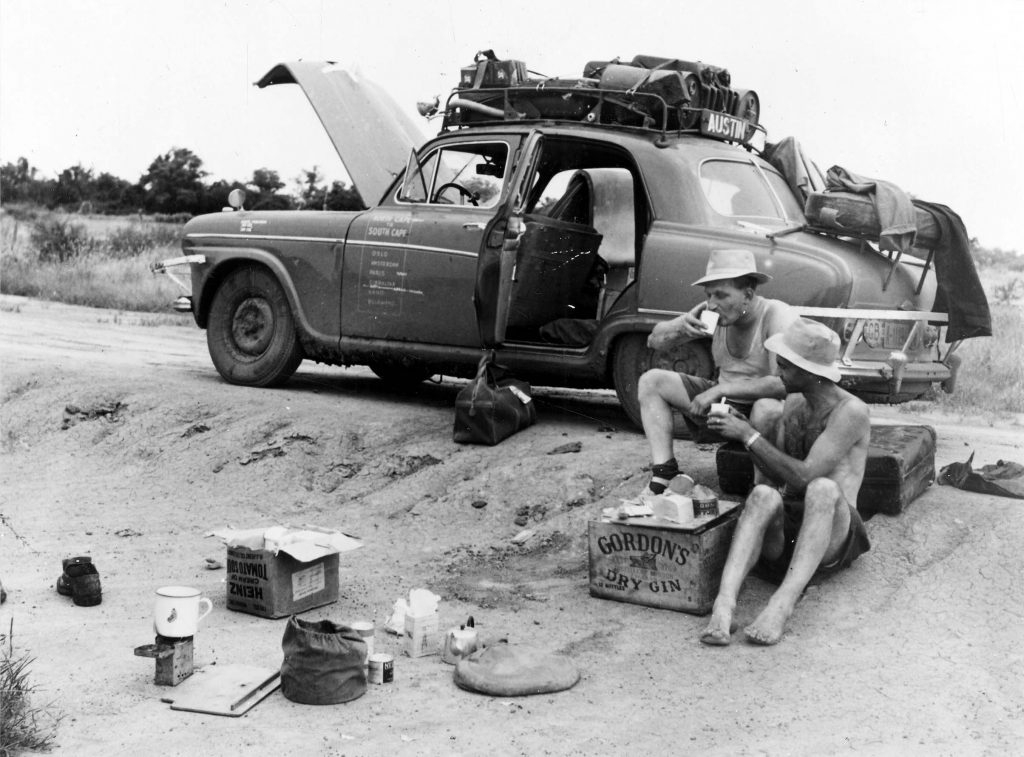 After fitting the new Austin with equipment scavenged from the wrecked car, they crossed Europe in four days of driving. In Germany Pape insulted a crowd of boastful locals, then in France he collided with a donkey. Having removed the unfortunate beast from his roof rack, he ploughed on through Spain.
Brun fell ill in Gibraltar, but Pape would not delay. Something else was waiting for him; a Bates trailer, packed with 25 jerry cans of fuel. It was Pape's secret weapon for crossing the Sahara and present his best bowman fingers to the French authorities.
He needed a new co-driver, and fast. While drinking in the RAF mess at Gibraltar, his impassioned patriotic plea was answered by a young Sergeant Johnson, who went AWOL to join him. On the ferry to Tangiers, Pape supped brandy-infused eggnog and considered his predicament.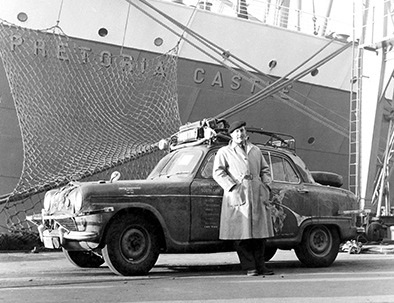 He lacked travel visas for North Africa, the Sahara was a no-entry zone, he was out of cash and his new co-driver was now on a wanted list. Pape played cat and mouse with the authorities, ducking and bullying his way through checkpoints. He forged Johan Brun's signature on traveller's cheques, bribed officials and artfully distracted a customs agent from his arms cache by spraying the official with a fizzy drink.
Johnson and Pape reached sub-Saharan Africa, where Pape's golden goose of a trailer turned out to be a turkey. They struggled and sweated with the encumbrance, while the Austin rebelled at trying to drag it out of the sand. With car and men struggling to adapt to the heat, Pape made the mistake of drinking water without first purifying it. He paid the price with dysentery. At Bou Denib, 95 miles from Colomb-Béchar, the pair found petrol and beer just before the Gendarmerie found them. Pape's fourth co-driver was hauled off in cuffs back to the RAF.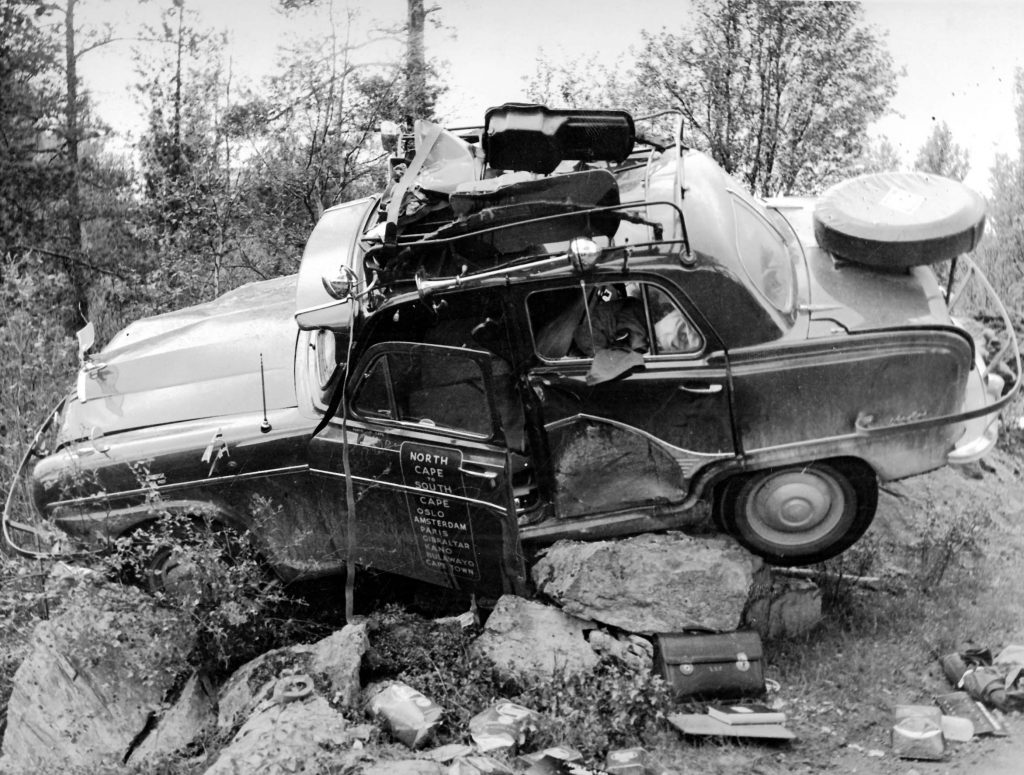 Pape faced the Sahara alone. Ignoring French regulations and all expert advice, he attacked the shifting sands; the desert won. Having stranded the A90, he set off on foot, got lost and collapsed with heatstroke and hallucinations. The French rescued the mad Anglais, fixed his car and detained him until summer's end. A chastened Pape crossed the void in convoy in September.
Central Africa in the wet season brought a plague of biting beetles, giant frogs, torrential rain and rivers of mud. The A90 took a pounding. Reaching Gao, Pape found cognac and soda, and slept the clock round, then rebuilt the suspension with salvaged lorry springs and bodgery.
Amazingly, Brun returned for a second bout, bringing fresh shock absorbers and cigarettes. The journey continued with washed-out roads forcing them off route, while termites ate their supplies and mosquitoes consumed them. Fatigue set in, and bitten, drenched and with the Austin wallowing in a mud-hole, tempers frayed. The pair resorted to fighting each other instead of the elements.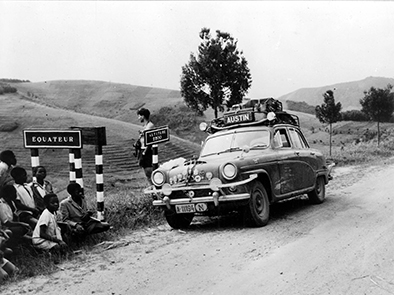 Eventually they shook hands and pushed on through the Congo. On the last leg, outside Albertville, a head-on collision with a Ford station wagon crippled the A90. Pape and Brun limped the twisted car back to Albertville, where news reached them that their rivals were closing in. Scrounging scrap metal, Pape cobbled the Austin back together. Out of money and luck, he left Brun as security for unpaid bills and – high on Paludrine and whisky – he thrashed out the last 3000 miles.
On October 22, victorious if lousy with malaria, he drove his valiant, battered Austin into Cape Town. He returned to London for a stint in the Hospital for Tropical Diseases. Brun sent him flowers, with instructions not to eat them. Austin gave him a new A90, in beige with chestnut trim; Pape crashed it.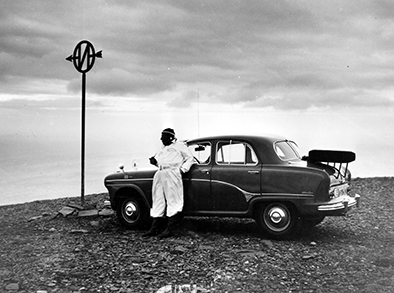 He moved on to other adventures, later finding an unlikely calling running a home for disabled children in Papua New Guinea. Contracted for two years, he stayed for ten, marrying the lawyer who bailed him out after a 'squiffy' driving incident.
Pape died in Canberra in 1995, but the A90 lives on, rubbing shoulders with rally machinery at the British Motor Museum, Gaydon. A modest plaque does the car and the man scant justice. 
(Feature taken from Magneto issue 7)