Words: Simon de Burton | Photography: Breitling
It's fair to say that Breitling set the modern-day trend for collaborations between watch brands and car marques when it jumped into bed with Bentley back in 2002. This was a partnership that produced dozens of Breitling for Bentley watches, ranging from the 6.75 to the limited-edition Mulliner Tourbillon and the rectangular-cased Flying B.
But when Breitling was sold to investment group CVC Capital Partners in 2017, and former IWC boss Georges Kern took over as CEO, it was made clear that the brand was going in search of a younger, cooler clientele – with the result that the Bentley partnership was finally concluded last year.
In its place, Kern has chosen to go down the two-wheeled route, first through a short-lived partnership with Norton and, more recently, both through a collaboration with Australia-based motorcycle custom house Deus Ex Machina and also as a low-key supporter of UK-based luxury bike luggage maker Malle London.
But now a long-term deal has been struck with Triumph, making Breitling the official watch of the historic motorcycle marque, which was founded in 1902 and raised from the dead 30 years ago by property tycoon John Bloor with the opening of a new factory in Hinckley, Leicestershire. The firm built more than 75,000 bikes last year and aims to increase that to nearer 100,000 by 2025.
The first fruit of the partnership was unveiled at the factory visitor centre this week in the form of a special version of the Top Time chronograph, a model launched during the 1960s and worn  by Sean Connery as 007 in the 1965 movie Thunderball – complete with built-in Geiger counter. (That actual watch was subsequently bought for £25 from a car boot sale – and re-sold at Christie's in 2013 for £103,000…).
The new Triumph version gets a dial based on the soft, metallic Thunder Blue paint colour used on the 1951 Thunderbird, with the Top Time's distinctive 'squircle' chronograph counters being finished in black and set into paler blue triangles to create a 'bow tie' pattern that collectors of vintage Breitlings have dubbed the 'Zorro' look.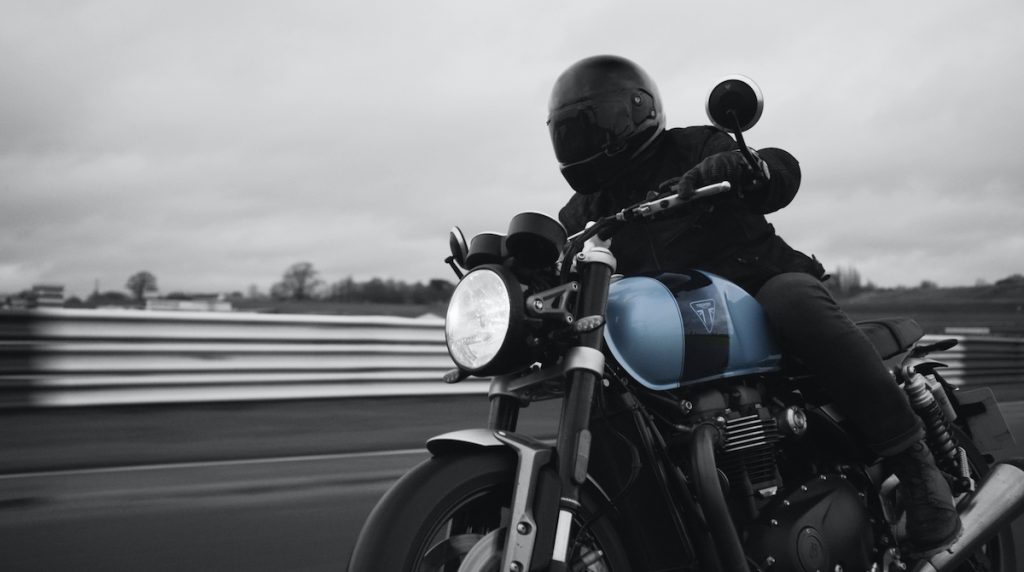 To ensure an authentic finish, a spectograph was used to match the dial colour to the original paint of a '51 Thunderbird belonging to marque fanatic Dick Shepherd, whose private collection of more than 460 Triumphs – he has at least one of each model ever made –  is the largest in the world.
In addition to having a discreet Triumph 'T' logo on the dial, the back of the 41mm watch is engraved with a sketch of a Speed Twin engine. A simple, perforated calf skin strap aims to lend a racy edge.
Triumph, meanwhile, celebrates the partnership with a limited-edition version of its popular 1200 Speed Twin featuring a polychromatic blue fuel tank, top-specification Öhlins rear suspension, special billet aluminium clutch and alternator covers, and a speedo and rev counter based on the watch dial. There's also a grey-stitched leather seat that mimics the Top Time's strap.
Just 270 examples of the bike will be available worldwide, each of which will be supplied with a certificate of authenticity signed by Kern and Triumph CEO Nick Bloor. Each buyer will also get the option to purchase a Top Time engraved with the edition number marked on a plaque on his or her bike's handlebar clamp.   
The (unlimited) Triumph Top Time Chronograph costs £4500; the special-edition Speed Twin starts at £16,000.