WORDS: ELLIOTT HUGHES | PHOTOS: NICK DIMBLEBY
First appearing in 2005, the Range Rover Sport was Gaydon's attempt at a more driver-focused luxury SUV well before such a concept was in vogue (pun intended). It may have been forward thinking, but the main problem with the original Sport was that it wasn't very… well, sporty. Two generations and 17 years later, things have moved on significantly – just don't expect sports-car levels of handling.
The latest Sport – to absolutely nobody's surprise – arrives hot on the heels of its imperious big brother, and as with any siblings, they share a great deal of DNA. The similarities begin with the new MLA-Flex monocoque that underpins both models. The Sport and full-size model's width and wheelbases are also identical.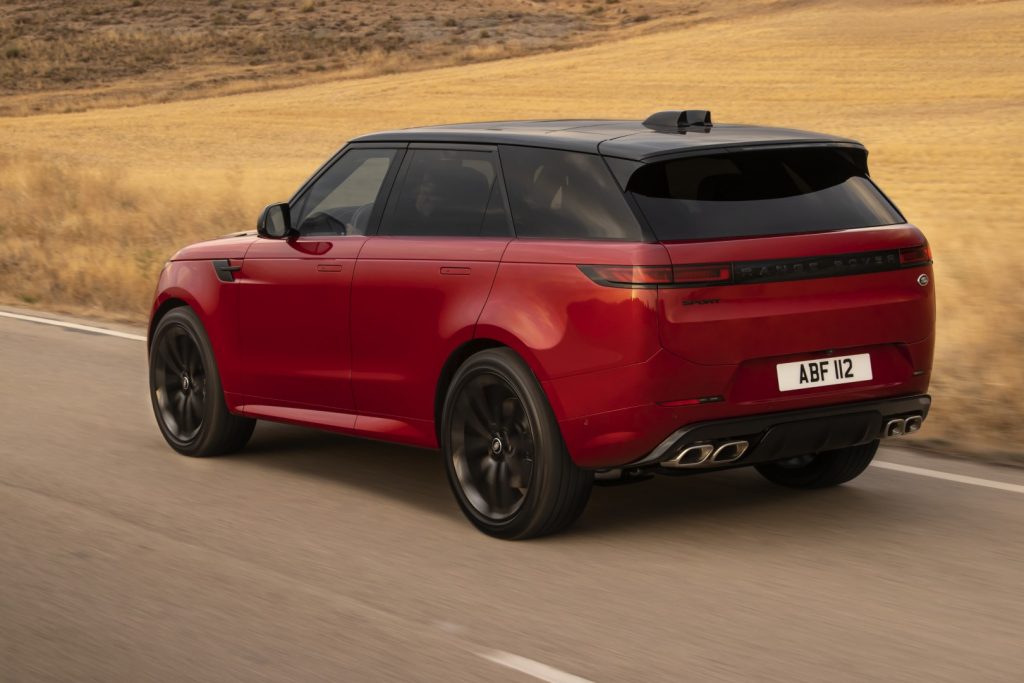 Dimensionally, the Sport's racier pretensions are expressed through its ride height, which is 50mm lower, along with a shorter front overhang and a coupé-like roofline that slopes rearwards to meet a purposeful rear spoiler. The exterior styling is taut, sleek and modern, with smooth body panels, flush door handles, and squinting front and rear light units.
Looks aside, this doesn't sound like the recipe for a Porsche Cayenne-rivalling driving experience, particularly when the Sport weighs about the same as the full-fat Rangie and uses virtually the same selection of powertrains. So, weary from a red-eye flight to Madrid, it's time for us to find out whether the third-generation Sport lives up to its name.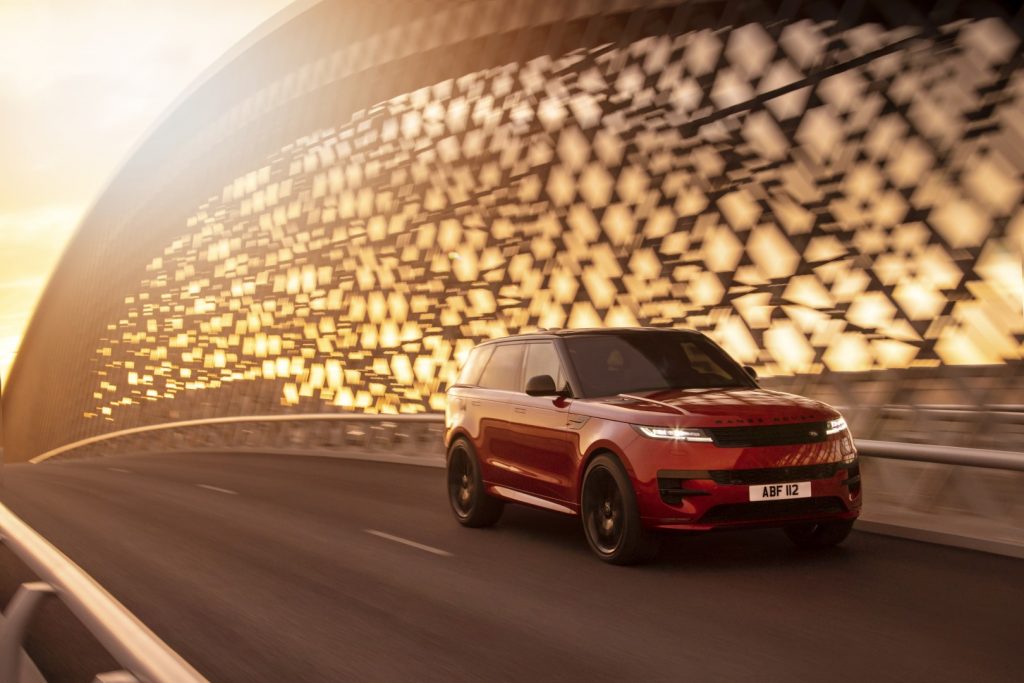 Our first drive in a 2022 Sport is in the range-topping, politically incorrect P530 V8 model. Open the motorised door handle and we're met with a beautifully upholstered Ultrafabric interior that feels suitably opulent despite being leather free. We sit noticeably lower than in a full-sized Range Rover, ensconced by a chunky centre console, topped with a curved Pivi Pro infotainment screen that is bright, responsive and easily navigable. The massage seats, which can be cooled and heated via a rotary dial, are heavily bolstered but extremely comfortable and infinitely adjustable. The on-the-road price for our P530 First Edition model is £123,370, and the fit and finish of the interior feels reflective of such a figure.
Head out onto the open road and the car does an excellent job of shrinking around us despite its considerable size. Over the initial kilometres of our test route the car feels very similar to the full-size flagship; in other words, supremely quiet, comfortable and composed. With Comfort mode selected, it vociferously consumes the highway with minimal fuss.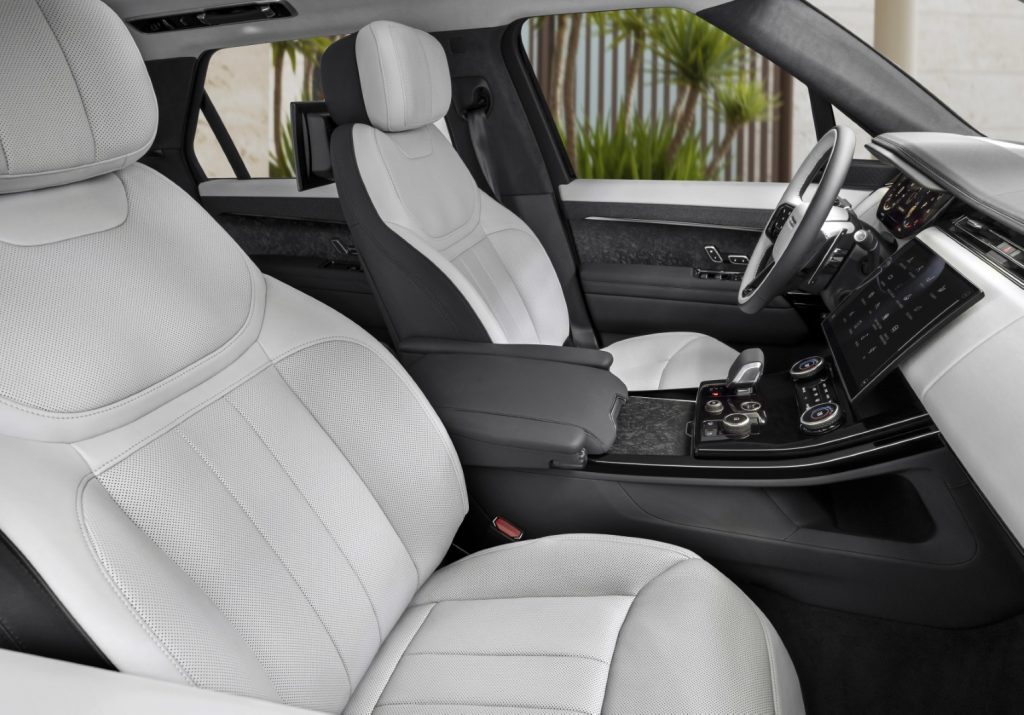 After about half an hour the sat-nav mercifully diverts us onto one of Spain's meandering mountain roads for a chance to see just how sporting the new Sport really is. It's telling that Land Rover has decided to direct us over a road with corners tight and twisty enough to put even a thoroughbred sports car through its paces. And, for the most part, the Range Rover Sport does a pretty good job of dealing with them, too.
Twist the rotary Mode switch into Dynamic, and the clever dual-chamber air springs duly stiffen and perform an excellent job of keeping the car flat in tandem with the 48V active anti-roll bars. The car is far easier to place with precision than we'd expected considering its heft, which is testament to the excellent visibility and the array of handling aids.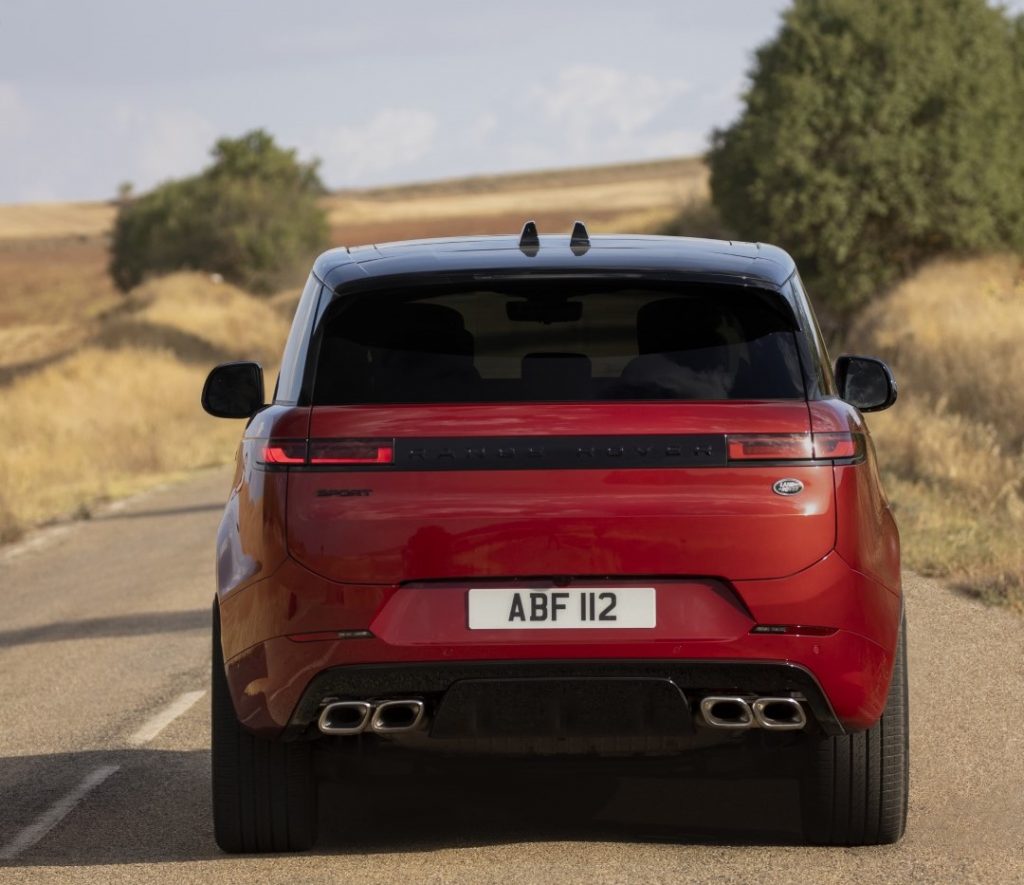 The real stand-out addition to the latest Sport in a dynamic context is rear-wheel steering, which effectively lengthens and shortens the wheelbase in real-time and makes the car feel far more agile than it has any business to be. Miraculously, a RWS-equipped Sport has the same 10.95m turning circle as a modern MINI. The system comes as standard on the P530 range-topper, but it can be had on lesser models as part of the £5330 Stormer Handling Pack that also includes the active anti-roll bars.
Ironically, it's the brilliance of such innovations that eventually reveal the Sport's dynamic limitations. The systems give us so much confidence to push that we find ourselves driving harder than we perhaps otherwise would, and the front end responds with squealing Pirellis and an armful of understeer. It's the same story with the brakes, which feel sharp and effective until we overstep the mark after driving a little too enthusiastically for a little too long. Wind things back to eight-tenths, though, and the Sport settles comfortably into its natural pace, covering ground with ease.
Unfortunately, there are a couple of real flies in the ointment; the first being the steering, which feels too aggressively centre sprung and is devoid of feel. That said, it is very accurate, and its lightness in Normal, Comfort and Eco is perfect for normal driving, which is precisely what this car is designed for.
The only other nit-pick is with the eight-speed ZF 'box, which is sometimes strangely reluctant to kick down, especially at low speed and when attempting an obligatory yobbish launch out of a toll booth. Land Rover engineers should be able to remedy such foibles with over-the-air updates, so these issues could be short lived.
The new 4.4-litre twin-turbocharged V8 is difficult to find fault with, even if the soundtrack isn't quite as hair raising as the previous 5.0-litre supercharged powerplant. The 0-62mph sprint is accomplished in a mere 4.5 seconds, and thre car will keep going until you reach 155mph. Slow it is not. The V8 is also rated at a respectable 25mpg, which is a considerable improvement over the notoriously thirsty supercharged lump.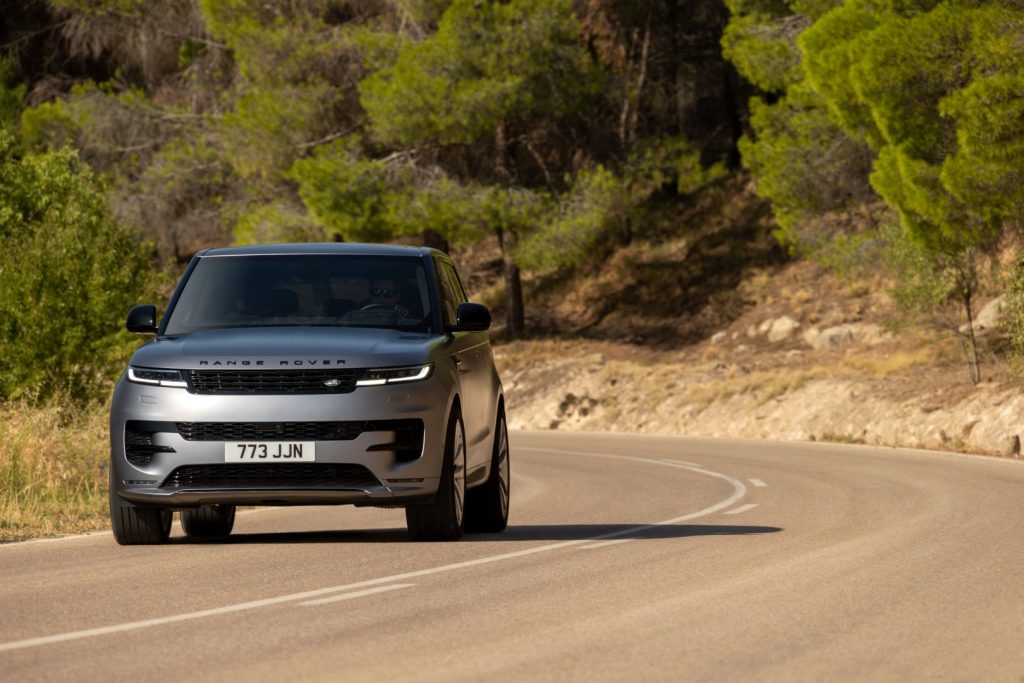 For traditionalists the V8 remains the default option, but it's the range of hybridised petrol and diesel straight-sixes that will prove to be the most popular. The mild-hybrid D400 3.0-litre diesel feels like a sweet spot in the range. It's revvy and silky smooth, and the torque on offer provides plenty of low-end shove. It even sounds pretty good, if a little artificial in Dynamic.
Similarly impressive is the plug-in hybrid P510e, which combines the 3.0-litre petrol straight-six with a 32kWh battery pack to deliver a combined 503bhp and up to 70 miles of electric-only range. The sole drawbacks are the additional weight penalty of the batteries and slightly less ground clearance for off-roading, but neither is noticeable in anything other than very specific circumstances that most buyers are unlikely to contend with.
Speaking of off-roading, a demanding, gravel- and dust-strewn section of our test route demonstrates that the new Sport has lost none of its cross-country ability. While it's true that most Sports are unlikely to stray much further into the wilderness than a dewy field at the Pony Club, the fact the Sport is still capable of navigating over tricky terrain while being so good on asphalt is seriously impressive.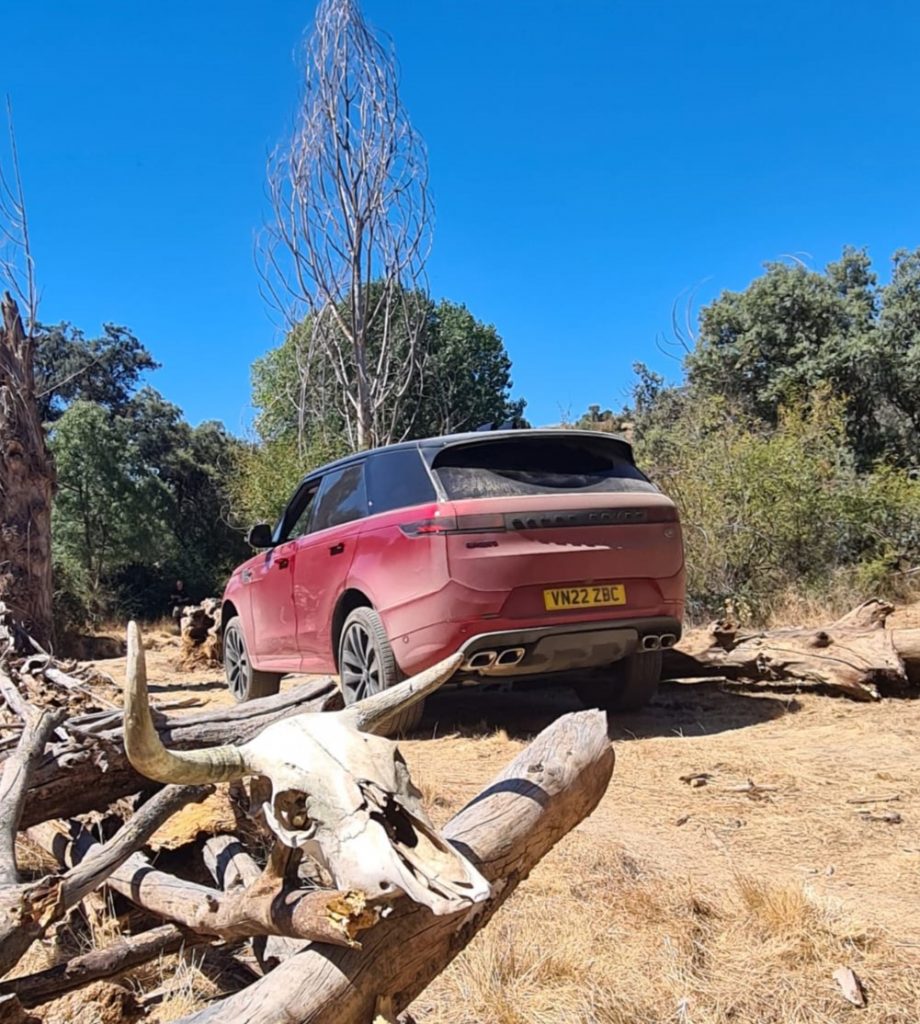 Again, it's the car's raft of onboard computers that makes it all possible. Useful 360-degree cameras mean the driver can see every jagged rock – or alloy-destroying kerb – in their vicinity, while the implementation of augmented reality gives 'visibility' through the bonnet to reveal the road beneath. The Sport is also festooned with all the usual off-road driving modes, and it gets the new Adaptive Off-Road Cruise Control system, which means all the driver must do when off-roading is turn the wheel.
It may not feel as distinct from the full-size Range Rover as some would desire, but for a do-anything, go-anywhere luxury car, the new Sport is very difficult to beat. And, with up to 3500kg of towing capacity, it will have no problem hauling your classic-car trailer wherever you choose.
With prices starting at £80,000 in the era of a multitude of car-financing options, Jaguar Land Rover will have no problem selling its latest driver-focused SUV – and it thoroughly deserves to do so.
More information at www.landrover.com