WORDS: jeremy taylor
Bentley's 6.0-litre Bentayga Speed is no more in the UK – although it may have disappeared just in time, given the current cost of fuel. The fastest SUV 'made in Crewe' boasted exhilarating potential, but it also supported a thirsty petrol habit that would make even well heeled buyers think again.
The new flagship is the Bentayga S – launched last year as the sportiest model in the range. Stiffer suspension, faster chassis aids and some suitably sporty trim make this aggressively styled version the pick of the bunch.
Enhanced with eye-catching 22-inch alloy wheels, fancy lights and a more assertive stance, its power comes in spades via Bentley's sublime 4.0-litre, twin-turbo V8. That's 542bhp and 568lb ft of torque. With all-wheel drive, the 2.5-tonne S positively rumbles from 0-60mph in 4.4 seconds and will carry on up to 180mph.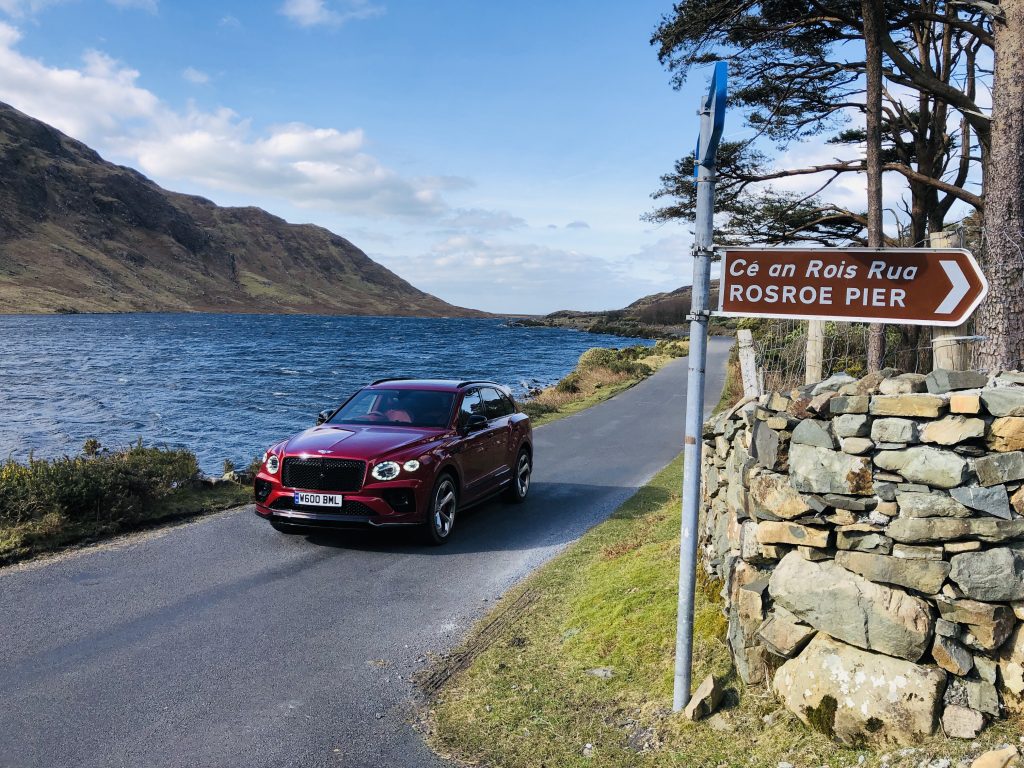 On the road, it's difficult to spot that the dampers have been stiffened by 15 percent – but switch to Sport mode and the reduced body roll is immediately obvious. Combined with Bentley's ingenious torque-vectoring system, the S belies the Bentayga's outsize dimensions through a swift corner.
I drove the car over 1000 miles across Ireland, averaging 18mpg, often on roads that could have been prosecuted under the Trade Descriptions Act. Fortunately, Bentley's Dynamic Ride system is also standard, with 48V active roll control to take the lean out of corners. Despite the impressive performance statistics, I believe that after a day or two, most owners will just stick the Bentayga S into default 'B' driving mode and let the Bentley brain work out the optimum setting for conditions. In Connemara, it certainly had plenty to think about.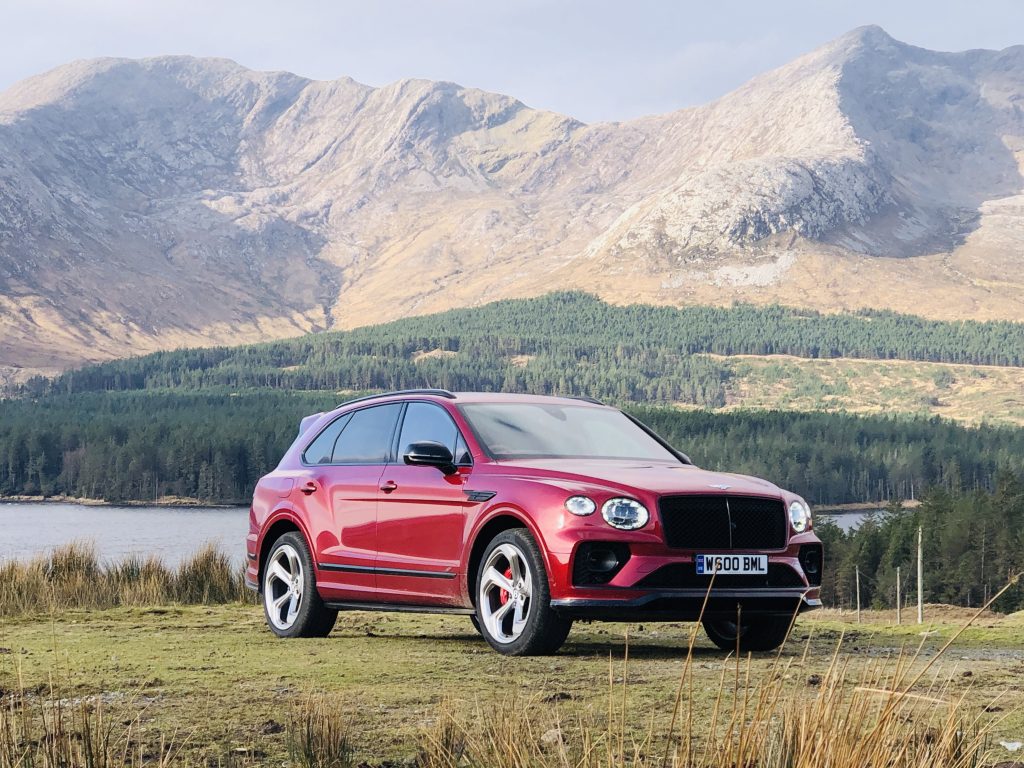 The Bentayga S is distinguished by discreet badging, a larger rear spoiler, oval tailpipes, tinted light clusters and Bentley's Blackline design pack. If you're often late on the school run, it can also be specified with up to seven seats.
My test car was supplied in Candy Red paintwork, which sounds worse than it actually looks. However, the standard Alcantara trim that covers the cabin was cut in red and would not be my colour of choice (red Alcantara steering wheel – how grubby is that going to look in six months' time?). That said, the stately interior is second to none – even in bling. All Bentaygas are a masterclass in hand-crafted, British opulence, the kind that rivals Rolls-Royce for quality. I'm a sucker for an air-cooled, massaging seat, too.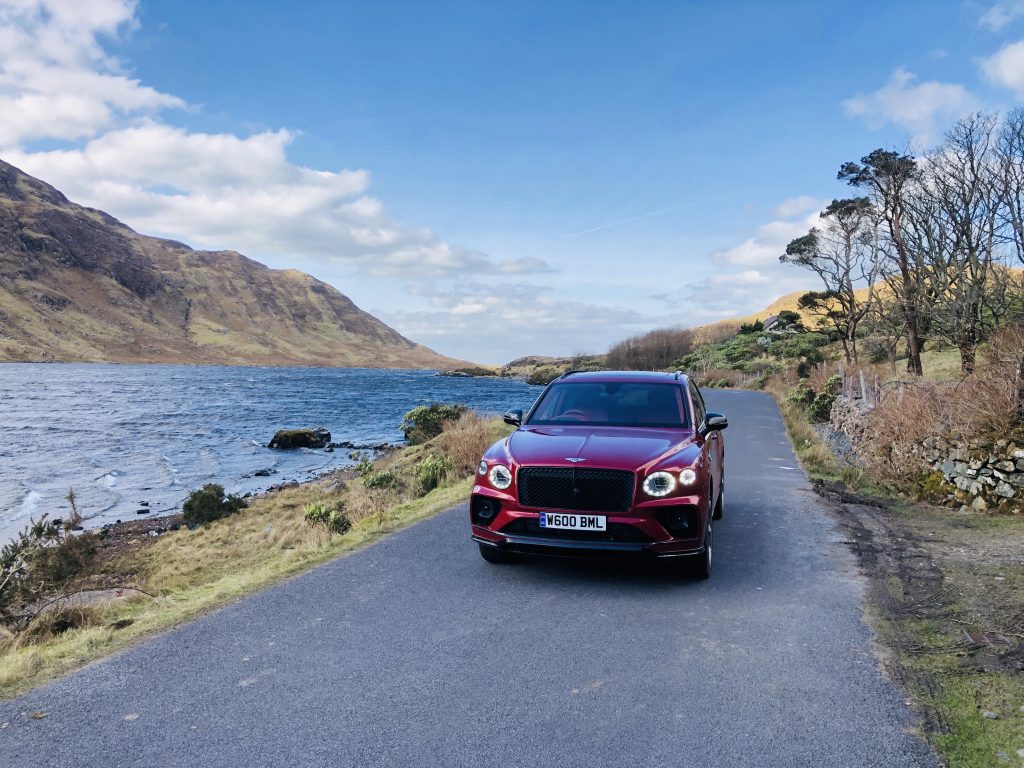 There's no doubt the Bentayga S would give the Lamborghini Urus a run for its money – probably the Aston Martin DBX, too, although the forthcoming 707bhp version will prove more of a challenge. Of the three, I still prefer the exhaust note of the Bentley under full throttle.
For a not-insubstantial £182,300 – almost £25,000 over the standard Bentayga V8 – it might just come down to looks. The big Bentley's body styling has certainly improved over time, but it somehow lacks the finesse and purposeful nature of an Aston or Lambo – its two key rivals.