This year marks the 125th edition of the Veteran Car Run. Imagine a world in which the maximum speed limit is just 4mph and you're required to drive in the footsteps of a man waving a red flag to warn fellow road users of your presence. Seems bizarre, eccentric even. After all, there are currently around one billion cars traversing the world's roads, and flag-waving pedestrians would be patently unwelcome for all of them. 
But that was exactly what was happening in England at the advent of the motor car in the 19th century. Until 1896 at least, when the British government passed the Locomotives on Highway Act, thrusting the world into a brave new era of liberating piston-powered transportation.
"It was a seminal moment in time," says Ben Cussons, chairman of the Royal Automobile Club, which has curated event entrants since 1930. "The new law was a life-changer in so many ways – it totally transformed the perspectives of social mobility and personal freedoms and, of course, spawned exciting new industries."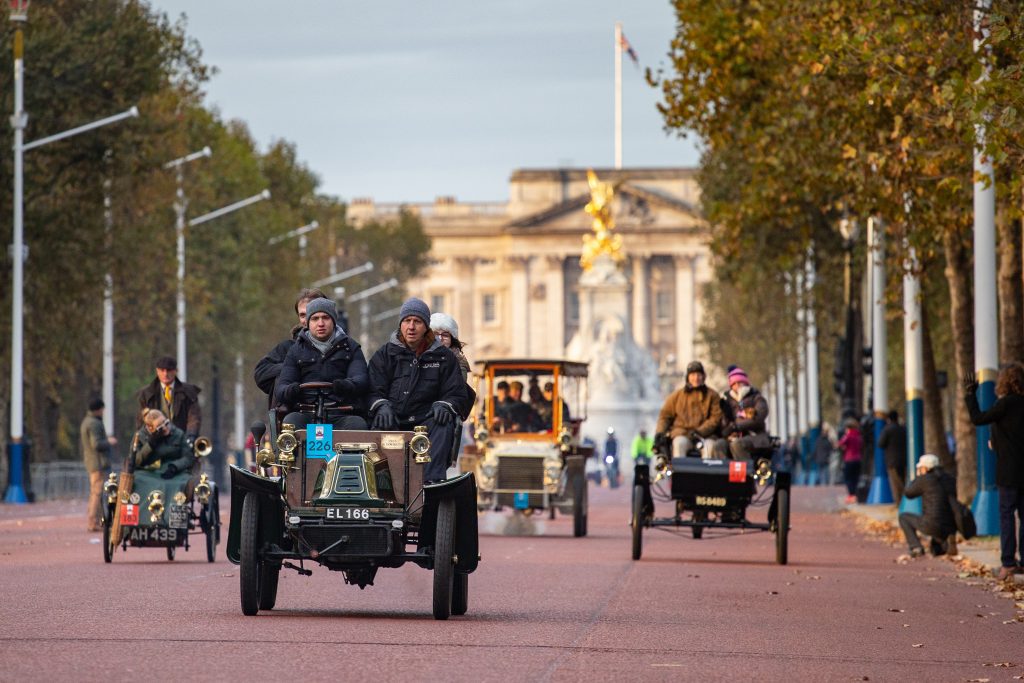 To celebrate the car's new-found freedom, our motoring ancestry participated in the first Emancipation Run, a celebratory jaunt from London to Brighton. Now known as the London to Brighton Veteran Car Run, the 60-mile pilgrimage has become an automotive tradition and is the world's longest-running motoring event; 2021 marks its 125th edition. "It's those visionary trailblazers on the very first Emancipation Run which we continue to celebrate today," says Cussons. Around 300 cars participate annually, and each has to pre-date 1905 to be eligible.
So, when dawn breaks at exactly 7:06am on November 7, 2021, 320 horseless carriages will depart from Hyde Park in London to retrace the wheel-tracks of those who took the same journey 125 years earlier to the coastal city of Brighton. 
One surprising aspect of the participating automobiles is the diversity of their powertrains — early combustion-powered cars were joined by steam and electricity-powered models as each vied to preside over the next century of the car's development. Ironically, we find ourselves in a similar position today. 
The marques represented in the entry list are also an eclectic mix. Some are familiar and have been fortunate enough to survive the various challenges of the past 125 years; vintage models from Vauxhall, Fiat, Renault, Peugeot and Mercedes will trundle past many of their advanced 21st century descendants.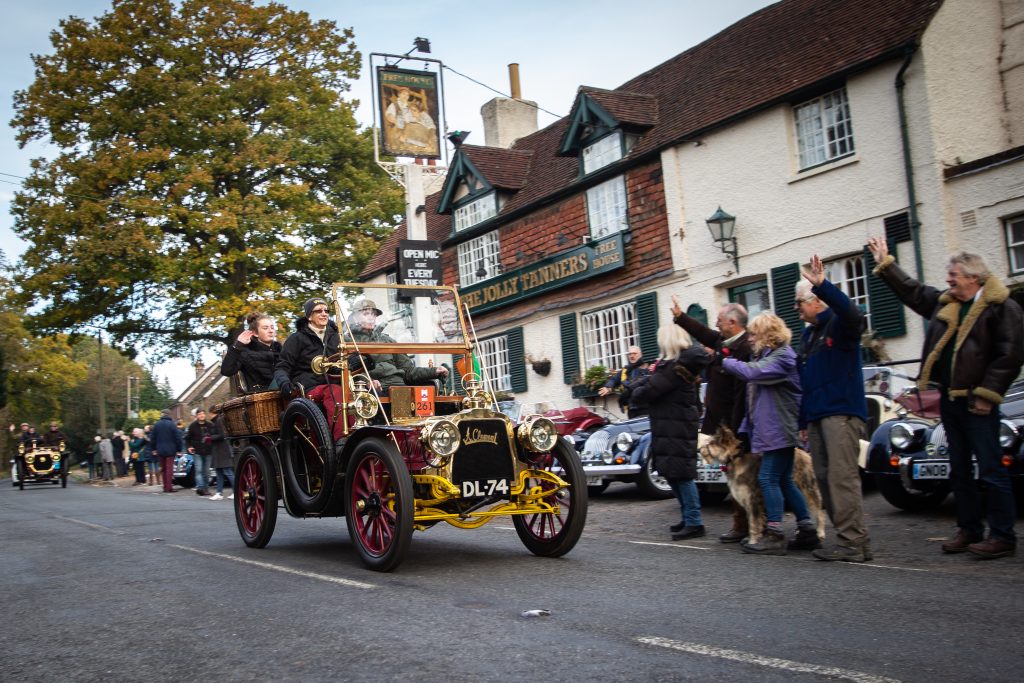 But there are also plenty of curious, forgotten manufacturers joining them: Napoleon, Yale, Dennis, Flint, Maxwell, Star, Lambert and Gladiator to name a few. A single-cylinder 1894 Benz is the oldest car to embark on the 60-mile journey. 
Many of these pioneering machines will be steered by famous drivers who are keen to soak in the unique, historic atmosphere of the Veteran Car Run. World Land Speed Record Holder Andy Green OBE is among them, although it's certain that the leisurely pace delivered by his steam-powered 1904 Stanley will provide a very different experience from the ballistic 760mph he achieved at the wheel of Thrust SSC in 1997. Green will be joined by more than 50 participants who are travelling from overseas to take part.
Once Green and his fellow competitors have set off at day-break, the streets will be lined with spectators as the cars drive through Admiralty Arch, down Constitution Hill, past Buckingham Palace and onto the Mall, before heading down Whitehall to Parliament Square. 
The real challenge then begins as the 320 cars make their way out of the confines of the British capital. The route will be split into two to alleviate congestion, with half crossing Westminster Bridge before joining the A23 via Kennington, Brixton and Streatham. The remaining cars will cross the Thames over the Lambeth Bridge and then follow the A3, A24, A217 and A236 over Clapham Common and then onto Tooting and Mitcham.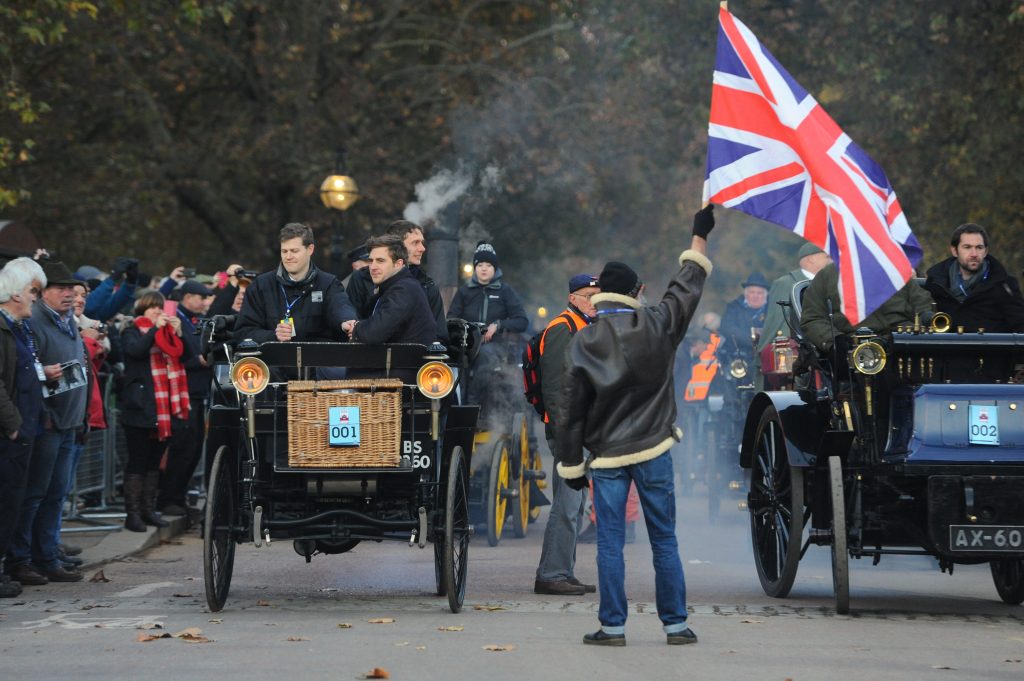 The divergent routes will then reunite on the A236 north of Croydon, with all the cars travelling together as they continue their journey south through Surrey. This section of the route also includes the only competitive aspect of the event: the A. Lange & Söhne Regularity Time Trial, in which drivers aim to get as close to a chosen average speed as possible. 
As the cars advance deeper into rural Sussex, they will pass through the picturesque villages of the Sussex South Downs, where pubs in Hassocks and Clayton will be raising money for BEN, a charity dedicated to supporting those in the automotive industry.
The final leg of the route snakes down the A23 into Brighton, where competitors will be welcomed at the finish line on Madeira Drive with a warming wintry hot toddy of Aberfeldy single malt whisky.
The fastest finishers are expected to reach their destination at around 10:00am, although there is a 4:30pm cut-off for those who wish to receive a finisher's medal. There are no awards based on finishing order or specific timings.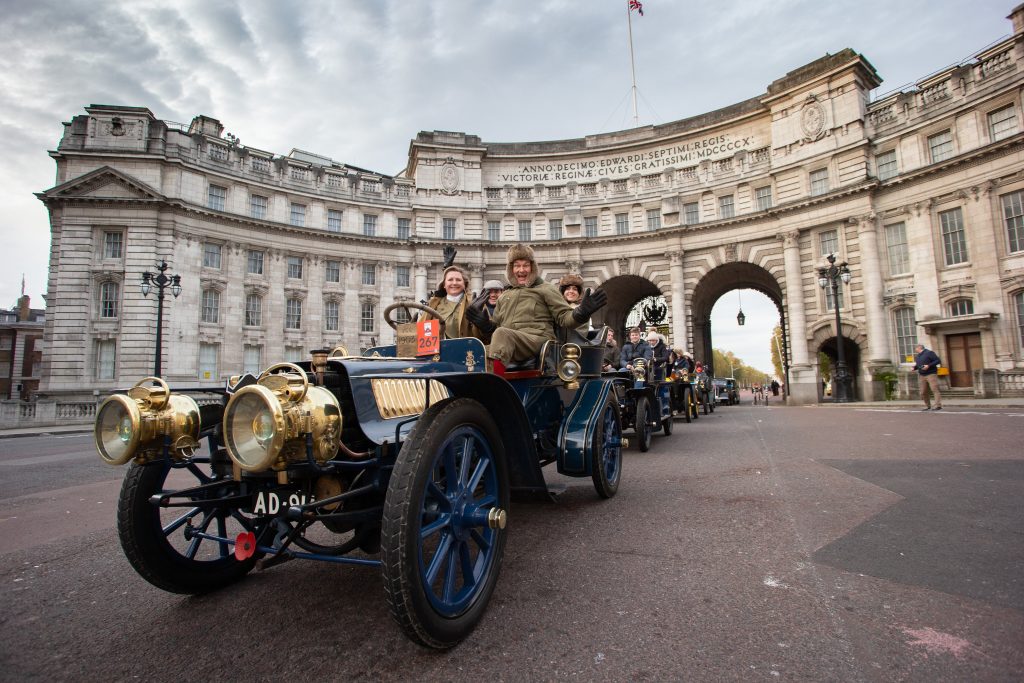 Event organisers recommend the following locations as excellent viewing points for spectators, as well as the paddocks of London's Hyde Park and Brighton's Madeira Drive:
6:45am: Ceremonial Tearing of Red Flag, Hyde Park, London
7:06am: The start, Hyde Park, London
7:06am – 8:25am: Constitution Hill, London
7:06am – 8:25am: The Mall, London
7:06am – 8:25am: Whitehall, London
7:15am – 8:35am: Westminster Bridge, London
7:15am – 8:35am: Lambeth Palace, London
7:15am – 8:35am: Clapham Common, London
7:15am – 8:35am: Lambeth Palace, London
7:30am – 9:55am: Mitcham, London
7:40am – 11:10am: Coulsdon High Street, London
7:44am – 11:10am: Merstham, Surrey
8:00am – 11:40am: Redhill, Surrey
8:30am – 2:15pm: Handcross High Street, Sussex
8:35am – 2:20pm: Staplefield village, Sussex
8:55am – 2:40pm: Cuckfield High Street, Sussex
10:06pm – 4:30pm: Brighton, Sussex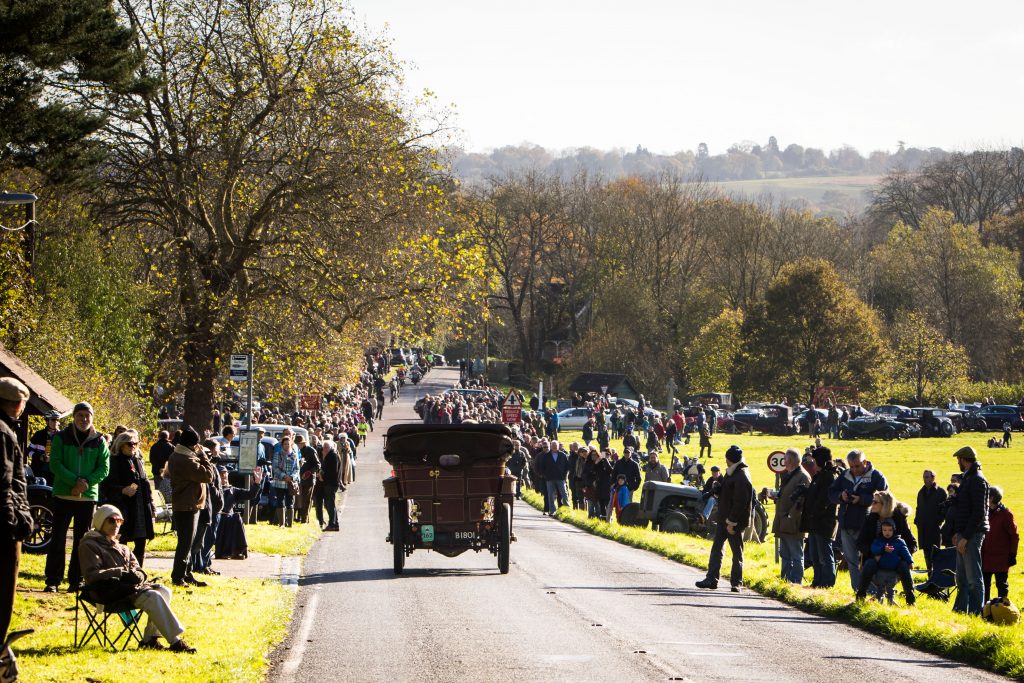 "Seeing all these lovingly maintained cars is more than a spectacle – it's a piece of living history; a reminder of the fearless motoring pioneers who, literally, paved the way for all of us," concluded Cussons, who will be driving a 1901 Mors entered by the Royal Automobile Club.
The RM Sotheby's Veteran Car Run is the grand finale of the Royal Automobile Club's annual London Motor Week, which brings together a range of motoring events to appeal to a wide range of enthusiasts, including the Regent Street Motor Show and RM Sotheby's London Sale on November 6.
Further information is available on the Veteran Car Run official website.
For the full entry list, click here.
If you liked this, then why not subscribe to Magneto magazine today?