WORDS: ELLIOTT HUGHES | PHOTOGRAPHY: MATT HOWELL, JAYSON FONG AND AUTHOR
Concours on Savile Row made a triumphant return to London's famous tailoring street for its second edition on May 24-25, 2023. The event was run in partnership with Hothouse Publishing, the creator of Magneto, and The Pollen Estate, which owns much of Savile Row.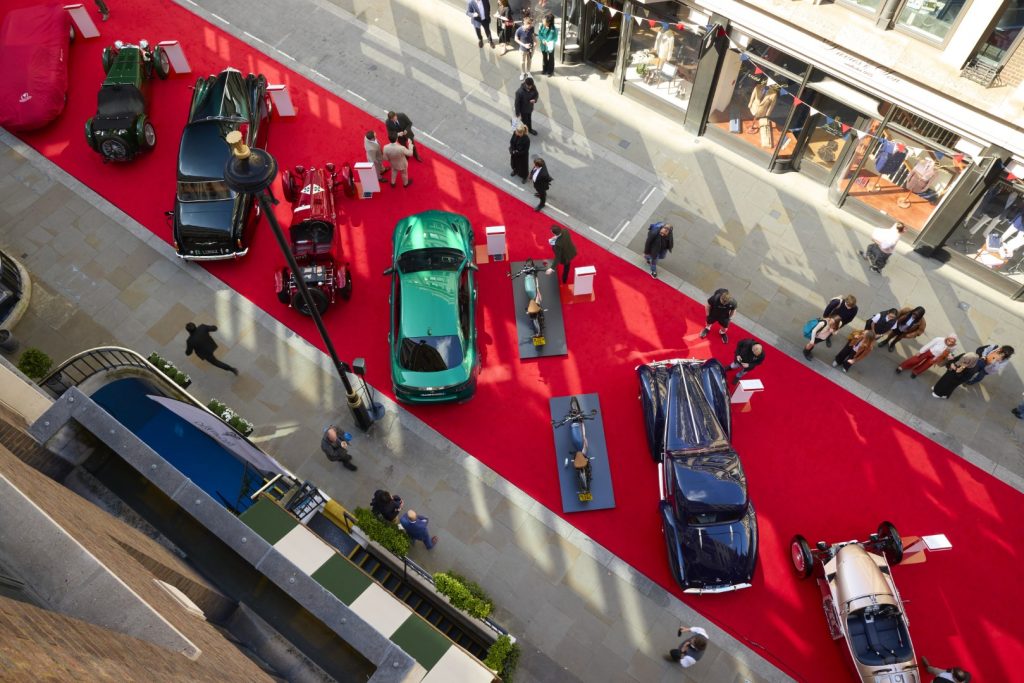 Held under blue skies and bright sunshine, the two-day celebration of the 'art of bespoke' saw more than 40 first-class collector cars and motorcycles worth over £100 million line the red-carpeted street, stretching all the way to the Royal Academy of Arts in Burlington Gardens.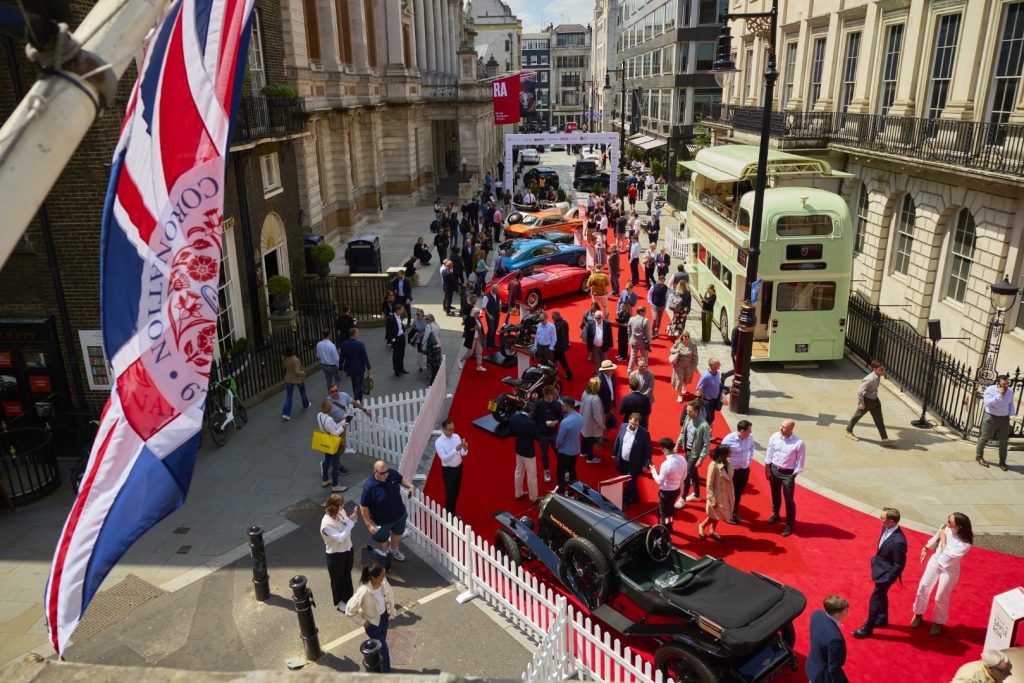 Highlights included the public debut of two new limited-edition bespoke models co-created by Bentley and its partnered tailor, Huntsman, as well as an Audi e-tron GT sporting a design by Richard James.
Other headline-grabbing cars showcased were George Harrison's 1967 Mercedes-Benz 600, Paul McCartney's Lamborghini 400GT and a 1952 Jaguar C-type owned by 2009 F1 World Champion Jenson Button.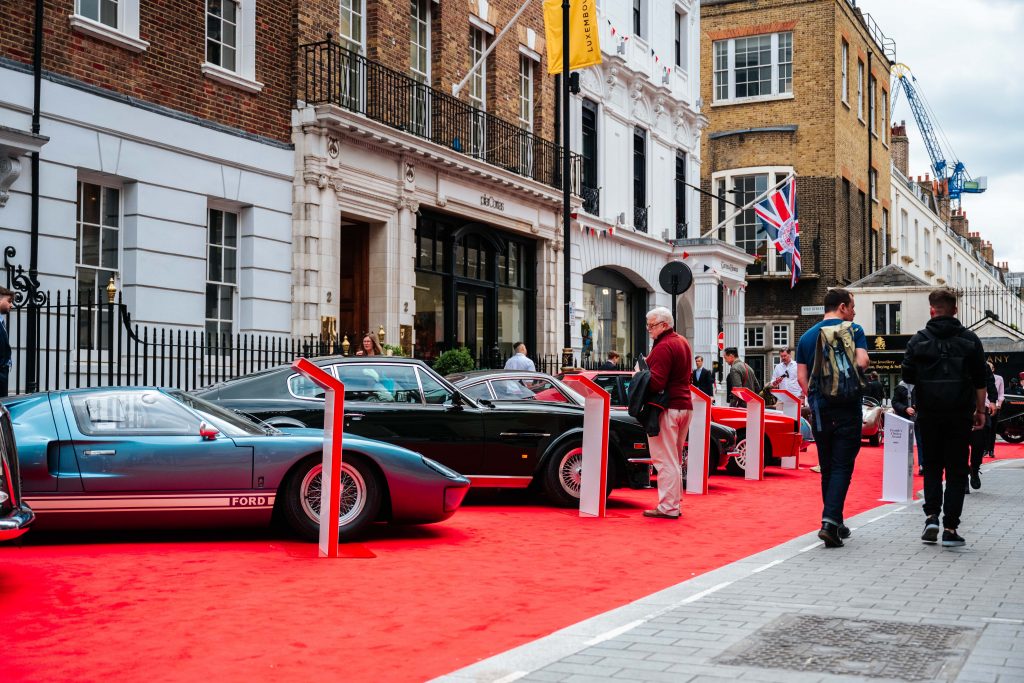 Complementing the modern Bentleys was the marque's first machine to compete at Le Mans, in 1923, alongside current models from Aston Martin, Lotus and Alfa Romeo. EV brands were well represented, too, with Lunaz, Everrati, Tudor Black and Maeving all displaying their latest vehicles.
Sharing the limelight with the spectacular vehicles were Savile Row's world-class tailors, many of whom were partnered with the cars and opened their doors to the public.
Hothouse Publishing co-director and Concours on Savile Row organiser Geoff Love was thrilled with how the 2023 edition went: "The event attracted not only thousands of people, but some of the most iconic cars in the world, too. Where else would you find Paul McCartney's Lamborghini sitting alongside a JPS Lotus F1 car, or an Aston Martin Valkyrie next to the very first Bentley to compete at Le Mans?"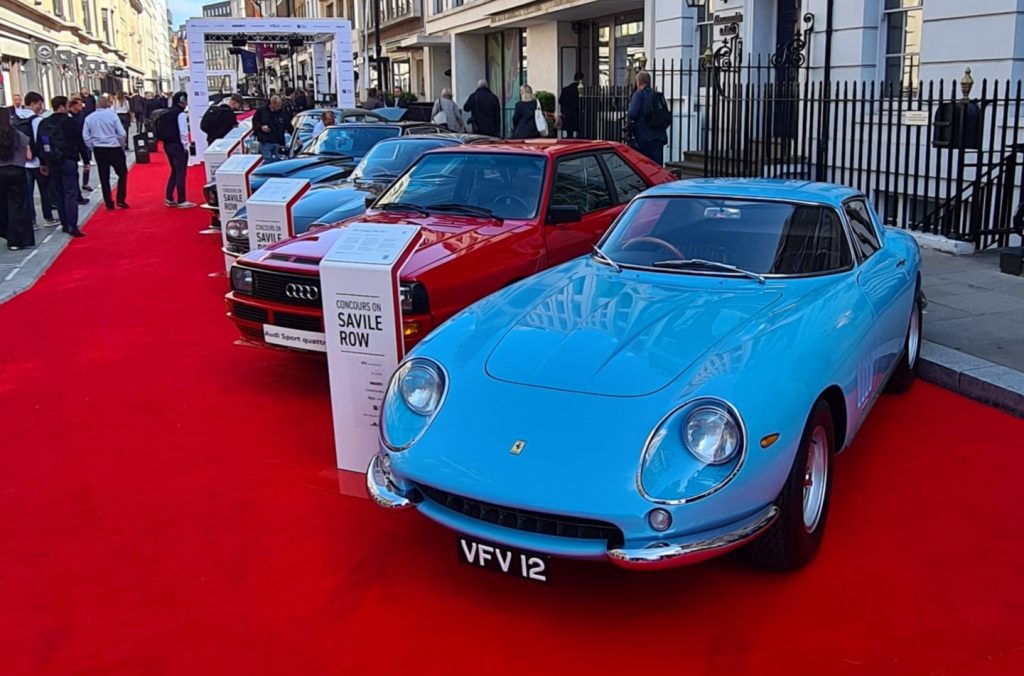 A stunning 1967 Ferrari 275GTB/4 – a testament to the calibre of vehicles on display – was deemed Best of Show by students from the Westminster City Lions as part of the Hagerty Youth Judging Programme panel. Cars were judged upon the merits of their design, originality, history and presentation.
Paired with the tailor Gieves & Hawkes, the winning Ferrari was first ordered by Colonel Ronnie Hoare, who was the founder of Maranello Concessionaires, Ferrari's official UK importer.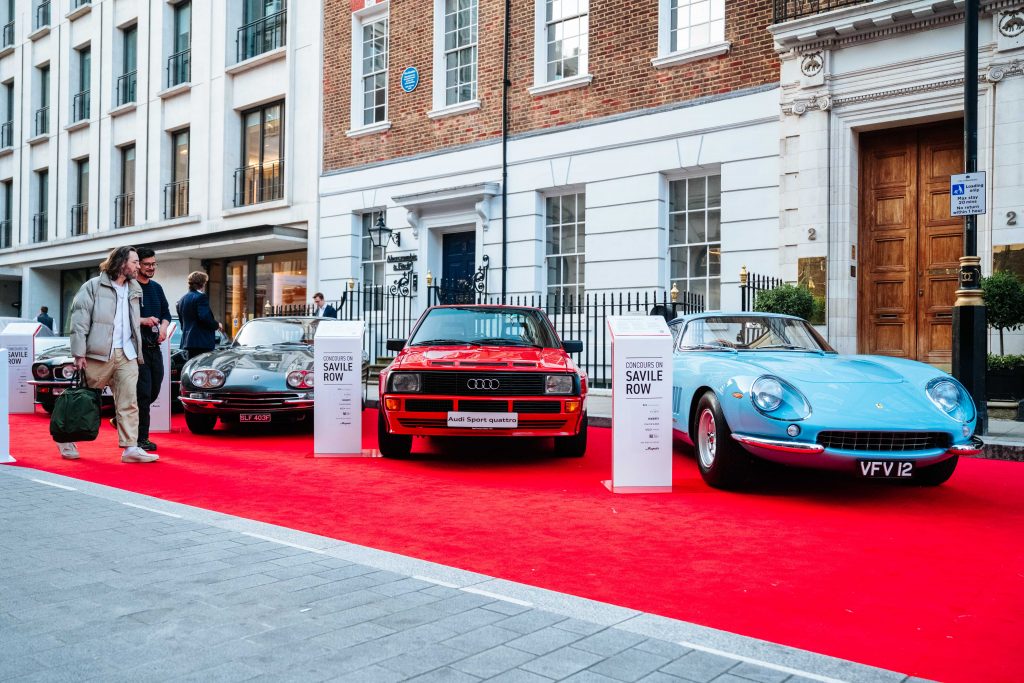 Its striking hue – called Azzurro La Plata – is the one the car was originally specified in, and it's believed to be the only 275GTB/4 ever to be painted in this colour at the factory.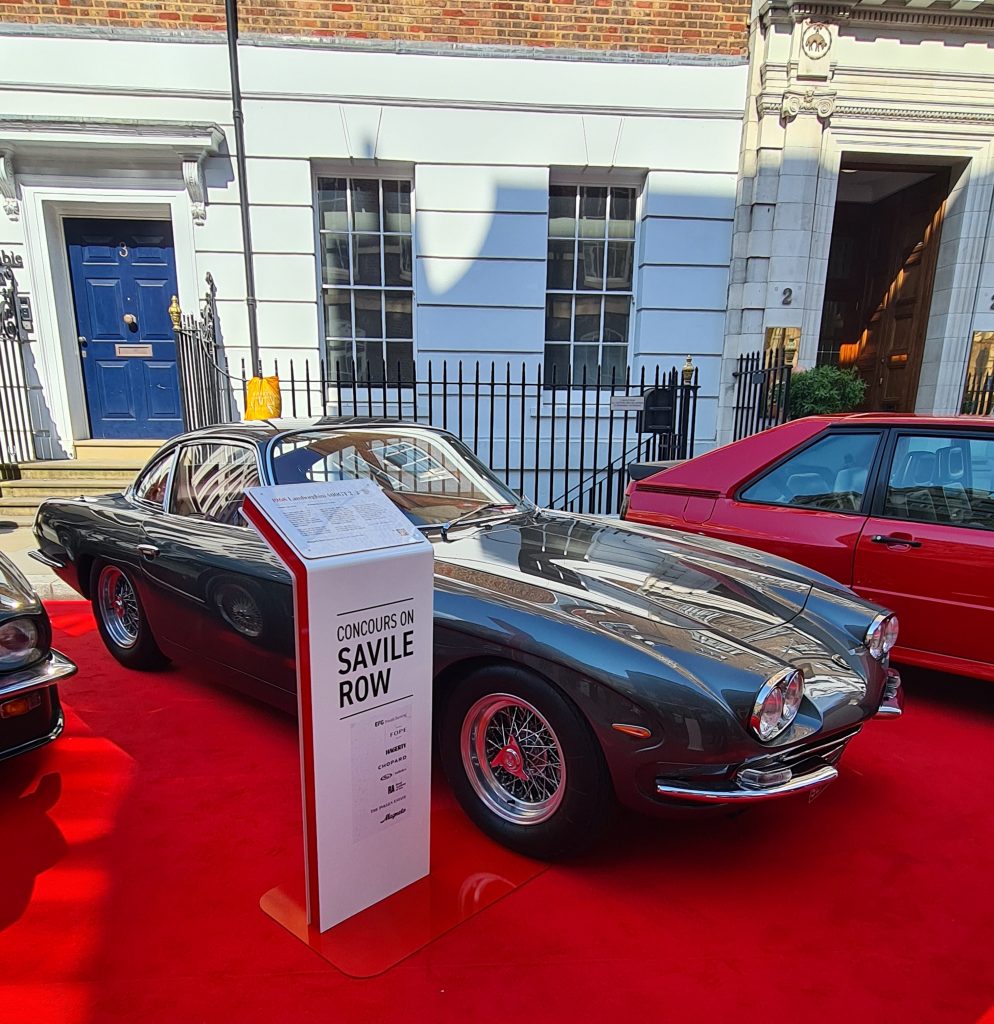 The Ferrari saw off stiff competition from a 1968 Lamborghini 400GT, said to have been owned by Paul McCartney at the time that The Beatles played live on the rooftops of 3 Savile Row, as well as a 1938 Delahaye Type 145 V12 Coupé – the latter being the second of four examples fielded by the Ecurie Bleue team between 1937 and 1939.
Part of California's world-famous Mullin Automotive Museum since 2003, the Delahaye made a rare European cameo for the event and was popular with visitors, also winning enough votes to finish runner-up in the Hagerty People's Choice Award.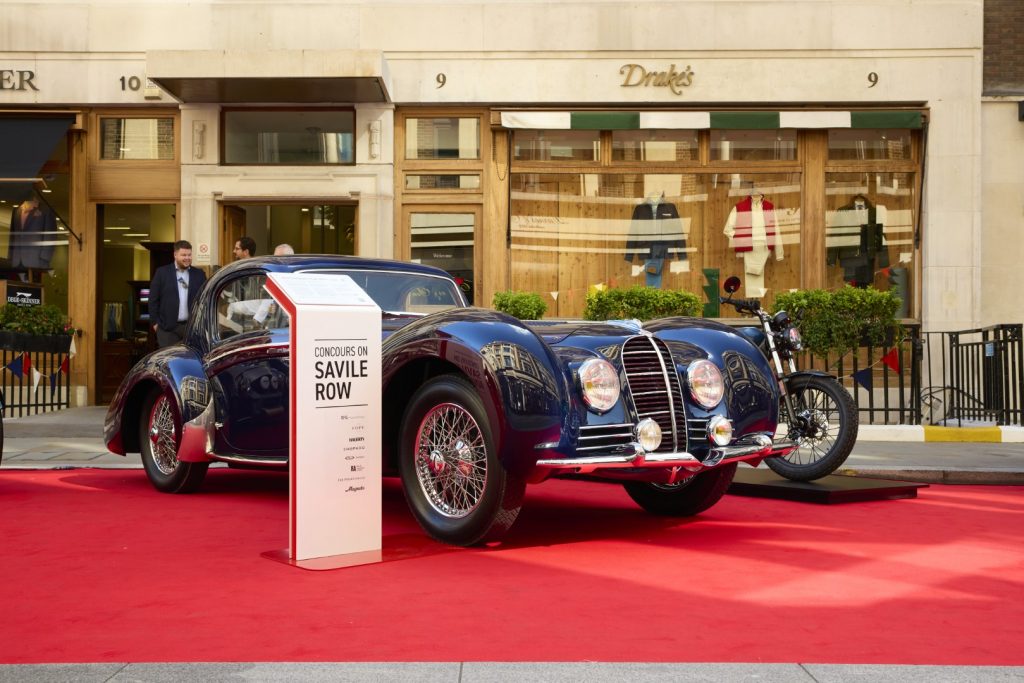 It's appropriate that a legendary French marque such as Delahaye should be partnered with Crémieux, a Savile Row tailor with Gallic flair.
"[As tailors] we use beautiful ingredients that create and emotion – just like a beautiful car," noted Crémieux CEO Stéphane Crémieux.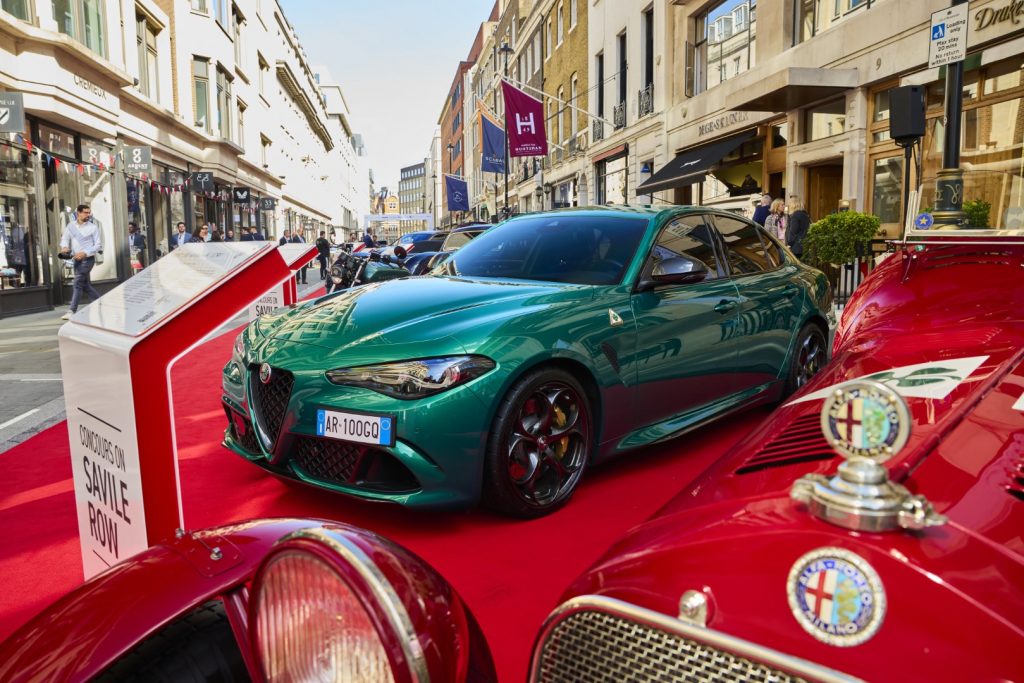 "I love the aesthetic of vintage cars, but I love the technology of modern cars, too. I like the mix, and that's the link with our products because we're traditional in the way we choose the fabrications, and we try to modernise for different shapes, for comfort and for aesthetics," he explained.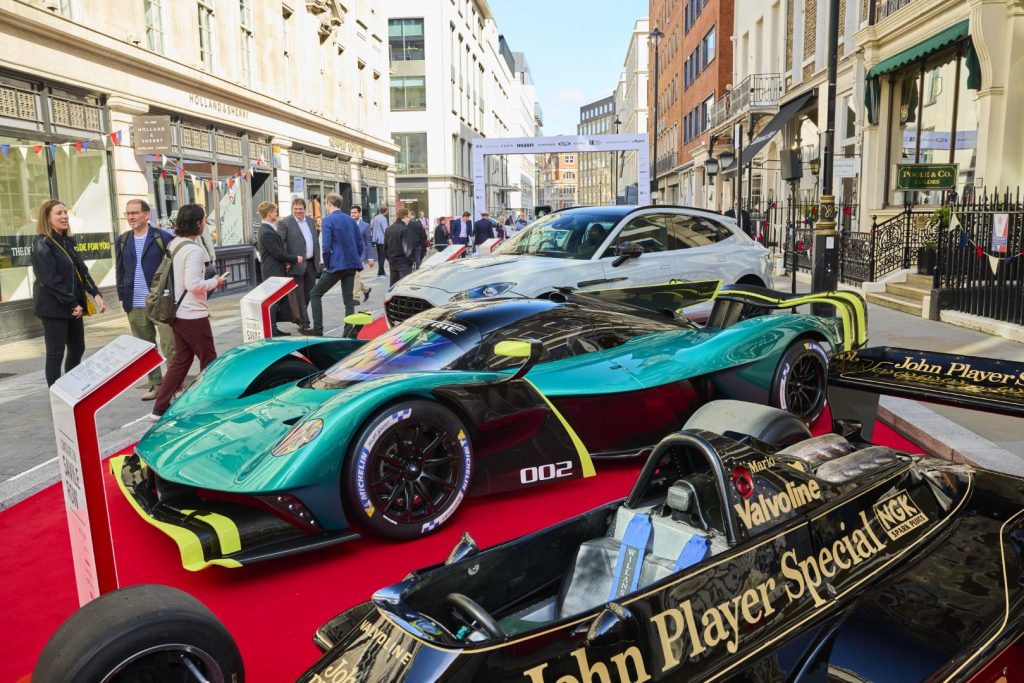 It's no coincidence that one of the most technologically advanced cars displayed – a 2023 Aston Martin Valkyrie AMR Pro – also happened to be the most popular with the crowds, as it emerged the winner of the Hagerty People's Choice Award.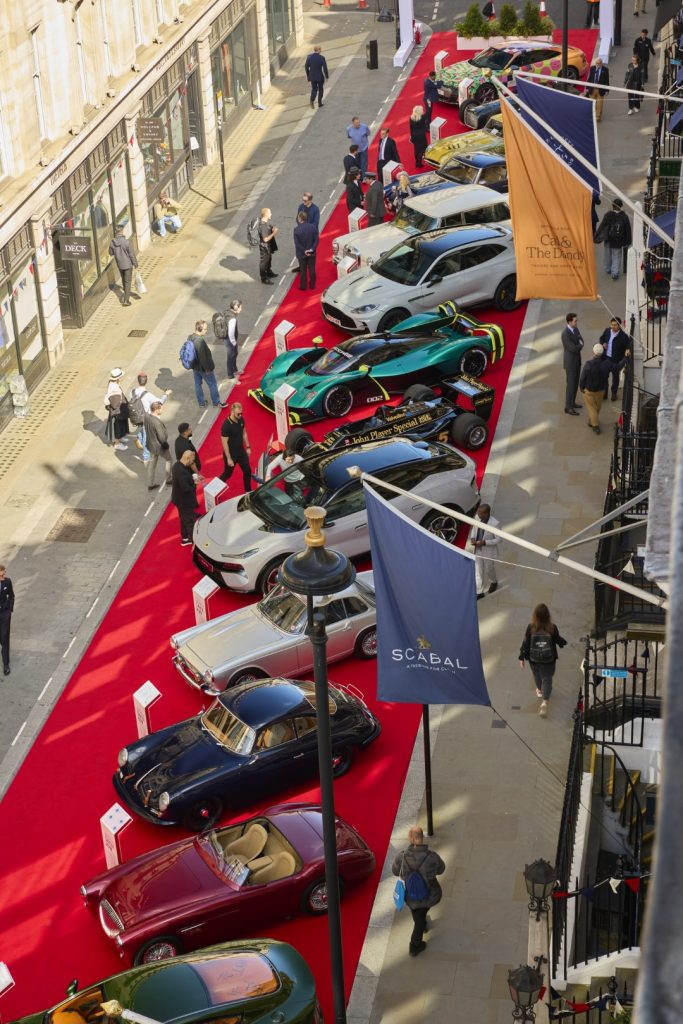 The extreme metallic green Aston was swarmed by smartphone cameras all weekend, and was perfectly complemented by other stars of the red carpet, including a fearsome BRM P15 V16 Continuation, Lotus 79 F1 car, Ford GT40 and Ferrari 250GT Spyder Competizione, among many others.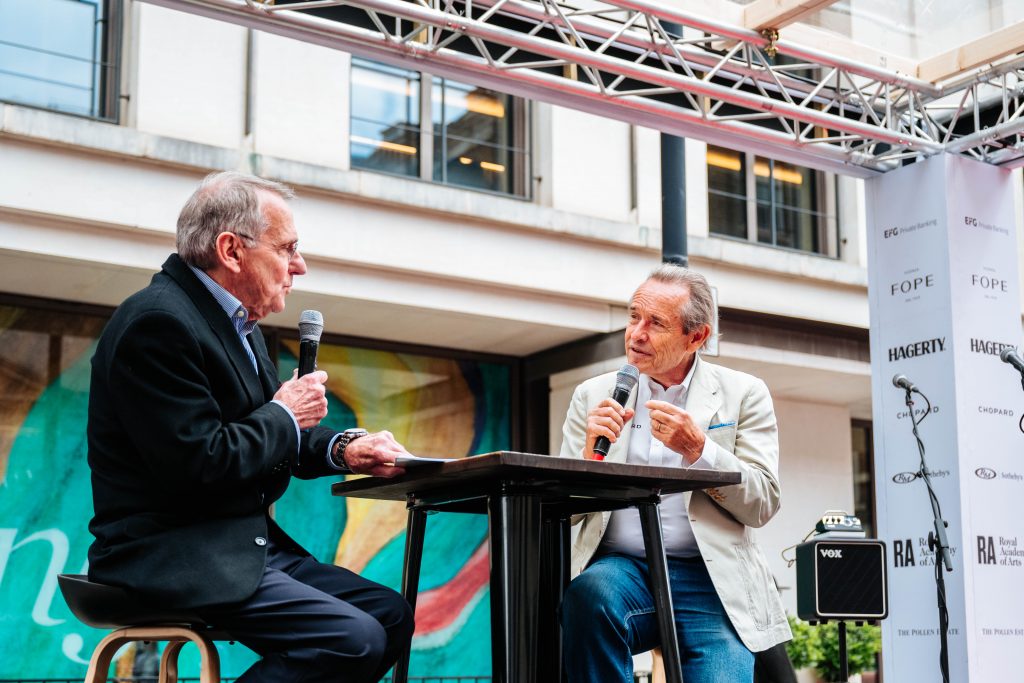 A new addition for this year was Wednesday night's Gala Dinner held in the Royal Academy Collections Room and sponsored by luxury handbag brand Aranyani.
The glamorous, black-tie event preceded Thursday morning's seminar as the Royal Academy hosted a seminar titled Cars as Art – The Investment Level Collector Cars That Transcend the Car Hobby and Become Rolling Works Of Art. This fascinating seminar, made possible with the sponsorship of Blick Rothenberg, marked the first-ever presentation of its kind.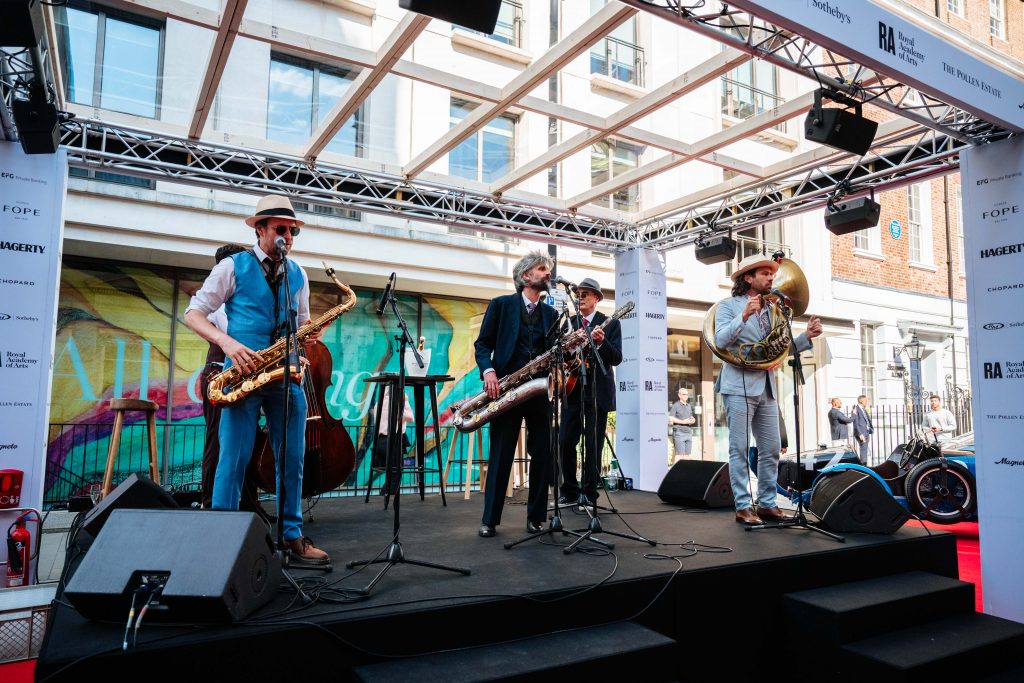 Back on the street, visitors and passers-by were treated to live music performed by The Swing Ninjas on the main stage, as well as a fascinating line-up of famous guest speakers for engaging discussions. Highlights included insight from model and classic car enthusiast David Gandy, who shared his sartorial style secrets.
Renowned photographer Gered Mankowitz proved to be another popular speaker, who shared fascinating anecdotes about his experiences working with Jimi Hendrix. The audience also enjoyed insightful conversations with Savile Row icon Joe Morgan from Chittleborough & Morgan, and a headline appearance on stage by seven-time Le Mans winner Jacky Ickx.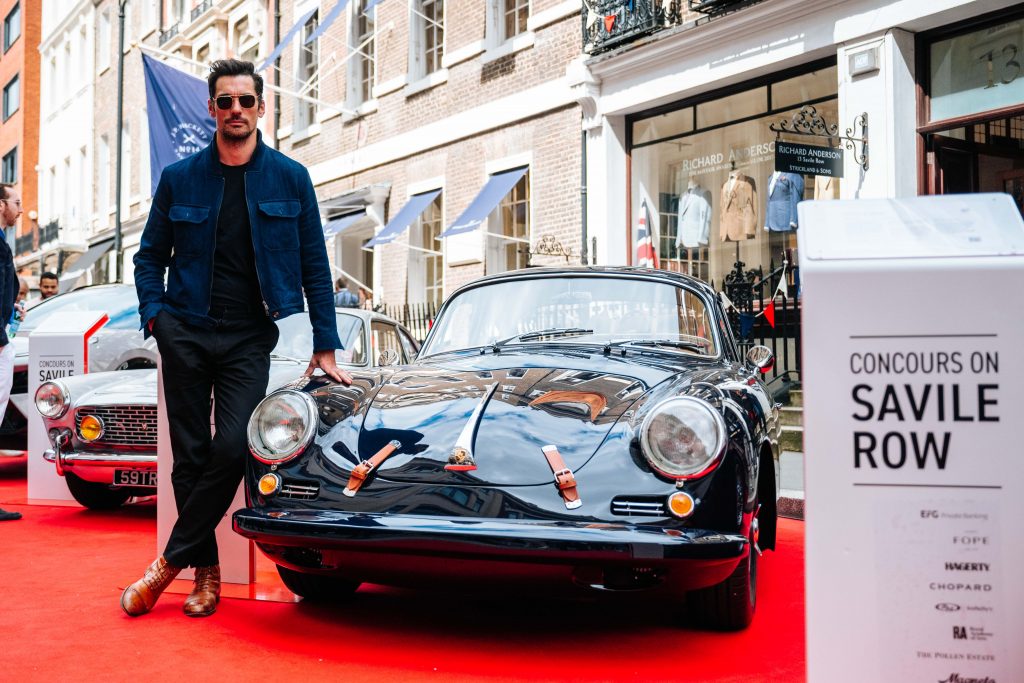 Christopher Boadle, co-founder of shoemaker Arthur Sleep, said the event had hugely developed of its inaugural year. "We've had people flying in from Australia, America and South America to be here," he said.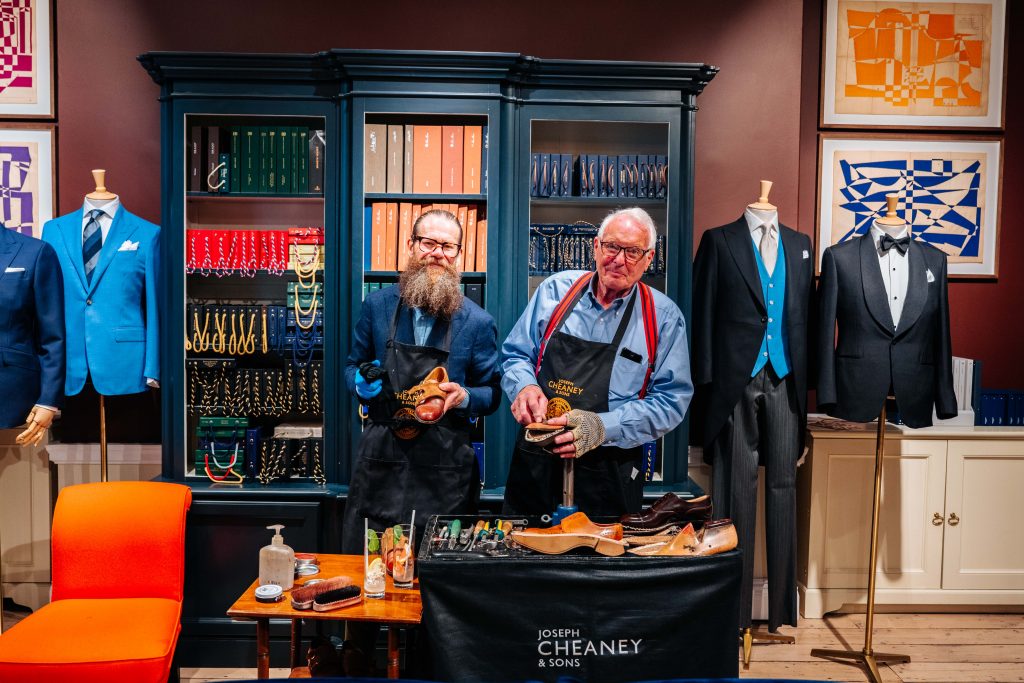 "People find it really captivating to come in and experience not only the showcases, but real craft taking place." Arthur Sleep partnered with Lunaz, and produced bespoke items for the event, using part of the original headliner fabric and seat leather from the latter's all-electric 1961 Bentley S2 Continental.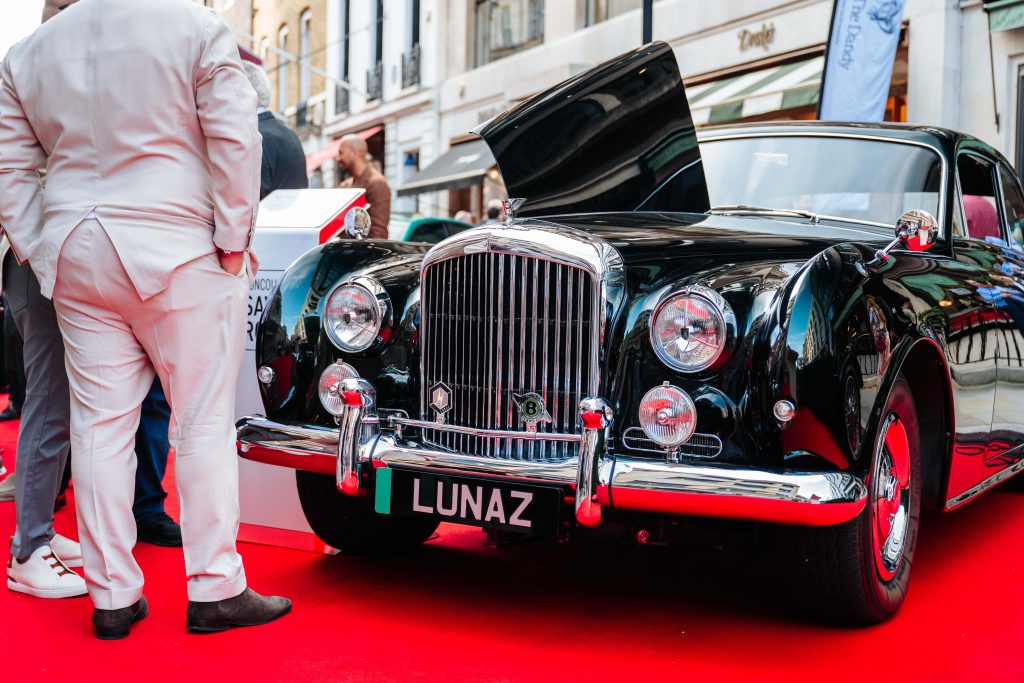 Once again, Concours on Savile Row put the renowned tailoring street and the world of classic cars in the spotlight, demonstrating the skill, passion and artisan craft involved in both. The event was made possible thanks to the invaluable support of Westminster City Council, The Pollen Estate, and esteemed sponsors EFG Private Bank, Chopard, RM Sotheby's, Hagerty and FOPE. Thanks as well to the Association of Heritage Engineers for its part in arranging some of the fascinating craft demonstrations.
More details on next year's edition of the Concours on Savile Row will be announced in the coming months. For more, head to the official website here.